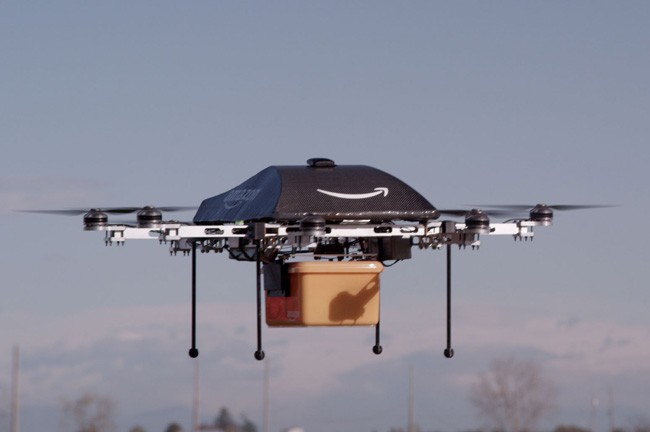 On Thursday, the Federal Aviation Administration issued an experimental airworthiness certificate to an Amazon Logistics, Inc. unmanned aircraft design that the company will use for research and development and crew training.
"The implications of the FAA awarding Amazon Logistics an experimental certificate are far reaching and indicative of the growing collaboration between industry and government," said Brent Terwilliger, chair of the Master of Science in Unmanned Systems at Embry-Riddle Aeronautical University – Worldwide. "The requirements of the certificate, such as use of certified pilot, aircraft registration and marking, and consistent reporting of flight test metrics (e.g., pilot duty time, malfunctions, deviation from ATC instruction, and instances of loss of communications) will help the FAA and Amazon better understand how this technology can best be applied in the National Airspace System in a safe manner."
On its website, Amazon says its Prime Air Service could safely deliver packages into customers' hands in 30 minutes or less using small unmanned aerial vehicles (sUAS).
Amazon is not the only company evaluating this new delivery method. Earlier this year, Chinese e-commerce company Alibaba conducted test deliveries of tea in three cities. And UPS has confirmed it, too, is evaluating the use of the technology.

Meanwhile, stakeholders are awaiting additional guidance from the FAA in regard to commercial use of unmanned systems in the U.S. In February, the agency issued a set of proposed rules that are currently pending a 60-day public comment period.
One key stakeholder is the Association for Unmanned Vehicle Systems International (AUVSI), which has appeared on Capitol Hill to encourage lawmakers to make UAS research and development a priority.
"Companies like Amazon are at the forefront of technological advances and are investing heavily in research and development. It is important to ensure that innovative uses of UAS technology, such as package delivery, take off in the U.S.," said Brian Wynne, AUVSI president and CEO, in a statement released Thursday. "Industry and government also need to work together to lay the groundwork for beyond-line-of-sight operations, a necessary prerequisite for package delivery and other transformational uses of UAS technology."