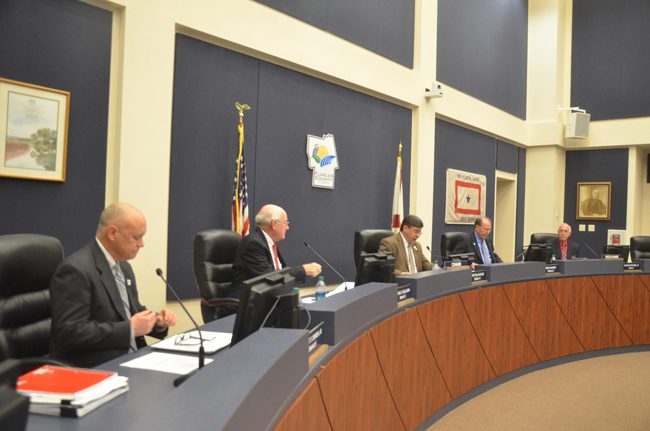 Flagler County Commissioner Donald O'Brien was not pleased.
"The first sentence of this thing says 'the Flagler County Board of County Commissioners annually establishes a list of legislative priorities,'" O'Brien said during Monday's meeting of the commission. "I understand that the majority of this stuff is what we already talked about at workshop. But you have to admit there's a couple of wrinkles to this, or new [material] that's here, from what we didn't have at the workshop, and I just have to again express my frustration that just getting this today, because you want me to put my name on this and say that I approve this and that I own this."
He was talking to County Administrator Craig Coffey about the latest "slip sheet" he'd found in his agenda material. A "slip sheet" is the term used for a place-holder in the agenda when documents are not yet ready for public view. Slip sheets can be used either to tactically suppress a document until the last minute from public or official view–and sometimes until after the last minute, as the documents are introduced during or after a meeting. Or they can represent an actual, unforeseen delay. The county administration has usually been much more transparent than not, and produces documentation certainly more readily and in advance of meetings than does Palm Coast, whose city manager is notorious for suppressing scheduled, presentations until the moment meetings begin.
Considering that commissioners were less than five days out from their meeting with their legislative delegation on Friday, when they formally submit their wish list of policy and funding priorities to Sen. Travis Hutson and Rep. Paul Renner, and considering that the commission had already workshopped its legislative priorities to decide what to put on the list, O'Brien was understandably put out by what looked like amateur hour. "It's just very frustrating to get something today, when I like to read the details," O'Brien continued, sounding more aggrieved than angry. "And I like to see everything. I just wish that we had a little bit more time to do that, to be able to really read it and react to it. Because our names are on it."
"I apologize, I wish I could give you more time, I wish I would have had this done sooner," Coffey said before putting the blame on a nameless staffer. "I think the draft that was put together was not as good as I would like to see it."
"I'm proud of everything on here, I'm just saying the process is what frustrates me a little bit," O'Brien said. Coffey said the process doesn't happen this way in typical years, saying it hasn't been a typical year.
But the exchange with O'Brien recalled an almost identical exchange with a different county commissioner a few years ago, Alan Petersen, who, during a typical year and a typical meeting, reamed out Coffey over his frequent "slip sheets." The dressing down did lead to a noticeable decrease in those at the time.
O'Brien's issue was only one of several that turned the discussion of the commission's legislative priorities into a much more messy, ham-fisted process that could only undermine the seriousness of the process so few days from its submittal.
Coffey had not even intended for a discussion to take place. Slip-sheet or not, he had placed the item on the consent portion of the agenda, that portion where numerous items get approved in bulk with one vote, without discussion, unless a commissioner or a member of the public requests that the item be pulled for discussion. Commission Chairman Nate McLaughlin did in this case, because to him it looked as if the lists had not been exactly what the commission had decided at workshop after all.
He was right.
Coffey said the items on the lists were the same as those discussed in the workshop, then he proceeded to note how they're not quite the same. "We did clarify a lot of language," he said. But he also had one hurricane-related priority taken out because it got too complicated and "needed a lot more crafting." It also appears that Coffey unilaterally added a priority of his own, opposing a proposed bill by a senator that would legalize the sale of fireworks. Coffey derisively called it a "gem of a bill," and said the commission has historically sought to close fireworks-sale loopholes, while the proposed bill would do the opposite. So he was merely reflecting the commission's historic will: all accurate, but since he had slipped in and altered items to the priorities then slipped in the latest product into the consent agenda rather than as an item for at least some further discussion, the commissioners' questions were understandable.
There were further such changes. Coffey said he "adjusted" a funding request for public library construction to ask for $500,000 rather than the original $1 million, since the sort of grant the county is after is capped at $500,000 by the state, he said.
"There's no reason we can't keep adding to this list and give it to them even after our delegation day," Coffey said. (That legislative-delegation day is Friday at 4 p.m. at Palm Coast City Hall.)
Then commissioners as if haphazardly realized they didn't have a clear strategy as to how to prioritize their wishes or whether to prioritize them. That led to a discussion about priorities that made it look as if the numbered items on the two lists–one for legislative priorities, one for funding priorities–were at least to some extent interchangeable, again undermining the sense of critical priorities that would normally accompany top requests to lawmakers with the attention span of a tweet. Even the fact that there were two lists, not one, raised commissioners' questions.
"If there's a priority that the board feels should be presented on Friday, one of these is more of a priority to the board, you need to let staff know now so they can prep," McLaughlin insisted.
Commissioner Greg Hansen, who spent a fair share of his many years loitering around the halls of Congress as lobbyists do, said that based on his experience, "You can go into a member of Congress and brief three things and they're going to look at you and say, which one? Which one is the most important? We need to be ready to answer that question, and right now I don't think we are. We have two lists here."
That led to a workshop-like re-discussion of what should be placed at the top, which eventually led to pushing yet again for an extra county judge to alleviate Judge Melissa Moore-Stens's workload. That extra judge was lined up earlier this year, with legislators setting aside enough money to pay for a year's worth of and then some. Gov. Rick Scott vetoed it even though the state Supreme Court has recognized the help is needed.
That bumped the matter of home rule off the top of the list. "The issue of home rule is going to be statewide. We're going to have 67 counties up there screaming about home rule," Hansen said. It also bumped down the matter of vacation rentals. That's for the policy list. On the funding list, Coffey suggested bumping the $500,000 sought for the library as a top priority. Other "priorities" include $5 million for beach restoration, $1.5 million for drainage improvements in the Hammock, and money for west-side drainage. It was a bit confusing, which made it to what spot, but if the back and forth made one thing clear, it was that the order was becoming less relevant.
"I would just add that I agree with prioritization and so on and so forth," Commissioner Dave Sullivan said, adding yet another wrinkle to the free-for-all, "but there's another side to things, and that is what we actually think we can get. In other words, we could say we need the sky, and it's our higher priority, but there's no chance of legislation going through, that's why it's one of the reasons we have our lobbyist up there and we talk to our state senators and state representatives to get a feel for what's possible."
That put in words what they all knew: that the list is padded with more wishes than with realistic requests. "You're going to get money where you can get it out of your priorities," Coffey said.
Sullivan wasn't done. "Just to circle back to what Commissioner O'Brien said at the beginning," he said, "I know in previous years we've always had a glossy kind of book with this in there so it looks a little more professional, that kind of thing, so is that in the works?"
Coffey assured him that would be.

In an unrelated portion of the meeting, two of the people who'd filed complaints against County Attorney Al Hadeed and the commissioners in various state venues such as the Commision on Ethics were in the audience. One of them addressed the commission on two occasions, making further allegations. He was responding to a recent recommendation by an administrative law judge that he and the other man, along with two others, reimburse the county for attorney fees incurred from those complaints, which have been found not only to have been baseless, but maliciously so.
In other words, that they were filed not to bring wrongdoing to light but to defame their targets. Hadeed addressed the new claims on two occasions Monday evening, his voice clearly taking on an edge the second time as his patience over the recurring issue wore thin long ago. Ironically, both men in the audience Monday had hardly participated in the discovery process as the cases were making their way through the administrative law judge's docket, begging the credibility of claims presented Monday evening.