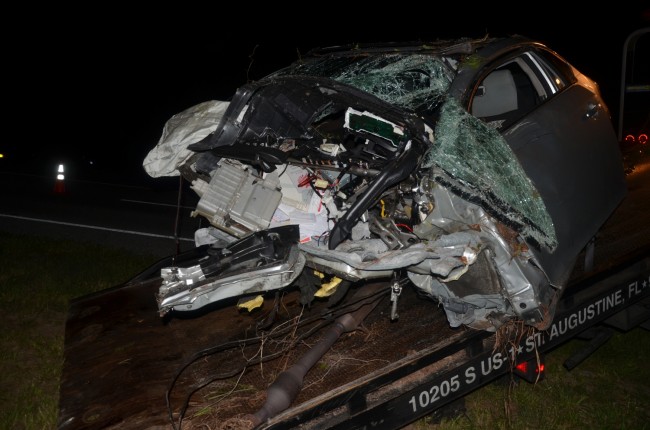 The wrecker crew had never quite seen something like it: the engine portion of the vehicle, a Toyota Scion, had been sheared off from the force of the car's impact with a tree, the car itself continued to travel until it came to a rest on its side, in the wood-line, on the north shoulder of U.S. 1, debris, including a piece of the transmission, was found in the median of the four-lane highway, and the driver of the Toyota herself was left pinned under the car, according to the Florida Highway Patrol trooper investigating the scene, but very briefly, as several people at the scene immediately after the wreck lifted the car to pull her out.
She was transported to Halifax Hospital in Daytona Beach with non-life-threatening injuries at about 9:50 this evening (Sept.1).
Amanda Sieber, 23, of Daytona Beach, was traveling north and, a trooper said, may have been going too fast around the long curve, 1.6 miles south of the White Eagle Saloon, when the Toyota veered off the highway, traveled a short distance on the grass, smashed into a tree, then rolled toward the woods. It did not look like she had gone off the left shoulder onto the median and over-corrected, as many such wrecks tend to go.
The engine came apart from the car and caught fire nearer the shoulder. Firefighters extinguished it. The car itself no longer looked like a car but a heap of parts and shattered windshield.
The wreck took place at about 9:40 p.m. Both lanes of U.S. 1 North were briefly shut down but one lane had reopened by 10 p.m., and the vehicle was being removed from the scene by John's Towing at about 10:30 p.m.
Aug. 2 update: Sieber had been with her boyfriend at the Wing House, a bar in Daytona Beach. Her boyfriend was following her on his motorcycle–and stopped afterward to attend to Sieber after the crash, but he left the scene before police interviewed him there. Sieber was not wearing a seatbelt, and charges are pending, depending on the results of a blood test for alcohol.