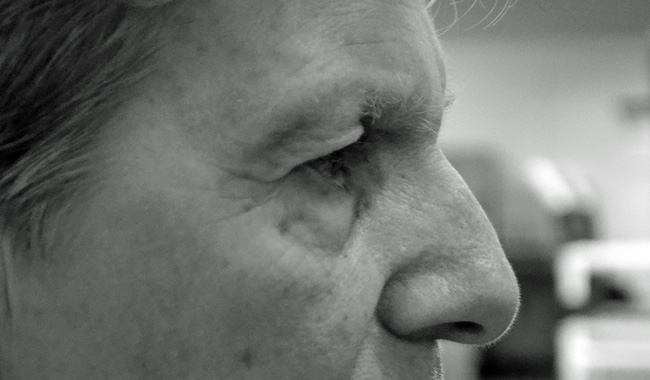 The Alzheimer's Association has seen a sharp rise in calls to its 24-hour helpline, 800-272-3900, during and after the holiday season when people return home and visit with friends and family whom they may not see as frequently during the year. The Alzheimer's Association encourages people who need help to call the helpline if anyone has a question or doubt about the state of an aging family member or friend.
Visiting with relatives over the holidays may raise questions about the physical and cognitive health of family members. Although some change in cognitive ability can occur with age, serious memory problems are not a part of normal aging. Recognizing the difference between normal aging and more serious problems can help you identify when it may be time for you to make the call or see a doctor.
Twenty-four hours a day, seven days a week, 365 days a year, the Alzheimer's Association offers crucial support to anyone in need. "The Helpline and a host of online resources and at www.alz.org, are some of the more vital services we offer," says Kay Redington, CEO of Alzheimer's Association Central and North Florid Chapter. "With the Helpline, there is always a person available on the other end of the line who understands the situation, is highly trained, and is ready to help. During the holidays, we know how important this can be for caregivers, patients and their families."
Helpline Features: (1) confidential care consultation provided by master's level clinicians who can provide decision-making support, crisis assistance and education on issues families are facing; (2) help in a caller's preferred language using our translation service that features over 170 languages and dialects; (3) referrals to local community programs, services and ongoing support.
THE HELPLINE TOLL FREE NUMBER IS: 1.800.272.3900 or our TDD for deaf callers is: 1.866.403.3073
If you or your loved one experiences one or more of the 10 Warning Signs in different degrees (see below), please consider seeing a doctor.
Alzheimer's Association 10 Warning Signs of Alzheimer's
Memory loss that disrupts daily life.  One of the most common signs of Alzheimer's is memory loss, especially forgetting recently learned information. Others might include forgetting important dates or events or asking for the same information over and over.
What's typical memory loss and not a warning sign: Sometimes forgetting names or appointments, but remembering them later.
Challenges in planning or solving problems.  Some people may experience changes in their ability to develop and follow a plan or work with numbers. They may have trouble following a familiar recipe or keeping track of monthly bills. They may have difficulty concentrating and take much longer to do things than they did before.
What's typical: Making occasional errors when balancing a checkbook.
Difficulty completing familiar tasks at home, at work or at leisure.  People with Alzheimer's often find it hard to complete daily tasks. Sometimes, people may have trouble driving to a familiar location, managing a budget at work or remembering the rules of a favorite game.
What's typical: Occasionally needing help to use the settings on a microwave or to record a television show.
Confusion with time or place: People with Alzheimer's can lose track of dates, seasons and the passage of time. They may have trouble understanding something if it is not happening immediately. Sometimes they may forget where they are or how they got there.
What's typical: Getting confused about the day of the week but figuring it out later.
Trouble understanding visual images and spatial relationships.  For some people, having vision problems is a sign of Alzheimer's. They may have difficulty reading, judging distance and determining color or contrast.
What's typical: Vision changes related to cataracts.
New problems with words in speaking or writing.  People with Alzheimer's may have trouble following or joining a conversation. They may stop in the middle of a conversation and have no idea how to continue or they may repeat themselves.
What's typical: Sometimes having trouble finding the right word.
Misplacing things and losing the ability to retrace steps.  A person with Alzheimer's may put things in unusual places. They may lose things and be unable to go back over their steps to find them again. Sometimes, they may accuse others of stealing. This may occur more frequently over time.
What's typical: Misplacing things from time to time, such as a pair of glasses or the remote control.
Decreased or poor judgment.  People with Alzheimer's may experience changes in judgment or decision-making. For example, they may use poor judgment. They may pay less attention to grooming.
What's typical: Making a bad decision once in a while.
Withdrawal from work or social activities.  A person with Alzheimer's may start to remove themselves from hobbies, social activities, work projects or sports.
What's typical: Sometimes feeling weary of work, family and social obligations.
Changes in mood and personality. The mood and personalities of people with Alzheimer's can change. They can become confused, suspicious, depressed, fearful or anxious. They may be easily upset.
What's typical: Developing specific ways of doing things and becoming irritable when a routine is disrupted.
The Alzheimer's Association knows holidays can be stressful and disappointing. During these times, families dealing with memory loss, dementia and Alzheimer's disease can experience problems during their holiday experience. Caregivers may feel overwhelmed maintaining holiday traditions while caring for their loved ones.
The Alzheimer's Association offers these special, holiday tips from our Helpline staff:
Decide which traditions are most important to you and which you can live without. Think about ways you can modify traditions that will still have meaning to you and your family.
Remember family members and friends who've offered their assistance. Let them help with cleaning, cooking and shopping.
Attend less crowded religious services or create a quiet ceremony at home that includes traditional readings, stories and hymns.
Consider gift cards and online shopping in lieu of crowded stores for the holidays.
Recognize that it is easy to feel overwhelmed by increased pressure and stimulation. Consider more intimate gatherings spread out over several days versus a large family get-together.
By adjusting your expectations and modifying some traditions, you may find the real joy in the season comes from simply being with, and reminiscing with, the ones we love.
For local programs and services in your area, visit www.alz.org/cnfl.
About the Alzheimer's Association®
The Alzheimer's Association is the world's leading voluntary health organization in Alzheimer's care, support and research. Our mission is to eliminate Alzheimer's disease through the advancement of research, to provide and enhance care and support for all affected, and to reduce the risk of dementia through the promotion of brain health. Our vision is a world withoutAlzheimer's. Visit www.alz.org® or call 800.272.3900.