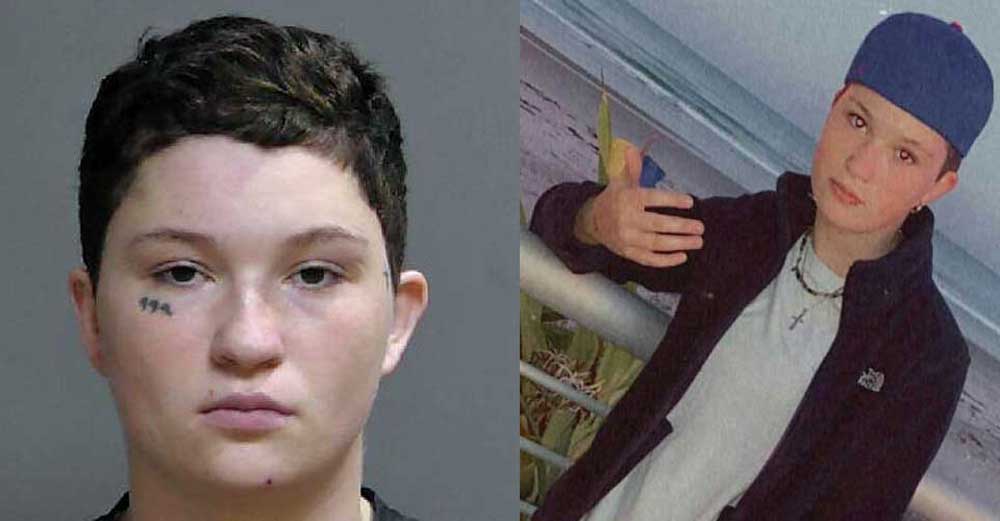 Gabriella Alo, the 18-year-old woman facing four felony counts stemming from allegedly brutalizing a boy and running over a woman earlier this month, had to be wrestled to the floor and tased into compliance at the Flagler County jail on Sunday after refusing to comply with orders from corrections deputies.
Alo has been held at the jail since her arrest on Jan. 13 on charges of hit and run, child abuse, aggravated battery and tampering with a witness. She is accused, with her 21-year-old brother Nicholas Alo, of pummeling a teenage boy (and recording the beating on cell phones) at Wickline park in Flagler Beach, then running over Kaitlin Dahme, a 29-year-old woman, who lives across the street and had rushed over to stop the beating. Dahme was hospitalized as a result. Nicholas Alo was arrested and booked at the jail on Jan. 19 for his role in the alleged attack.
Gabriella Alo is represented by Assistant Public Defender Regina Nunnally, who has filed a motion asking for her client's release from jail, without posting bond, on conditions to be set by the court. A judge is to hear that motion on Feb. 6, at Alo's arraignment. Until then, she has to remain in jail since she cannot afford bail on $18,500 bond. Her brother faces fewer charges, but is being held on $60,500 bond.
The jail incident involving Gabriella took place the evening of Jan. 22, according to an incident report.




Alo had been asking to be moved to an upstairs cell in Alpha Block. But a deputy told her that would not be allowed. Alo went back upstairs anyway. When a corrections deputy confronted her, she argued that "she wanted to be housed upstairs because she didn't get along with the people downstairs," according to the report. She also noted she had "a hand injury that refrained her from getting on the top bunk." (The injury may have been a result of the pummeling of the boy at Wickline Park.)
A corrections deputy told Alo she could request to be placed in protective custody if she feared for her safety, and to put in for a sick call to be seen by the jail's medical provider. "Whatever," Alo was quoted as replying to the deputy, "you can leave now, goodbye."
She was told to pack her things so she could be housed in a single cell in a different cell block, pending a disciplinary report. "I'm not going. I don't care, I'm not leaving," she allegedly replied, standing on a table in the block's day room. Other deputies converged, again repeating the orders to pack her things so she could be moved to a different unit, and again she refused.
A deputy attempted to take her to a vestibule, away from other inmates. When the deputy reached for Alo's arm, "she proceeded to pull away and physically resist her efforts. Once in the vestibule," the report states, the deputy "placed her up against the wall. Inmate Alo tried explaining herself to me at this time. Once she realized that she would not be going back to Alpha block, Inmate Alo became more and more physically resistant and agitated. We attempted to restrain her arms and hands to put cuffs on her. We continued to give her direct orders."
Alo continued to resist getting handcuffed. "After multiple attempts to safely restrain inmate Alo and her becoming increasingly more aggressive and uncooperative with us," the report states, Deputy [Sara] Radford had to escort the inmate to the ground to continue to try and gain control of her."




Escorting an inmate to the ground is law enforcement lingo for taking down an individual by force. Other deputies kept converging. Alo, the report states, "ultimately had to be tased to gain compliance." She then immediately placed her hands behind her back and allowed a deputy to handcuff her. She was taken to the booking area for medical evaluation. She does not face additional charges.
The charges she does face include a first-degree felony charge of tampering with a witness, a second-degree felony charge of leaving the scene of a crash with injuries, a second degree felony charge of aggravated assault, and a third degree felony charge of child abuse.
Reader Interactions