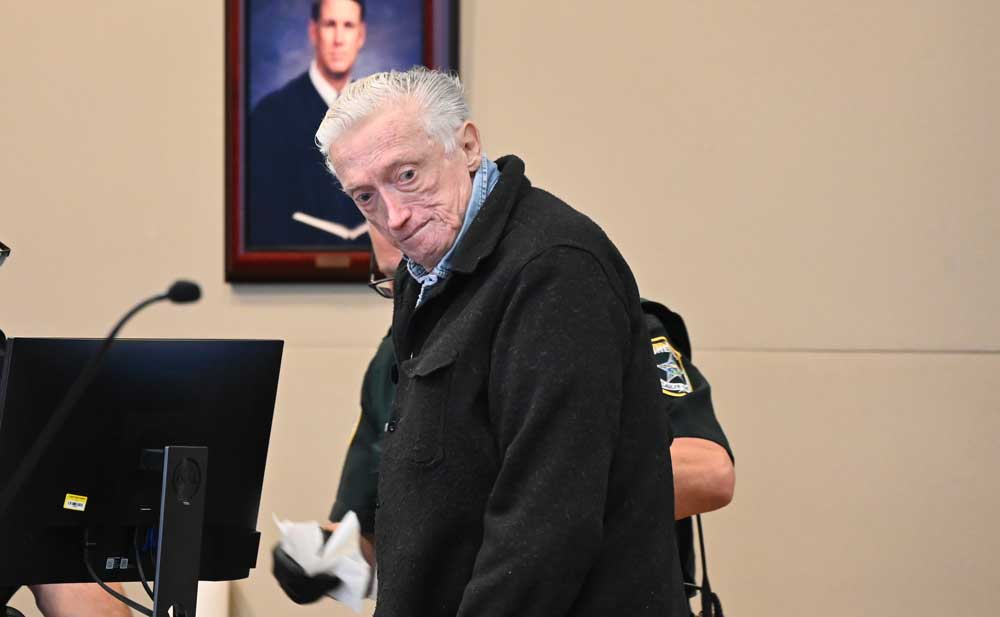 Edgar Alloway Jr., 79, a 16-year resident of Banton Lane in Palm Coast, was sentenced to 18 months in state prison today for downloading 12 images of child sexual abuse. The prison sentence is to be followed by decades on house arrest and sex-offender probation.
Alloway's attorney, Josh Davis, called it a "death sentence" because of Alloway's failing health. Davis had sought house arrest for his client–as had Circuit Judge Terence Perkins, with neither finding Alloway to be a threat to the community.
But Assistant State Attorney Melissa Clark convinced the judge not to go that route. She framed the case in broader terms than Alloway's immediate circumstances, and said house arrest would not be punishment for Alloway, who is essentially home-bound anyway.
"That market is created because of somebody like Mr. Alloway," Clark said. "So there's a child somewhere that went through horrible things, and he took pleasure in watching that, and I think he should be punished for that. And I don't think him getting to lay in his own bed, watching Netflix, is a punishment–at all. And so what if we told him okay, well, since you're old and you have medical issues, you get to stay home in your bed, watching Netflix and Fox News and CNN and whatever it is you want to do, with no repercussions. Because, frankly, community control in his world, it's a walk in the park. That is not a punishment."




Almost two years ago Alloway was arrested after an investigation traced the downloading of 12 child sexual abuse pictures to his IP address. He did not dispute the findings. He said he'd downloaded that kind of imagery for a year but stopped when his AOL account was suspended. He spent a night in jail and was released on $120,000. Then as now, he was remarkably short on any kind of remorse, a fact Clark pointed out and that the judge took into account when he finally sentenced him.
"You sat here and listened to it as well," Clark told the judge. "Not once did he ever say this was horrible. I should have never done this. I feel terrible. Those poor children. Never came out of his mouth. The only thing come out of his mouth is me me me me me. I don't want to go to prison because I have all these medical issues."
The prosecution had offered four years' prison time followed by 10 years on sex-offender probation. Alloway turned it down, for the reasons his witnesses and his own testimony laid out today.
Until today, he lived with his sister and his brother in law on Banton Lane in Palm Coast. The trio had jointly bought the house in 2007. Its backyard abuts the parking lot of St. Thomas Episcopal Church but for a few buffering trees–an element that became relevant once he was designated a sex offender: he would be barred from living there anyway, since it's within 1,000 feet of a place where children customarily gather. The church also has a child care service.




Alloway, emaciated, frail, walking on a cane, had brought along his brother-in-law, who had taken half an hour to make his way from the parking lot to the courtroom. He used a rolling walker, spoke haltingly, like someone with advanced emphysema or black lung disease, and depended on oxygen. He testified that but for Alloway, he and his sister, who is also on 100 percent disability, could not have a way to medical appointments, would not have anyone shopping for them, and would not be able to afford the full mortgage, half paid by Alloway. "I'm too elderly to be homeless," the brother in law said after the sentencing, as he watched Alloway getting finger-printed.
Alloway himself testified about his history ailments, what became a litany of maladies, from the removal of his colon that's left him dependent on a clostomy bag to a mersa infection that just returned to a recent hospitalization for stroke symptoms to stage-three kidney disease to blood clots to a past bout with hepatitis C to his HIV-positive status (currently undetectable thanks to medication) to surgeries on his face to remove skin cancer cells to a list of 14 medication he takes daily, plus insulin.
"Mr. Alloway has lived his life. He's [79] years old. He stays at home. He's not going to go out and party, whatever else," Davis told the judge. "Now, myself, and Ms. Clark, your honor, the clerks, the bailiffs, the deputies, anybody else who pays taxes is going to be required to pay for this. Mr. Alloway calls me once a week, two or three times a month, maybe, back in the hospital, back in the hospital, back in the hospital. If he goes to prison, he's going to put in the request to see the doctor. They're not going to get there soon enough. He's going to die. That's what I think is going to happen."
Clark had anticipated that approach. Her first witness was Dr. Kalem Santiago, chief medical adviser for the Department of Corrections. She told the court that medicals services in the prison system treat all inmates for all illnesses. Davis had countered with Alloway's own phrenologist–the kind of man quick to correct someone who doesn't call him "doctor"–who cautioned that "without the medical attention he's had in the past he would be on dialysis."
All of that had led Perkins, the judge, to ask: "Why aren't we talking about community control?"




"Because this is a prison offense," Clark said.
The judge was having difficulties with the parameters. Strictly speaking, Alloway scored
over 13 years' prison time according to the guidelines. "I've got do do a downward departure," meaning diverge from the guidelines, the judge said, because Alloway's health issues compelled it. Otherwise, "I'm stuck at 13 and a half years state prison, which I don't think would be an appropriate sentence under this."
"I don't think there's grounds for a downward departure at all," Clark said. Nevertheless, she had offered the four years in prison, followed by probation.
In the end, the judge, noting that Alloway would likely not be allowed to live at his present address anyway, imposed the prison sentence of 18 months, followed by 22 years of community control, or house arrest, followed by 60 years on probation, knowing fully well that Alloway would not live anywhere near that long.
"And the reason I'm sentencing you to that, sir," Perkins told Alloway, "is because it was a crime, it's wrong, and part of my job is to punish you, and I think he need to be punished. I haven't heard the first bit of remorse, and this is a horrible thing."
It was not clear, either for the court or the attorneys, whether the law provides for more than two years of community control. If it proves not to make such an allowance, then the sex-offender probation terms, which are very strict anyway, including curfews, bans on internet access and random, warrantless police checks and searches, will apply.
Reader Interactions