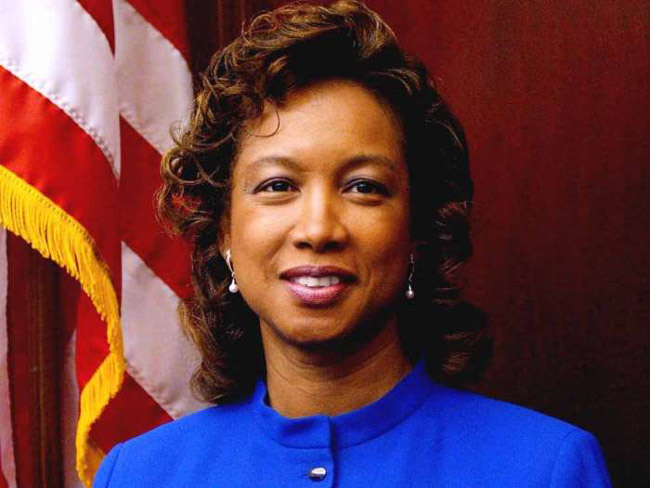 Florida Lt. Gov. Jennifer Carroll abruptly resigned Tuesday in a curt, two-line letter to Gov. Rick Scott. The resignation is tied to Carroll's former involvement with Allied Veterans of the World, a non-profit that runs innumerable Internet cafe-style, small-stakes gambling parlors across the state and in other states.
Almost a dozen Internet cafes operate in Palm Coast, and at least one of them–near Home Depot, off of Palm Coast Parkway–was being raided by Flagler County Sheriff's deputies this morning in a related development.
The raids are part of a broad sweep by authorities across the state following the arrest this week of Allied Veterans officials on racketeering charges. The arrests follow a six-year investigation by the IRS and the federal Secret Service. Among those arrested: Jerry Bass, the National Commander of Allied Veterans of the World Inc. and Affiliates. He was booked into the Duval County Jail Tuesday.
Allied Veterans backed the opening by Disabled American Veterans of an Internet Cafe in Flagler Beach in November 2010, but the city commission refused to amending its zoning code to allow for the establishment, citing various concerns.
Palm Coast's city government has been waging a low-grade war with Internet cafes, trying to negotiate their capacity to do business in the city without being overrun by them. The city last developed restrictive regulations that apply to the cafes. Meanwhile, city and county officials have been urging legislators either to ban the cafes or to adopt universal regulations that might enable localities to tax the establishments further. This week's developments may spur the Legislature to do just that–and Scott to push for regulatory legislation in order to counter the damage to his administration, from his association with Carroll, as he approaches his re-election campaign.
"Lt. Gov. Carroll resigned in an effort to keep her former affiliation with the company from distracting from the administration's important work on behalf of Florida Families," Adam Hollingsworth, Scott's chief-of-staff, said in remarks picked up by the Times-Union this morning.
Allied Veterans has been at the forefront of lobbying efforts that have enabled the cafes to mushroom all over the state. The non-profit also runs cafes, dozens of which were being searched Tuesday and Wednesday. There are 21 Allied Veterans cafes in Central Florida, according to the Orlando Sentinel.
Carroll, a Navy veteran, had owned a company called 3N & JC, a consultancy she put to work on behalf of Allied Veterans, and played a role in a commercial for the Allied Veterans in 2010.
"Effective immediately," Carroll, who rose through Clay County Republican ranks, wrote Scott on Tuesday, "I hereby resign the Office of Lieutenant Governor of the State of Florida. It has been an honor to have served the state of Florida in this capacity."
According to the Times-Union, "Allied Veterans is accused of money laundering, using money from a nonprofit for personal gain and misrepresenting the amount donated to charities. Authorities say the group donated just 2 percent of its $290 million in proceeds to charities over about five years. They also say the former president received more than $1.5 million and the national commander got $250,000 from the organization."
Federal, state and local police agencies from across Florida were planning a news conference for noon today in Orlando on the Internet cafe sweeps.