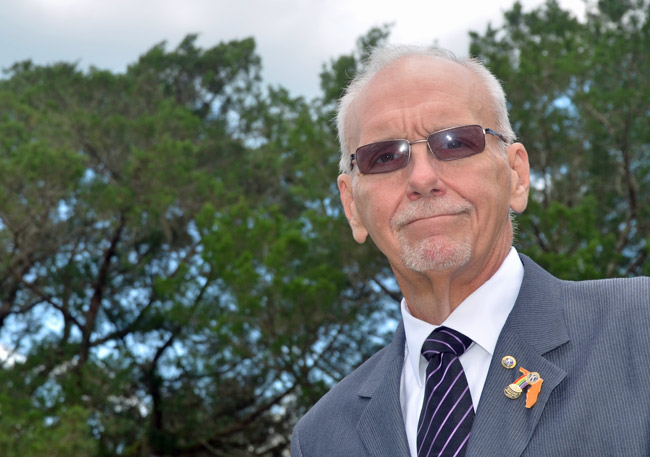 It's never happened in the nearly century-long history of Kiwanis International, the global service organization: for the first time in 95 years, the Florida District, which includes all of Florida and a few Caribbean islands, will be led by a Flagler County resident come Oct. 1.
Flagler Beach's Allen Whetsell, the general manager at Craig-Flagler Palms Funeral Home, a Kiwanian for 30 years and one of the county's sharpest wits, at least outside business hours, was installed as Governor of the Florida District at the 9th annual convention of the district in Tampa last weekend.  Whetsell will serve one year, remaining on the organization's executive board for three years after that. He replaces Eddie Lee of St. Petersburg.
Kiwanis International, which has some 9,000 members across Florida and 70 to 75 in Flagler, is a volunteer service organization focused on children's needs, particularly health and literacy. A focus this year—and a focus on Whetsell's year as governor—is the organization's Just 1 Book program, founded by a 10-year-old girl who wanted to encourage her classmates to donate just one book each either to build "neighborhood centers" filled with books—such as at Head Start programs or health departments—or to circulate them among those who can't afford books of their own. Sal Passalaqua, a colleague of Whetsell's at Craig-Flagler Palms and the president of the Kiwanis Club, was installed as district chairman of the Just 1 Book initiative, which doubles as the Governor's Project for the year.
Whetsell says the governorship will be a reflection of his commitment to children.
"It allows me the opportunity to visit a lot of different Kiwanis clubs and see different programs that affect children's lives positively each and every day," he said. "I don't want to say it's the crowning moment of my Kiwanis career, but it would be one of those moments where you reach the pinnacle as far as the state is concerned, in the organization. Kiwanis is the leading service organization for children in the elementary through high school years. We are a great organization for that."
Signature programs include the Young children Priority One programs, which focus on reading and immunization, sometimes combining the two: the Flagler County Health Department has a Kiwanis-sponsored library for the children who go there to be cared for. The high schools have the Key Clubs (Flagler Palm Coast High School's club leads a very successful annual winter coat drive). Elementary schools have K-Kids, whose members locally go to Flagler Pines and Grand Oaks, two local nursing homes, around Christmas, hand-made cards in hand and carols on their lips, and Builders Clubs in the middle schools).
There's also an economic benefit to having a local governor: in June, Whetsell brought the organization's annual lieutenant governors' training to Flagler County. That meant about 100 people booked nights at the Hilton Garden Inn, where the training took place. That training hadn't been held outside the Orlando-I-4 corridor for about 18 years. "So it took those 100 people and showed them the quaintness of Flagler County, and people fell in love with this area," Whetsell said. "The Hilton Garden Inn did a magnificent job for us. I'm extremely pleased. Tom Grimes [the hotel's general manager] is a member of our local Kiwanis Club that meets there. That was the first exposure. The other expose will be that each year when a governor takes over, it gives a new perspective as to what his or her programs are. This year we are celebrating the 25th anniversary of women in Kiwanis."
Imagine that: until the latter part of the Reagan years, it was an all-male organization. This year the organization led a recruitment drive, trying to sign up 100 women in 100 days. It signed up almost double that number. (The fees are quite reasonable.)
"We like people who have a commitment to make children's lives better. If that's not your commitment, then we're not the service organization for you," he said. "Kiwanis is where my heart has been for 30 years."
Jane Erickson, an international trustee of the organization and a Nebraska-based Kiwanian, was the Florida convention's keynote speaker, bringing her message of showing up "in mind, body and spirit" to the congregation. (You can watch her deliver her presentation at a convention in Canada last year here.)
The message is resonant with the organization's spiritualism: "The service commitment to children is a very spiritual type of program," Whetsell said, "so we're renewing our commitment to that this year. We have interfaith prayer lunches, breakfasts, dinners scheduled throughout the state of Florida."
Ironically for Whetsell, he was named governor the weekend before Election Day, in which he played a prominent but ultimately unsuccessful part: he was one of four Republican candidates for Flagler County Supervisor of Elections. Trey Corbett eventually won by a few votes, just ahead of Pam Richardson.
"While disappointed that I didn't win the supervisor of elections office, I understand the voting process very well, and at the end of the day, I'm fully supportive of the candidate that we elected," Whetsell said. "There are times in people's lives when things are just not meant to be. It gives my commitment to Kiwanis maybe extra time to do that. It's very tough to be out on the road doing Kiwanis things and also running a campaign. So I learned a valuable lesson. Not that I'll ever run again."

The Flagler County Kiwanis Club meets on the First and Third Tuesdays at 5:30 PM at the Hilton Garden Inn, Palm Coast and the Kiwanis Club of Flagler/Palm Coast meets at 11:30 AM on Wednesday's at the Taste of Portugal Restaurant in Palm Coast also.  For more information see the organization's website.