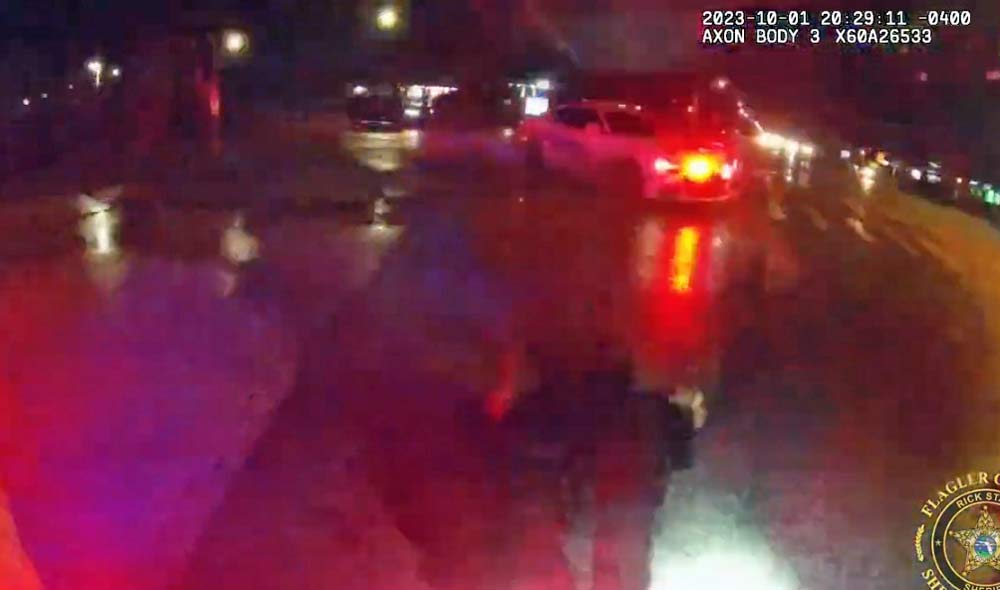 John Ramsey Davis, a 44-year-old homeless man, faces felony charges after allegedly robbing the Circle K at Palm Coast Parkway of $368 Monday night. Flagler County Sheriff's deputies apprehended him shortly afterward near the public library. No one was physically hurt. The stolen money was recovered.
He had entered the store at the gas station wearing a hoodie, motioning his hands inside the sweatshirt as if to suggest he had a gun, and demanding of the clerk to "give me all your money from the drawer." The clerk complied.




Davis then fled west on the Parkway. A deputy with a police dog located Davis in the unlit parking lot of the library. Davis ran, according to his arrest report, ignoring the Flagler County Sheriff's deputy's commands, but not far. He was stopped at Belle Terre Parkway and Palm Coast Parkway, where he'd fallen.
Davis allegedly resisted arrest with some violence, kicking his legs and tensing his arms. A team of paramedics assessed him before he was taken back to the Circle K store for a "show up," where two individuals who had witnessed the robbery identified Davis as the alleged robber. The cash was found in one of his pockets.
He initially denied being in the area of the convenience store at the time of the robbery, but changed his mind after seeing surveillance video documenting his presence at the Circle K. He later confessed, according to the arrest report. He then wrote a letter of apology to the store clerk, who had been in fear for her life.
Davis, whose former address was in Brunswick, Ga. (a few days ago, he'd been cited with a $64.50 citation for walking on I-95), faces a second-degree felony charge for robbery (without a weapon) and other lesser charges. He was booked at the Flagler County jail on $62,000 bond, where he remains.