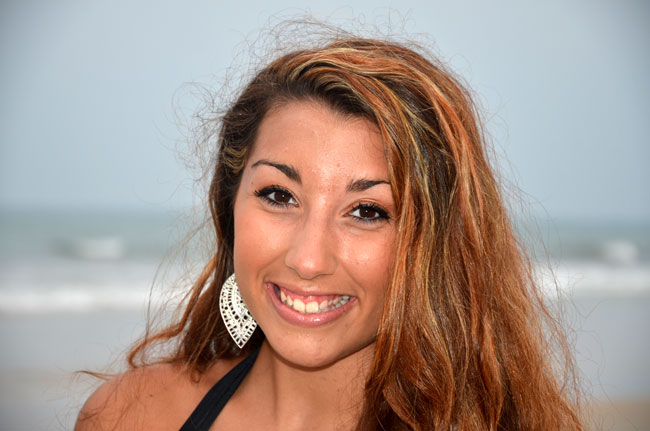 Alexa is 16 years old with brown hair and brown eyes and stands at 5 feet 8 inches tall. She is the daughter of Rupert Perry and Margherita Miller-Perry of Palm Coast.
This August, Alexa will be a junior at Matanzas High School where she is a member of the yearbook club.
Alexa is sponsored by Ciao Bella Salon. She enjoys drawing, dancing and laughing. She is also on her school's cheerleading team and yearbook club. Alexa likes to volunteer her time at local cheer camps for elementary school girls. In the future Alexa plans to go to college and ultimately plans to be the fashion editor of Teen Vogue.

The Complete Miss Flagler County Pageant Image and Portrait Galleries
2013
Little Miss Flagler County 2013 Contestants, Ages 5-7
Little Miss Flagler County 2013 Contestants, Ages 8-11
Miss Junior Flagler County 2013 Contestants, Ages 12-15
Miss Flagler County 2013 Scholarship Pageant Contestants, Ages 16-23
2012
Meet the 2012 Miss Flagler County Contestants: The Overview
Little Miss Flagler County 2012 Contestants, Ages 5-7
Little Miss Flagler County 2012 Contestants, Ages 8-11
Miss Junior Flagler County 2012 Contestants, Ages 12-15
Miss Flagler County 2012 Scholarship Pageant Contestants, Ages 16-23
2011
Meet the 2011 Miss Flagler County Contestants: The Overview
Little Miss Flagler County 2011 Contestants, Ages 5-7
Little Miss Flagler County 2011 Contestants, Ages 8-11
Miss Junior Flagler County 2011 Contestants, Ages 12-15
Miss Flagler County 2011 Scholarship Pageant Contestants, Ages 16-23
2010
Meet the 2010 Miss Flagler County Contestants: The Overview
Little Miss Flagler County Contestants, Ages 5-7
Little Miss Flagler County 2010 Contestants, Ages 8-11
Miss Junior Flagler County 2010 Contestants, Ages 12-15
Miss Flagler County 2010 Scholarship Pageant Contestants, Ages 16-23