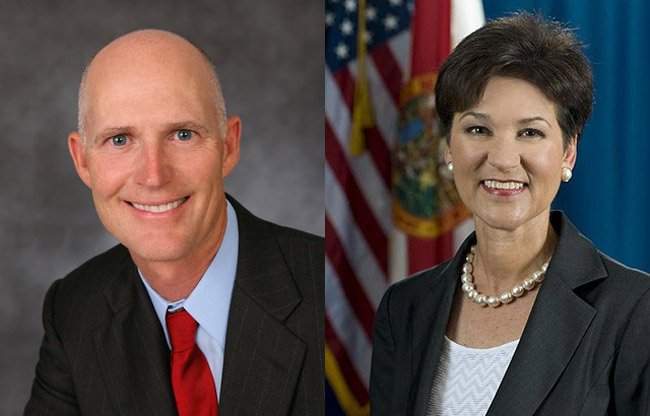 Ending months of speculation, former Florida Chief Financial Officer Alex Sink said Friday she will not run for governor against incumbent Republican Rick Scott in 2014, further fueling "will he or won't he" chatter about Democrat Charlie Crist.
Sink, who narrowly lost a bid for governor to Scott in 2010, said she plans to focus on the non-profit foundation she created to help young entrepreneurs.
"After careful consideration, I have decided that the best way for me to make a positive and lasting impact on our state is to continue the work we've started together," Sink, 65, said in an e-mail. "I plan to continue my involvement with the Florida Next Foundation, working to build a state of innovation and inspiring the next generation of young Florida leaders. And of course I am going to be supporting candidates who I believe share my vision that Florida can be a state of opportunity for all of its citizens."
Those close to Sink have said that the death of her husband, Bill McBride, in December played a role in her decision to stay out of the race. The Democratic gubernatorial nominee in 2002, McBride lost that race to former Gov. Jeb Bush.
Sink did not have a primary in her first run for public office in 2006 and easily won the CFO race. She also faced no significant competition in the Democratic gubernatorial primary three years ago before losing to Scott by 1.2 percent.
But onetime-Republican Crist is widely expected to make an attempt — as a Democrat — to return to the governor's mansion. Crist did not seek re-election after one term in 2010 and instead ran a failed U.S. Senate campaign as an independent.
Crist is anticipated to announce his entrée into the 2014 race next month.
"I loved working with Alex on the Florida Cabinet and I'm sure it won't be the last time we work together," Crist said in an email Friday. "Florida needs Alex Sink and I'm excited about what's happening at her Florida Next Foundation."
For now at least, former state Senate Minority Leader Nan Rich is the only serious Democratic candidate in the race, Democrats have floated the idea of U.S. Sen. Bill Nelson, D-Fla., running.
Rich said the narrowing field sharpens the differences between her and both Scott and Crist.
"It will give Florida voters a clear choice between someone who has life-long core Democratic values and a commitment to working families and the middle class versus either one of them," Rich said.
Rich said she backed Sink in her attempt to defeat Scott and hopes "she will be as supportive of me as I was of her."
Sink's e-mail announcing her decision not to run had a campaign flavor nonetheless.
Sink accused Scott of "failed leadership on the economy, education and the environment" and pledged to "continue to speak out and to aggressively hold him accountable for ignoring Floridians' best interests."
Florida Democratic Party Executive Director Scott Arcenaux said he admired Sink's "strength and clarity of purpose."
"Alex Sink has consistently stood up for Florida's middle-class families and small businesses, I know Democrats across Florida look forward to hearing her strong advocacy at the Florida Next Foundation and around the state in the months and years to come," Arcenaux said in a statement.
The Republican Party of Florida jumped on Sink's announcement, also questioning whether she would throw her support behind "Florida's leading liberal" Rich.
"Anything other than full-throated support for Senator Rich is an implicit endorsement of Charlie Crist, a candidate she called a 'disaster,' " RPOF Chairman Lenny Curry said in a statement, adding the RPOF "is more than happy to run the campaign that Alex Sink would have run against Charlie Crist."
–Dara Kam, News Service of Florida