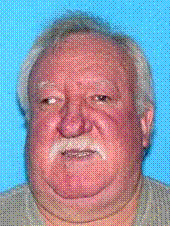 2:47 p.m. Update: Jan Jablonski and his dog have been located behind the Belle Terre Swim and Racquet Club at 73 Patricia Drive in Palm Coast. He is in good condition and is being returned to his home. Both were located at 2:30 p.m. today.
Earlier, the sheriff's Office had sent out the following alert:
The Flagler County Sheriff's Office is asking for the public's assistance in locating a 63-year-old Palm Coast man who has been missing since 8 this morning when he went out to walk his dog.
Jan Jablonski suffers from dementia and diabetes. He is about 5'6" tall and weighs 220 pounds. He was last seen leaving his home at 18 Patrick Drive with his tricolored fox terrier. He may be wearing a blue sleeveless shirt and blue sweat pants. He speaks limited English.
The Sheriff's Office is being assisted by Flagler County Fireflight which is searching by air. A ground search is underway using Palm Coast Fire Police, the Sheriff's Citizen Observer Patrol units along with K-9 and road patrol deputies. The St. Johns County Sheriff's Office has joined the search with their blood hound.
Anyone with information on Mr. Jablonoski is asked to contact the Flagler County Sheriff's Office at (386) 313-4911.