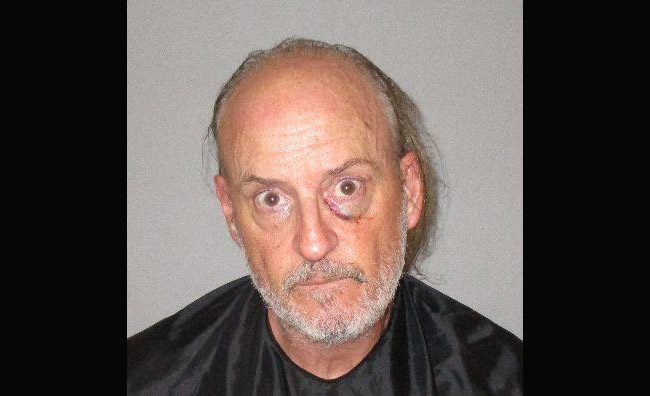 Jeffrey Patterson is a 56-year-old resident of the RV park off Old Kings Road in Palm Coast, in the Bulow area. Friday night (July 20) he was at Roadhouse Bar in the resort. He'd been there a while so that by close to midnight the bartender cut him from from more alcoholic drinks.
Patterson got angry, the bartender told Flagler County Sheriff's deputies, and started arguing with patrons, among them Carl Wheeler, a 71-year-old resident of the RV park. Matthew Aubrey, 24, also a resident of the RV park, intervened, trying to diffuse the situation. By then Patterson had armed himself with a guitar and was allegedly making threats.
As Aubrey tried to separate the men, Patterson swung the guitar and allegedly struck the 24-year-old in the head, then Wheeler and Patterson scuffled and fell to the ground before the various parties retreated to their respective lots on the property. Aubrey suffered "severe injuries," according to a sheriff's report. Wheeler suffered minor scrapes to his arms and elbows. Both declined medical attention at the location of the incident, saying they'd drive themselves to the hospital.
The bartender "was the only person not intoxicated inside the bar" who was willing to complete a statement when sheriff's deputies arrived near midnight. He alleged Patterson had started swinging his guitar at Wheeler before Aubrey got struck. Blood covered the sidewalk in front of the door to the bar. Wheeler and Aubrey, who had returned to their homes, provided statements about the altercation and opted to pursue charges against Patterson.
When deputies made it to Patterson's lot, they noticed the guitar on a picnic table, visibly damaged. In Patterson's version of the confrontation, he'd been merely trying to leave the bar when he was "attacked" by Aubrey and Wheeler "for no reason," so he was only defending himself with his guitar. When he got back to his residence, Patterson told deputies, an older man whom he described as possibly Aubrey's father attacked him, punching him, though he said he had no interest in pursuing charges.
The guitar was seized and placed into evidence. Patterson was charged with aggravated battery with a deadly weapon and assault on a person 65 or older–both felonies–and booked at the Flagler County jail on $10,000 bond. He remained at the jail Tuesday evening.