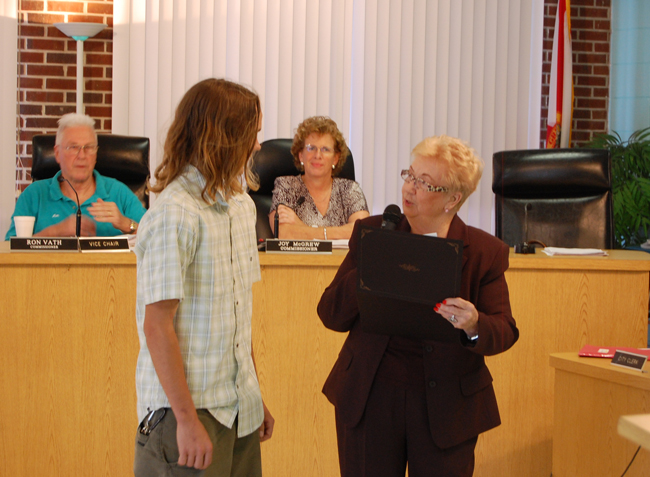 It was a windy, late-winter day in early March, the surf off of Flagler Beach was choppy, the air temperature somewhere in the abrasive mid-50s.
As Flagler Beach mayor Alice Baker described it, "Aaron Akin was windsurfing offshore at Flagler Beach and got into some big trouble and could not get back to shore because of the high winds." Akin's kite-surf had busted 300 yards from shore, and he was stranded. Akin's sister was watching the scene from shore. She called 911.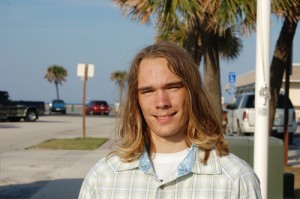 Then Alan Forehand got a call. He was home, not far from the beach. He's known around town not only as an experienced surfer, but as a surf instructor with plenty of experience despite being just 15.
Forehand rushed out with his surfboard, and brought back Akin safely to shore. On April 22, at the Flagler Beach City Commission, with aunt and uncle Bill and Zoe Forehand watching, Alan was awarded a certificate of recognition by the commission for his "bravery and compassion."
In Baker's words for posterity: "The city of Flagler Beach desires to publicly recognize and show its appreciation to Alan Forehand for his act of bravery and assisting a windsurfer having difficulty getting back into shore."
Alan, the son of Debra and Walter Forehand does little to disprove–with his gangly blond looks, long curls and affability–the spitting image of the mythical surfer. Naturally, the rescue was just a different way of lending a half hour's hand that day: "I do surf camp for the Z Wave Surf Shop," he said. "I'm sort of used to putting myself in dangerous situations like that to get kids out of the water. I've been teaching surf lessons for about two years."
A student at Matanzas High School, Alan is also in lacrosse, band, and cross-country. He's not sure what he'll do after high school, but he's thinking of something in the medical field. At 15, he's already at least one up on most 15 year olds with a thing for saving lives.