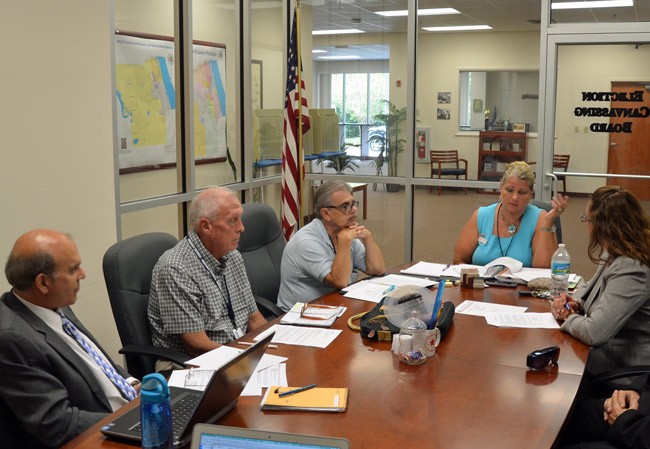 On Dec. 17, Kimberle Weeks, the former Flagler County Supervisor of Elections, filed a complaint with the Florida Bar about County Attorney Al Hadeed.
The complaint, never made public until the county administration released it Monday (you can read it in full here), was part of a series of similar maneuvers Weeks and an ally, former County Commission candidate Mark Richter, filed with the state ethics commission and the state elections commission either against Hadeed or against every sitting county commissioner the same month. The filing with the Florida Bar rehashes the same allegations Weeks has been making publicly and to state agencies about Hadeed and the commissioners, claiming Sunshine law violations, conflicts of interest, inappropriate counsel, or election law violations.
The filings were primarily and transparently motivated by politics rather than substantive accusations, as indicated by the scattershot nature of the approach, in hopes that some of the complaints might stick. More pointedly for Weeks, who repeatedly used a similar strategy of making broad-brush public accusations against certain agencies or officials in her six-year tenure, the filings appear to have been motivated by the expectation of drawing negative press against Weeks's enemies, regardless of the validity of the complaints: her allegations have at one time or another targeted the Palm Coast City Council or City Manager Jim Landon and members of his administration, Flagler County Sheriff Jim Manfre, and county government.
When Weeks recorded a conversation between Hadeed and Commissioner Charlie Ericksen on the periphery of a canvassing board meeting last summer, without their knowledge, the Florida Department of Law Enforcement launched a criminal investigation into Weeks's recording and into broader matter involving her office, serving a search warrant there on Oct. 3. That investigation is ongoing. The first week of January, Weeks resigned, citing her numerous issues with local government, but also citing personal family matters, including her father's illness. (Her father died earlier this month.)
Hadeed's Florida Bar complaint response made a key revelation: that in her recording of that conversation, Weeks had edited, erased or spliced out significant parts of the recording that may have been embarrassing to her. The splicing then, according to Hadeed, was designed to present him in a bad light.
By then, the numerous complaints had already been filed, with each agency receiving them compelled to look into them according to each agency's formal rules. Complainants to the Florida Bar are required to limit their documentation to 25 pages. Weeks took advantage of the full allowance in a five-page single-spaced, small-font submission on Dec. 17, followed by documentation (emails, memos and copies of minutes), starting with what she refers to as "the whispering incident"–the conversation between Hadeed and Ericksen about a former county commissioner and member of the canvassing board who had once apparently looked at ballots inappropriately, then made a phone call that may have reported what the commissioner had seen. That would amount to a third-degree felony. The commissioner and the time frame of the incident is not mentioned, but Hadeed notes to Ericksen that he told the allegedly offending commissioner to carry on more appropriately, and the commissioner complied. Weeks charges, among other things, that Hadeed violated the Sunshine law when he spoke to Ericksen about the matter.
From there, Weeks then added numerous accusations against Hadeed, many of them accusing him of not anticipating commissioners' missteps, such as when–in Weeks's own words, which do not always follow the rules of grammar or syntax–he "failed to advise the county commissioners when they selected canvassing board members for the 2014 elections that involved themselves in a candidate's campaign could disqualify them from being eligible to serve as a canvassing board member." She then charges that once certain issues involving commissioners serving on the canvassing board came to light–issues Weeks claims should have disqualified them outright–Hadeed, whose role she never recognized on the canvassing board, did not advise them to step down.
Hadeed responded to the allegations on Feb. 9. "The allegations accuse me of dishonesty, bias, incompetence, conflicts of interest, conspiracy, and criminal wrongdoing," he wrote Bar Counsel Annemarie Craft. "Ms Weeks has filed this same complaint with the Florida Ethics Commission. These are extreme allegations and they are numerous. Rather than rebut by generalizations, I have looked for matters of record that refute the allegations unequivocally." In his response, Hadeed noted that he could not possibly limit his documentation to the 25-page maximum set by the Bar, so he left it up to the Bar to follow up for more documentation based on his footnoted references. The full response appears below.
The response is a systematic, point-by-point refutation of Weeks's allegations. For example, where Weeks claims Hadeed violated sunshine in his conversation with Ericksen about the previous commissioner's actions, Hadeed counters that the conversation had no bearing on any ongoing business of the canvassing board, and so did not amount to such a violation. His subsequent responses focused on his "good-faith" service on the canvassing board as legal counsel while countering Weeks allegations with a fuller context in which disagreements she brought up took place: essentially, Hadeed, in his response, attempted to fill in the record that Weeks had presented to the bar in splices.
As required by the Bar's rules, all documents were shared between Hadeed and Weeks, who then responded to Hadeed's response, on Feb. 18, again focusing on the recording as "the most damning, incredible piece of evidence." (That response is available here.)
"We are confident that once the proper authorities review this material that the allegations by our former Supervisor of Elections will be found without merit," County Administrator Craig Coffey said in a news release his administration issued Monday. "The complaints and the required responses to all of these agencies are a waste of taxpayer's money and County employees' time."

Al Hadeed Response to Bar Complaint By Kimberle Weeks (2015)