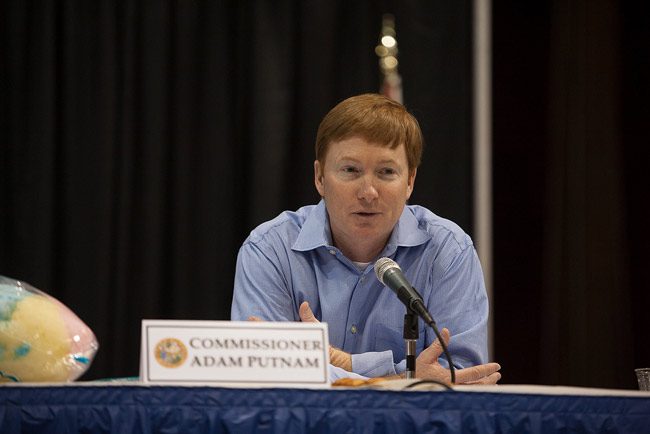 Four Republicans — two lawmakers, a former lawmaker and a palm-tree farmer — are competing to replace Florida Agriculture Commissioner Adam Putnam, who is term-limited in the Cabinet office and running for governor.
The Aug. 28 Republican primary for agriculture commissioner has featured some sniping over issues such as campaign money and Second Amendment support, with the sparring mostly occurring between state Rep. Matt Caldwell of North Fort Myers and Sen. Denise Grimsley of Sebring.
But outside of touting endorsements and straw-poll results, the candidates — Caldwell, Grimsley, former Rep. Baxter Troutman of Winter Haven and Mike McCalister of Plant City — acknowledged as August got underway that nearly 50 percent of voters still were undecided or unaware of the candidates in the race. The contest has mostly focused on the candidates' support for ranchers, farmers and the dwindling citrus industry, protecting state waters and the duties of the Department of Agriculture and Consumer Services.
The Republican primary winner is expected to be favored heading into the November general election and will face the winner of a three-way Democratic primary between Homestead Mayor Jeff Porter, Fort Lauderdale marine biologist David Walker and attorney and lobbyist Nikki Fried.
The Republican candidates back White House efforts to change the North American Free Trade Agreement to help the state's farmers but offer slight differences on the future of the state's concealed-weapons licensing program, which has drawn fire under Putnam's leadership.
Grimsley said she would order a "full audit" of the concealed-weapons licensing process to determine if any administrative changes are needed regarding the program, which currently includes 1.9 million permits. The Department of Agriculture and Consumer Services administers the program.
Troutman believes a new reporting structure is needed for background checks and said he's open to discussions on moving the program to the Florida Department of Law Enforcement. Meanwhile, McCalister and Caldwell, who has been endorsed by the National Rifle Association, said the program should remain under the direction of a statewide elected official.
Caldwell and Grimsley appear to be the front-runners in the race, due in large part to their financial support and their roles in the Legislature. Both have pulled in more than $2 million in contributions the past two years for their campaigns and political committees, with supporters ranging from statewide business groups in Tallahassee to sugar growers in Clewiston.
But Troutman, a businessman who is a former state House member and a grandson of the late citrus and cattle magnate Ben Hill Griffin, Jr., has run a series of ads — powered by his $3 million in self-funding — that have allowed him to express his visions for agriculture and consumer protection.
"I think if people really look at experience, and they look at the three corners that I bring, the private sector, the farming production and agriculture experience, and public policy, and they look at my opponents and the special interest contributions that have come to them, versus self-financing, if you boil it down, that's the difference," Troutman said.
Meanwhile, McCalister is engaged in his third statewide campaign and said he is the only Republican candidate with an agriculture education and direct involvement in the industry with his Plant City tree farm.
However, McCalister had raised only $3,866 and put $18,738 of his own money into the contest as of Aug. 3. That has limited his outreach to personal appearances in a contest where the other three have each spent seven figures and been able to make ad buys across the state.
University of Central Florida political-science professor Aubrey Jewett said the contest has mostly been drowned out by the gubernatorial race and a hotly contested Republican primary for attorney general.
"It's really been a race that's been under the radar," Jewett said. "You have three candidates who seem like they could go somewhere. And, really, even the fourth, Mike McCalister, because he's run before statewide — even though he didn't win, he got like 10 percent of the vote — without spending much money, may go somewhere."
Issues that have drawn attention have included ongoing water-quality problems across South Florida and Putnam's handling of the concealed-weapons licensing program after it was found that some employees failed to conduct required background checks.
Caldwell, 37, is a real-estate appraiser who has degrees from Edison College and Florida Gulf Coast University. He traces his family back seven generations in Florida and was elected to the House in 2010.
While in the House, he spearheaded water bills for former House Speaker Steve Crisafulli, R-Merritt Island, and has been a go-to lawmaker on a number of environmental issues for GOP leaders.
"You just have to have somebody who is willing to stand up and fight for what we need to invest in, whether that's infrastructure or water supply, (desalinization) and reservoirs, restoring the Everglades, our lakes and rivers," Caldwell said.
Caldwell also touts key endorsements, including from U.S. Sen. Marco Rubio, Northwest Florida Congressman Matt Gaetz and the NRA.
"These are real third-party validators for Republican primary voters," Caldwell said.
Grimsley, 58, was a trauma nurse for 17 years before her father got ill and she took over the family business, which included citrus and cattle as well as a series of convenience stores and gas stations.
"I've got a hands-on background in agriculture, executive experience with the ability to run an agency that large, and the finance background public and private," Grimsley said. "I think I'm trustworthy, I'm sincere. I'm not a politician, never have been. Don't want to be. And I care about this state. I'm not looking for a job. I got a great job I can have until I retire. And I'm not looking for a political stepladder."
Grimsley, who served four terms in the House before moving to the Senate in 2012, is currently a vice president with Florida Hospital in Wauchula.
In a 70-page e-book, she has laid out plans on a variety of issues, such as stepped-up enforcement of the "do not call list." She also addressed issues such as foreign trade, consumer protection, aquaculture, forestry, livestock, nurseries and row crops.
"If we lose our next generation of farmers, we lose that ability to feed ourselves," Grimsley said. "The average age of a farmer is 59 years old, so we have to stay focused on our next generation."
McCalister, 66, is a "God fearing, flag-waving" palm-tree farmer from Plant City, who was a colonel in the U.S. Army Reserves and Army National Guard. He majored in agriculture, with a minor in earth sciences, at Southeast Missouri State University.
He said that during his three decades in the military, he demonstrated his ability to manage a wide-ranging agency.
"I was responsible for all the mess halls, the food safety, all the water purifications, all the fuels, all the weapons and all the vehicle repairs," McCalister said.
McCalister, who unsuccessfully ran for governor in 2010 and U.S. Senate in 2012, supports issues such as free concealed-weapons licenses for honorably discharged military veterans; placing a priority on eradicating citrus greening, which is devastating the citrus industry; and opposition to so-called "sanctuary cities."
Troutman, 51, views himself as a farmer, rancher and businessman, not as a politician, even though he served in the state House from 2002 to 2010. He proposed to his wife, Rebecca, from the House floor.
Besides his longstanding family ties to the citrus and cattle industries, Troutman spent two decades as CEO of Labor Solutions, a personnel services company.
"I don't have to do this," Troutman said. "I'm not doing it for a job like one of my opponents. I'm not doing it for a step up in the political career ladder like another one. I care about agriculture, the ag community as a whole, the people that make it up, the lifestyle that goes with it. Now, I realize there is much more to the job than the farming side. There is the consumer service side. And that's vastly important to me as well."
Besides fighting citrus greening, Troutman wants to continue the state's use of the Rural and Family Lands Protection Program, which buys "conservation easements" that protect property from development but allow continued farming and ranching.
"This initiative has allowed farmers to continue running their family businesses while reducing the pressure of corporate development groups on our rural landowners," Troutman said.
–Jim Turner, News Service of Florida