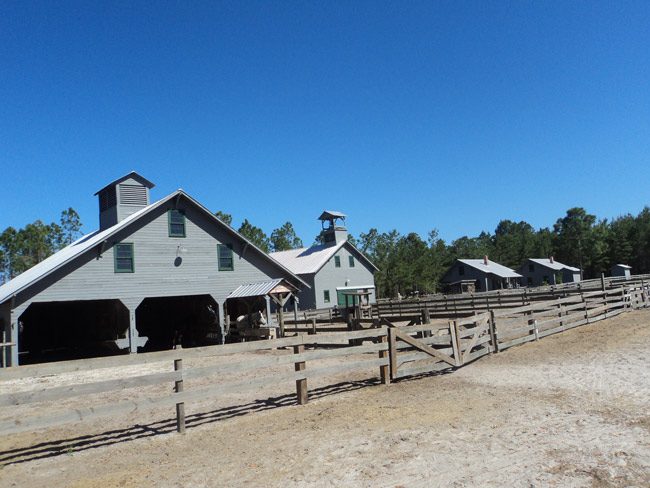 The 460-acre Florida Agriculture Museum on Old Kings Road in Palm Coast is failing: it can't meet its bills, it can't maintain its facilities, its management and organization are in disarray, and it's having staffing problems. The museum board in September voted to have itself absorbed by county government, or at least be its vassal.
On Thursday, after a tortuous two-hour meeting, more questions than answers, an initial vote that rejected the merger, then panicky words by County Administrator Craig Coffey and County Commission Chairman Barbara Revels that the 19-year-old facility could be shutting its door without the bail-out—neither used the words "bail-out," but Revels said the vote to reject what amounted to a bail-out was "just like tossing a stick of dynamite in it right now"—Commissioner Charlie Ericksen switched sides and voted with a 3-1 majority on at least a 90-day bail-out.
Commissioners approved the measure even though county government is taking on what amounts to, by Coffey's calculation, a $150,000 deficit and other debt, including credit card and sales tax debt, that it will have to cover with taxpayer subsidies by going into its own reserves, and with little clarity about how it would improve revenue in the future, who would run the facility, and how the county administration's ownership would mesh with the still-existing museum board.
Revels had proposed the bail-out after the failed vote on a longer-term agreement that would have given the county a five-month period to control the museum while sorting out the formalities to make the arrangement permanent—a lengthy window of tentativeness that in itself reveals how little the county knows about what it's taking on, though there was no question that Coffey and Revels wanted it regardless.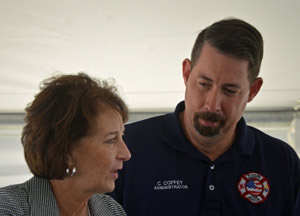 That agreement, which will return for the commission's approval presumably with more details in three months, was shrouded in vagueness, with few hints about how the county would generate the sort of revenue it needs to keep a $360,000 operation going and unanswered questions about how the ag museum's events might end up competing with existing or planned county events at nearby Princess Place.
The Revels proposal the commission adopted is to pay lease the museum for 90 days, paying its expenses to keep the place from shutting down, including emergency expenses for that period—those were not defined—while giving free access to the museum to any county resident. A more formal agreement with better numbers would be brought to commissioners in 90 days, well after the election. (Revels and Ericksen are running for re-election.)
Key to the urgency of the agreement was an insurance policy covering equestrian operations that the museum could neither pay nor qualify for, ostensibly forcing the county to step in, though the museum's board chairman said contingency plans were in place if the county did not do so: there was a disconnect between the direness of the situation as described by the county administration and the contingencies the museum board chairman, Joe Siegmeister, spoke of, though Siegmeister, too, was desperate for the county's bail-out.
"You've invested money and time," he told commissioners. "If you make a decision to vote no on this, you throw that away. Effectively, that's what you do."
---
"You have a responsibility that when you see problems coming up, you solve them. They haven't been solved in the past."
---
The entire bail-out production, brought to the commissioners at the very last minute, with the proposed agreement never even made available online for public perusal, was vintage Coffey as 11th-hour dealmaker. It drew a blunt rebuke from Ericksen, who'd voted against the proposal in the first vote and was still displeased by the numbers and lack of answers presented to the commission Thursday. He suggested that in the private sector Coffey would have been fired for pulling such a stunt.
"I spent 30 years in management," Ericksen said. "You have a responsibility that when you see problems coming up, you solve them. They haven't been solved in the past. Here we get a meeting one day before the insurance runs out, and that puts a lot of pressure on us. If we had some particular way to have a plan, and Craig said he could put together the numbers, that all should have been done before this time, to anticipate what would happen if the board said no so we could have talked about it in different motions etc. But again. I'm seeing a track record of in the past that just wasn't good. We were always disappointed. Now we get here and you've got to make a decision today or we're shutting the doors. Well, boy, I'll tell you something, I'd be out the door in my management positions if that's what I did to my bosses. I'm not ready to change my vote at the present time."
Coffey had an indisputable excuse. "Hurricane Matthew I think really lost about two weeks of work," Coffey said. "We did the best we can to keep you best informed, I wasn't trying to put you guys against the wall, I'm sorry for that, that wasn't my intent, it's just the way things worked out." He said he only got what numbers he had the day before.
And Ericksen changed vote just moments later.
Commissioner Nate McLaughlin had represented the commission on the museum board for the past six years. He voted against acquiring the museum both times. Though he sat, clearly frustrated, in sullen silence for most of the meeting and passed on repeated prodding from Commissioner George Hanns to give his perspective, McLaughlin finally read from a statement explaining his opposition, and left it at that.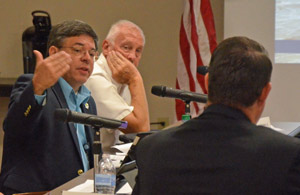 "After a long and thoughtful consideration," McLaughlin read, "I concluded that the acquisition of the ag museum property would be a burden to the Flagler county taxpayers that is unnecessary and onerous. While it has some potential as a tourism and an economic driver, it's past performance fell short of original expectations and has failed to meet stated goals. The anticipated revenue generated by the museum will not cover the operating and maintenance cost. It will have to be subsidized by the county's general fund. However activities and events currently held there can easily be accommodated in and around existing county park facilities."
When Revels pressed Coffey for a clearer financial picture, he demurred.
"We're still honing in on that," Coffey said, citing a $75,000 cost he put into the budget for now. "We're either going to shift some resources from some other places–$75,000 we talked about out of contingency, every year we budget $250,000, and although you hate to tap it at an earlier stage, there's not another way to really do that, because we didn't anticipate that at the time we finalized our budget. It's kind of where we're at."
Coffey says it'll take a year to get the museum back to its former revenue levels, such as with its weddings and events the county might sponsor there, as ways to make money.
"I love the idea that we could still be the Florida Agriculture Museum and if we could ever get the rest of the agricultural community to buy in and to be here and to be a part of it, it would be wonderful," Revels said, referring to the original purpose of the museum—and the way it was supposed to have been paid for when it was created two decades ago, with legislative support. "But if that doesn't happen, do we see that that seems to be odd that we're going to have a county park that has governance over it by another body?"
Coffey wasn't very clear. He spoke of the very large expanse of land at the museum that will allow for expansion—of buildings and activities, both of which may change the nature of the museum's activities.
The former director ran up a credit card debt of $7,000 "to keep the ag museum going," Coffey said, sales tax debt of $18,000, a mortgage on some property of $180,000 to $200,000. The county in the interim agreement would take on some of that debt while also taking over its major revenue sources, including admissions.
But it was only when Matt Dunn, the county's tourism director, spoke about coming rabbits in his hat that commissioners got a better sense of why Coffey is so eager to acquire the museum.
"I'm really not ready to speak in detail," Dunn said with characteristic obscurity, "but we have some other opportunities through clients with specific use at the ag museum property that we would want, where there's been a lot of time invested into this one particular possibility, and we absolutely would like to continue to pursue that because it is a game-changing piece of business for us at a time of year when we desperately need it, and we would like to continue to pursue that, and it would require some additional development of the ag museum property."
Dunn was badly singed last year when he scheduled the extreme-sport Spartan race at Princess Place, without county commissioners' knowledge (but with Coffey's). Commissioners forced the race's cancellation. With the ag museum property as his playground, Dunn could now schedule that and other sort of high-impact events there.
Revels had persistently questioned Coffey's numbers and the wording of the proposed agreement, but after the first failed vote, she stressed that she wasn't talking down. To the contrary. "We don't want to just add some acreage for another county park and lose all of the development and momentum that has occurred there through the blood, sweat and tears of a lot of people, a lot of heavy lifting was done for this," Revels said, trying to win back a vote. "I hope that I did not sound negative about this. I was trying to make this the perfect document because it seemed imperfect, but I understand that they are working through many months of feeling out how it's going to go."
In essence, the maneuvering by Revels and the alarmism by Coffey worked: Ericksen switched sides under the guise of a temporary lease that in essence will make the previous agreement very difficult for the commission not to approve, once it returns to commissioners in a few months.
The absorption would represent the latest expansion of county government, months after the government absorbed the county's tourism office, which had previously been a contractual arrangement through the county's chamber of commerce. The museum would maintain its board and still be responsible for fund-raising to defray the county's operational costs. Heidi Petito, the county's facilities director who oversees parks, would also oversee the ag museum.
By day's end Friday, neither the originally proposed agreement nor the one the commission approved had been made available on the commission's website.