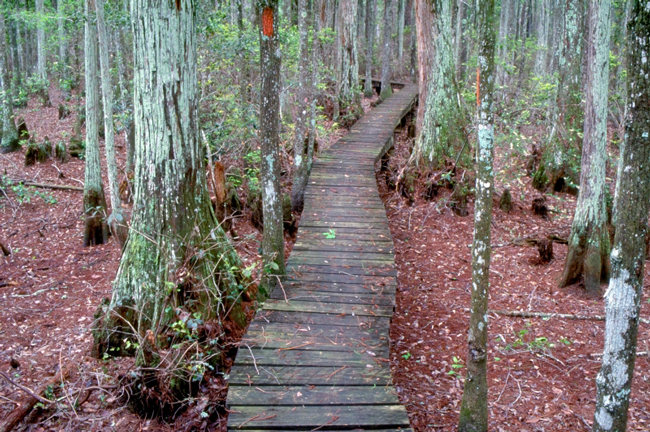 The state is negotiating with a private company to take over a park sponsorship program after failing to get any businesses to pay for advertisements along some of Florida's prime trails.
New York-based Bikepath Country has offered to give the state 30 percent of any revenue over 15 years in exchange for making signs and seeking corporate sponsors for the controversial program, which went into effect more than a year ago.
Bikepath Country was the only entity to submit a proposal regarding the trail signs after a Department of Environmental Protection conference call with potential sponsors this summer. The company reportedly runs similar programs in parts of New York, Tennessee, Arizona and Texas.
DEP, in talks with Bikepath Country since August, held an internal meeting Dec. 18 on the proposal but the deal remains in limbo, according to DEP spokesman Patrick Gillespie.
"We are currently negotiating with the company and the current proposal is being reviewed internally," Gillespie said in an email. "I won't have more information on the terms until those negotiations conclude."
Bikepath is proposing trailhead signs up to 16-square-feet and 13 access point signs up to 4-square-feet at seven parks at "no proposed cost" to the state.
On its webpage, the company claims to design "attractive and non-obtrusive" eco-friendly signs.
The Legislature's first attempt at approving the park trail advertisements died in 2011 after opponents objected that the ads would become an intrusive distraction for those visiting pristine state lands.
But proponents claimed awarding naming rights and allowing the commercial displays could help cover or replace some of the estimated $1 million a year the state spends annually to upkeep public trails, and Gov. Rick Scott signed "The John Anthony Wilson Bicycle Safety Act" into law in 2012. The law limits the wording on the signs, which can depict a corporate logo and can say the business "proudly sponsors the costs of maintaining" the trail but cannot include a company's slogan.
The law only allows the advertisements at seven trails: Blackwater Heritage Trail, Tallahassee-St. Marks Historic Railroad State Trail, Palatka-Lake Butler State Trail, Nature Coast State Trail, Withlacoochee State Trail, General James A. Van Fleet State Trail and the Florida Keys Overseas Heritage Trail.
Under the law, 85 percent of the proceeds from the concessions agreement must be put into trust funds for greenway and trail management. The remaining 15 percent is slated for Department of Transportation safety programs.
–Jim Turner, News Service of Florida