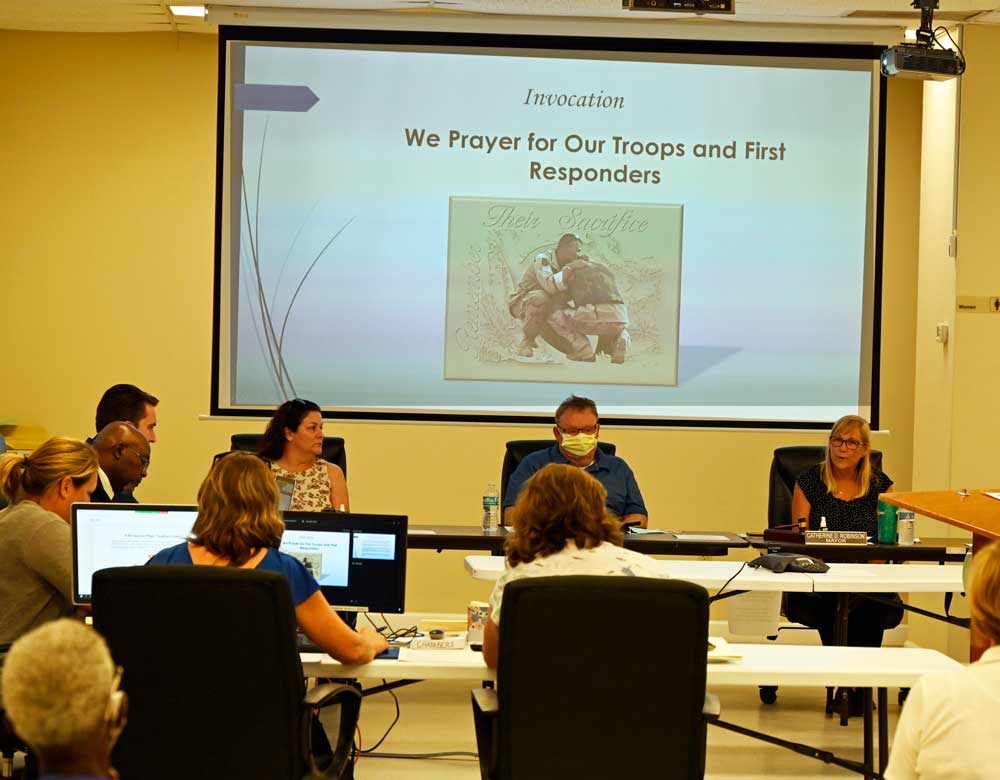 The Palm Coast City Council, last hold-out among local governments in the slouch back to devotional rites at the beginning of public meetings, on Tuesday agreed to begin meetings with a "moment of silence," and to consider adding a non-denominational prayer as well.
Members of the local clergy and other religious representatives would potentially be invited to offer an invocation. But the council appeared unsure about that. Some members embracing the idea. Others were more guarded.
Moments of silence–and prayer–were rare or not done a decade or so ago in most of Flagler County's governments.
The exception was the Bunnell City Commission, the city with the highest church-to-home ratio in the county. For a decade and a half Bunnell has sponsored a constitutionally suspect and unequivocally Christian "Day of Prayer." The city commission's meetings always begin with a distinctly Christian prayer whose ardor and self-abnegation would not be out of place in the hothouse of a revivalist tent. The prayer is often recited by one of the commissioners or the mayor. The city manager, Alvin Jackson, is a preacher in his own right.
For half a century, the Flagler County School Board went right into its meetings' business after the recitation of the Pledge of Allegiance until. Then in August 2019, then-School Board ember Janet McDonald surprised her colleagues by inviting a pastor she'd brought in, without their knowledge, to offer an invocation.




The maneuver did not sit well with the rest of the board, or the board attorney, but the upshot was that while the prayer was not repeated, the moment of silence that McDonald had already introduced previously has since endured.
Not to be outdone, the County Commission's Dave Sullivan soon after that started the meetings he was chairing with a prayer, very briefly and with the lightest touch, asking for blessings for residents and first responders. The commission has continued the approach, in addition to a moment of silence.
In Flagler Beach, the pledge is followed by a moment of silence as the commissioners remain standing, facing the flag (it was 20 seconds long at their last meeting). It's not clear when that moment of silence began, but it's been longer than a decade and a half.
Advisory councils do it differently. They pledge but, for example, the Palm Coast Animal Control hearings, the city's Code Enforcement Board and its planning board go right into the business of the day without a moment of silence. At the county's planning board, they say the pledge and go into the day's business. But at the county's Tourist Development Council, with Sullivan as the current chair, a prayer has whisked in: "We want to ask God to bless all the residents of Flagler County, and especially our first responders, medical personnel, fire and police," he started the last such council meeting on Jan. 18. He then went into a moment of silence, for 15 seconds.
In 2021, Gov. Ron DeSantis signed a law making a moment of silence mandatory at the beginning of Florida public school days, thus shortening a school-year already abbreviated (by international standards) by another 180 minutes, or half a day, when the required-minimum 60-second moment is aggregated.




The U.S. Supreme Court in 2013, its first ruling in 30 years on the matter, broadened the allowance for legislative prayers, including denominational prayers, and set only the lightest standards, or limits: "Absent a pattern of prayers that over time denigrate, proselytize, or betray an impermissible government purpose, a challenge based solely on the content of a prayer will not likely establish a constitutional violation," then-Justice Anthony Kennedy's controlling opinion read. It would be up to anyone challenging prayers to prove that such a pattern exist.
The ruling added: "That nearly all of the congregations in town turned out to be Christian does not reflect an aversion or bias on the part of town leaders against minority faiths. So long as the town maintains a policy of nondiscrimination, the Constitution does not require it to search beyond its borders for non-Christian prayer givers in an effort to achieve religious balancing."
The court found such prayer to be an "internal" ceremony directed at the elected or government representatives, not at the audience, and made clear that it "would be different if town board members directed the public to participate in the prayers, singled out dissidents for opprobrium, or indicated that their decisions might be influenced by a person's acquiescence in the prayer opportunity."




Typically, however, because elected officials stand or pray, it is assumed that everyone in the room must follow. That coercive aspect of the ceremony drove much of the arguments of the 2013 ruling's dissenters in the sharply split 5-4 decision.
The decision left silent, however, the role of the elected themselves–whether they could or could not lead the prayer. But previously the court had consistently found that no government representative could lead a prayer: that would violate the establishment clause. In other words, it would place the government in the role of sponsor of a particular religion or religious point of view. With Bunnell's exception (and the occasional transgression at the county) local governments have hewed to caution.
On Tuesday, it was Theresa Pontieri, one of the two newest members of the council, who brought up the possibility: "I would like to have perhaps a moment of silence after the pledge," Pontieri, a lawyer, said. "I don't want to overstep our bounds as a government entity in a public meeting. But I do think that maybe a moment of silence would be appropriate. How people spend that moment, up to them, obviously, but I do know that a lot of other cities have something similar, and it's just a suggestion that I would have after the pledge."
Mayor David Alfin called it "a lovely thought," but asked whether the moment of silence would be introduced "for a particular reason or event." It would not, Pontieri said.
Council member Ed Danko favored going further, starting meetings with prayer "and inviting ministers and such from different congregations to come." But he was equally at peace with a moment of silence.




Alfin was not ready to go with a prayer just yet. He wanted feedback and research from his administration. But he was all for a moment of silence. "A moment of silence I think is excellent," he said. "I could use a moment of silence at that moment. I mean that in all seriousness, there are things that in that moment I would like to consider and I think it would help me perform on city council." (Alfin seemed to echo Justice Kennedy's opinion: "The principal audience for these invocations is not, indeed, the public but lawmakers themselves, who may find that a moment of prayer or quiet reflection sets the mind to a higher purpose and thereby eases the task of governing.")
Council members Cathy Heighter and Nick Klufas agreed on a moment of silence, adopting it then and there by not saying anything about prayers.
It was Neysa Borkert, the council's attorney, who framed the issue in legal terms.
"Typically, with just a general moment of silence, that's fine. There's nothing further that has to be done," Borkert said. "For an invocation, there's a prayer policy that can be drafted, that I actually just did one two weeks ago for one of my other clients. There's a lot of obviously separation between church and state. There's a lot of case law that's required. But generally, if you have a policy that's nondenominational, you open up to all local churches, you don't tell anybody that they can't come and do the invocation, that you don't have a standard prayer or something like that: as long as you're meeting certain metrics with the policy, it can be implemented. There are ways to do it."
It also means that if a Wiccan, an atheist or (god help us) a Wahhabist were to request to give an invocation, that accommodation would have to be made. It's one of the chief reasons local governments stop short of going that route, since the Supreme Court in its latest ruling made just as clear that the reason it would not stand in the way of sectarian prayers is because government should not discriminate according to a prayer's content: it's not up to government to decide whose prayers may be heard, and what constitutes a denomination. The larger the city and the more diverse, the murkier its can of worms in that regard.
Reader Interactions