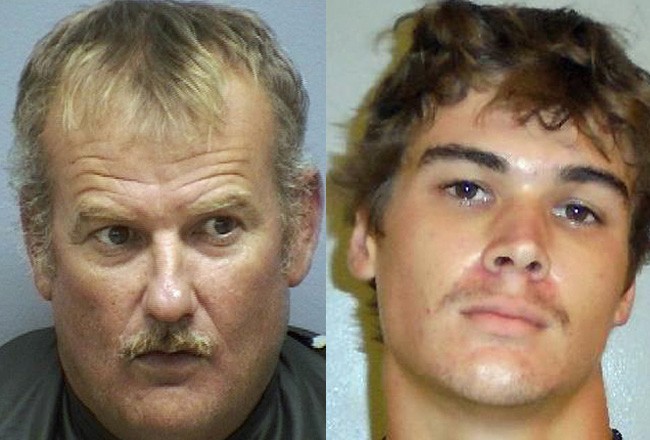 Update: Dacotah Clarke was sentenced to 15 months in prison on May 9, 2016. The story here.

Dacotah Clarke, a 19-year-old resident of Paul lane in Palm Coast, and a 17-year-old resident of Porwyn Lane, were arrested Saturday afternoon following a report from David Adams, 52, that he'd been robbed at gunpoint near the center of town in Flagler Beach.
Adams described his alleged assailants as two white males, tall with slim builds, and that the one with the gun had a black hat and short brown hair. The two had fled south, one along the beach and the other along A1A. The incident had taken place between 3 and 4 p.m.
A Flagler County Sheriff's deputy spotted two males who fit the description Adams had provided. They were walking south on A1A near South 9th Street. "Hey guys, come here," the deputy called out to them.
Clarke was wearing a black hat and no shirt. He kept going. The 17 year old turned around and walked toward the cop. It took another call to Clarke to have him also turn around and join the younger boy. The deputy told them they matched the descriptions of a report of an armed robbery and asked them if they had any guns. They both said no.
After a Flagler Becah police officer arrived at the scene, the deputy asked them if he could frisk them. They again said no. "I informed them that I was not asking and would conducted a pat down for officer safety," the deputy reported. Then, the deputy reported, Clarke acknowledged he had a 9 mm magazine in his front pocket. The deputy retrieved a single stack magazine that belongs to a Sig Sauer handgun, but no handgun. The two teens were placed in handcuffs.
The younger boy told the cop that he never saw a handgun. Clarke, he said, contacted Adam by phone because Clarke allegedly wanted to buy some pot from him.
Adams, according to the 17 year old, met them behind a building in the area of North 4th, where Adams allegedly told Clarke to give him his money, which supposedly led to a brawl between Clarke and Adams. Clarke broke free and started running, as did the younger boy. The younger boy's story "was extremely inconsistent," the deputy reported. The boy "stated several times that he was not with [Clarke], but then would provide information about the incident that only someone with firsthand knowledge would know.
The two were placed on the west side of A1A as a Flagler Beach police officer brought Adams to the scene in a drive-by to conduct an identification. The two teens were then placed under arrest.
Adams himself has a history of arrests and convictions: possession of drug paraphernalia in 1993 (dropped), possession of less than 20 grams of pot in 2004 (guilty), unlawful possession of a controlled substance in 2005 (guilty of a third-degree felony), disorderly intoxication in 2007 (guilty of a second degree misdemeanor), and possession of less than 20 grams of pot in 2009 (guilty, first-degree misdemeanor). In 1998 he was also charged with rape, displaying a firearm during a felony, aggravated battery with a deadly weapon and aggravated assault with a deadly weapon. The rape and weapon offense were dropped. He was convicted on the assault charges, second and third-degree felonies, and subsequently violated his probation. He's spent various stints at the county jail along the way.
Clarke was charged with armed robbery and possession of a controlled substance. He posted bail on $21,500 bond and was released.