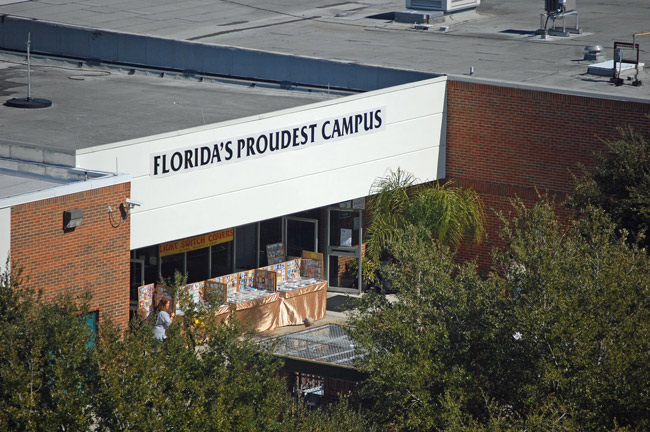 As you drive down State Road 100 Thursday morning, you'll think something terribly wrong has happened at Flagler Palm Coast High School. You'll see teeming police and fire engines from all local agencies, you might pick out the presence of some state agencies, you might see flashing lights, and Bulldog Drive will be closed for two hours.
It's all a drill.
Flagler County Emergency Management is coordinating a large-scale exercise with all relevant local agencies, with an "active assailant" as the trigger. Emergency management is not releasing more detailed information than that because the aim of the exercise is to simulate  a stressful emergency as close to the real thing as possible, and to put local emergency agencies to the test as much as possible. Those involved are not being told more than being said here, so that the element of surprise is part of the response, and their reaction will be analyzed accordingly.
Local media have been informed to the extent that you are reading here, and will cover the event both from a news perspective, and, in some cases, as reporters involved in covering an emergency–testing the response of officials just as they would in an actual emergency.
Kevin Guthrie, director of Flagler County's emergency management, has been developing the exercise and preparing it with local officials for the past few months.
"We bill it as an active assailant" exercise, he said this morning. "This not just an exercise for the school although it's being held in a school environment. These events can happen in a hospital, in an insurance office, in a department of motor vehicle office, it can happen in any place where a person has a problem with any type of service."
At least four out-of-county agencies have confirmed that they'll be part of the exercise. More may join, depending on their schedule: a Volusia County evacuation unit, for example, will participate only if it has a low level of calls for service in Volusia that morning. Officials from a New Jersey health care coalition are scheduled to observe the exercise, as are others from the private sector.
"As people go up and down 100 on Thursday they will see apparatus and law enforcement vehicles, potentially with their lights on," Guthrie said, though it is unlikely the SWAT Team will be visible.
"It's important for everyone to know this is just a training exercise, a large-scale training exercise," Guthrie said. "We don't want anyone to be alarmed when they see a large number of emergency vehicles and our FireFlight helicopter in one area."
A county news release issued this morning notes that students will also be among the participants. (School let out last week.) All of the student volunteers were cleared by the school district in addition to parental consent. Parents were given a briefing about the exercise before permission slips were distributed. Businesses in the area will receive advance notice of the event. Variable message boards will be in the area and displaying exercise and route information the week of this event.