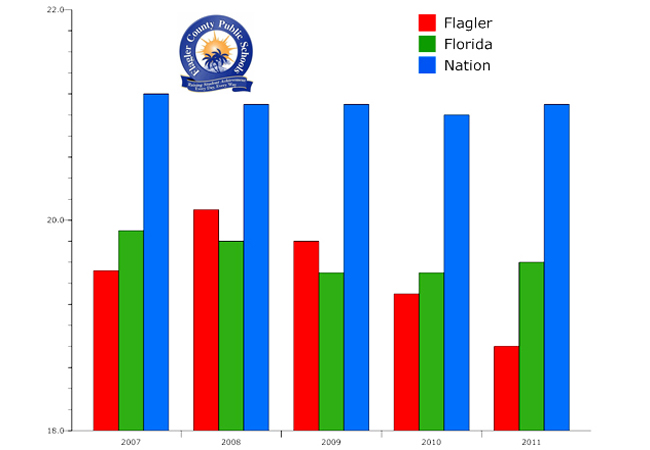 When Flagler County students are ranked against their fellow-students from other Florida counties, they do relatively well. They come from an A-rated school district, after all, even though that rating has lost its value as almost half the districts in the state, playing to the system that hands it down, now manage to get it. So Flagler school officials regularly pat themselves on the back for having one of the best school districts in the state. They did so again at Tuesday's school board meeting.
But when Flagler County students are ranked against fellow-students in the nation as a whole, they do dismally, as do Florida students: the state ranks at or near the bottom in academic achievement, graduation rates and college entrance. On the STA last year, Florida scores were in the lowest quartile in all three disciplines–reading, math and writing. In Math, students in just five states did worse than Florida's.
On the ACT, also a college-entrance exam, the scores were much worse last year. They're just as bad this year, except in Flagler, where they worsened on last year's scores.
Florida's composite scores for the 117,575 students who took the test rank the state dead last, with two exceptions: Tennessee and Mississippi. Florida's score is a slight improvement over last year, but still below 2007 and 2008, suggesting that the state's emphasis on higher standards is not having an effect beyond the state's own testing criteria.
For the 389 Flagler County students who took the ACT, their composite score of 18.8 is only one decimal point above that of Mississippi's, and eight decimal points below the state average. It is the third successive and significant drop in ACT scores in Flagler.
On every score, however, Matanzas High School students fared better than students at Flagler Palm Coast High School–including by a significant margin in composite scores: Matanzas scored a combined 19.5, just one decimal point shy of the state average (but still a long distance from the national average) compared to FPC's 18.2, which is well below Mississippi's.
The disparity between Florida-centered tests such as the FCAT (Florida Comprehensive Assessment Test) and national tests is similar to the disparity between Florida standards and federal standards that apply to individual schools. When set against Florida standards, most schools (including all but one charter school in Flagler County) score well, hence the A rating. When set against federal Adequate Yearly Progress regulations, most schools fail.
The disparity would have been just a matter of accounting: school officials across the country have been complaining for years about the innumerable and intractable requirements of AYP, as the dreaded adequate yearly progress standards have come to be known. But for Florida–and Flagler–the disparity in national scores goes beyond accounting: it's a direct reflection of students' abilities, compared to their peers.
Yet while FCAT scores still draw plenty of attention, energy and resources in local schools–since money depends on the results, including, now, merit pay for teachers– ACT and SAT results seldom do: the tests are not considered to have high stakes, even though they are a more objective reflection of the quality of teaching and the resulting quality of students in the district, when compared to students outside Florida's education fishbowl.
Students take the ACT to qualify for Bright Futures scholarships and to satisfy college entrance requirements, Jim Devine, the school district's testing coordinator, said. Some students take the ACT to meet requirements of the Florida Comprehensive Assessment Test, especially in reading: A score of 15 on the ACT satisfies Florida graduation requirements in reading.
When the ACT scores are further broken down, other worrisome trends appear: the 84 black students who took the test scored a combined average of 16.5, compared to whites scoring 20. Hispanics scored 17.9, and Asians 19.3.
On the ACT, students are tested in English, math, reading and science. Here's a breakdown of the scores in each category in the nation, in Florida, in the district and in each of the district's two high schools:
2011 ACT Scores
| | Nation | Florida | Flagler | FPC | Matanzas |
| --- | --- | --- | --- | --- | --- |
| Composite | 21.1 | 19.6 | 18.8 | 18.2 | 19.5 |
| English | 20.6 | 18.8 | 17.5 | 17.0 | 18.2 |
| Math | 21.1 | 19.9 | 19.1 | 18.7 | 19.8 |
| Reading | 21.3 | 20.2 | 19.8 | 19.0 | 20.8 |
| Science | 20.9 | 19.1 | 18.2 | 17.8 | 18.7 |