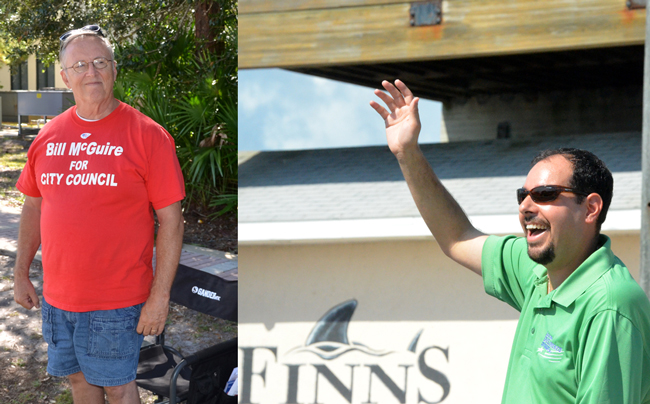 Last Updated: 9:10 p.m.
Error of errors: our earlier report that Holsey Moorman had won the election may have been premature. An additional tally by the Supervisor of Elections, this one including absentee ballots, shows McGuire beating Moorman by 54 votes, and Jason DeLorenzo beating Dennis Cross just under 40 votes.
The election, being this close, isn't over: provisional ballots will be counted Thursday at 5:15 p.m. at Supervisor of Elections Kimberle Weeks's office. (An earlier time of Monday morning, 9 a.m., was incorrect.)
"Yes, reports of my death have been greatly exaggerated," an elated McGuire, quoting Twain, said just before 9 p.m. He, too, had tallied figures from polling stations and early reports from the supervisor, suggesting he'd lost by about 150 votes. "I'll be there tomorrow morning with a witness when Kimberle Weeks goes through them," he said of the provisional ballots.
In the earlier tally, with six polling stations counted as well as early voting, Moorman had been ahead with 2,349 votes, or 52 percent, to McGuire's 2,199 votes, or 48 percent.
DeLorenzo had been ahead with 2,256 votes, or 51 percent, to Cross's 49 percent.
Either way, the Palm Coast electorate again managed to outdo itself in shame, if turnout is any indication of civic responsibility and community involvement: September's mayoral election drew just 5,248 voters, or 10.6 percent of registered voters. It was the worst turnout in the city's history. Today's election drew just 565 more, for a turnout of 11.6 percent of registered voters, now second-worst.