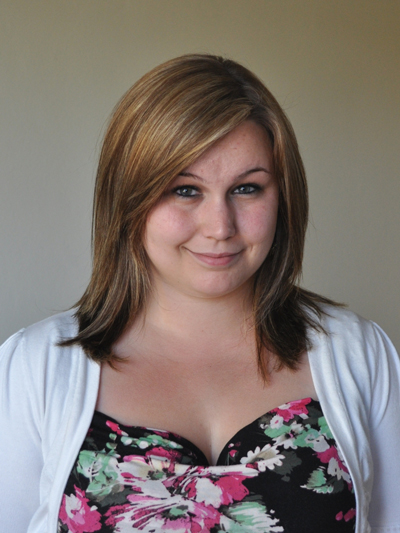 Stetson University senior Abigail Lemay has won a national Undergraduate Social Action Award from the Sociologists for Women in Society for her activism related to pay equity for women.
This is the second year in a row a Stetson student has received this national honor. Florencia Abelenda, who graduated in 2010, was honored last year for her research into youth needs in the small town of Pierson, Fla. Also selected for this year's award were Stephanie Elwood of Louisiana State University and Jess Acosta of Colby College in Maine.
In winning the award, Lemay was able to attend the SWS Winter Meeting in Texas earlier this semester. There, she had a chance to talk with Betsy Lucal, an expert in the sociology of gender and sexualities. Lucal spoke at Stetson last year. Lemay also joined the organization's Social Action Committee.
"Most of the members of the organization are sociologists, mostly at colleges, and it was good to see professionals at work," Lemay said. "I was very honored, but even more than winning the award is that it is a good motivation for me, personally, to continue what I'm doing."
Lemay, a Cranston, R.I., senior majoring in sociology and American studies and minoring in Gender Studies, re-founded Stetson's chapter of the National Organization for Women in fall 2009. She first heard about the unfair pay gap between women and men while taking a Stetson course. She studied it more on her own, and through NOW and other Stetson organizations, she organized an Equal Pay Day event involving downtown DeLand businesses last April.
"In the United States, women earn only about 77 to 80 percent of their male coworkers' salaries," said Lemay, president of Stetson's NOW chapter. "This takes into account men and women having the same educational background and work experience. It's a national phenomenon and, while women's salaries are slowly becoming closer to men's, the issue persists. We want to call attention to the wage gap and work to eliminate it."
Lemay is also working on the equal pay issue as one of 10 college women in the United States serving on the National Student Advisory Council for the American Association of University Women.
In 2010, she was named Stetson's Social Justice Advocate of the Year, and she won first place in the West Volusia NOW's essay contest for her paper on the "Status of Women in Iraq since the Invasion" (in 2003).
She was producer of Stetson's student production of Even Ensler's "Vagina Monologues" in 2010 and 2011 and serves on both the Gender Equity Council and the Women and Gender Studies Committee. A contributing writer to the student newspaper, The Reporter, Lemay was also co-founder of the university's American Civil Liberties Union chapter in November.
After graduation in May, Lemay plans to attend graduate school in women and gender studies at the University of South Florida.