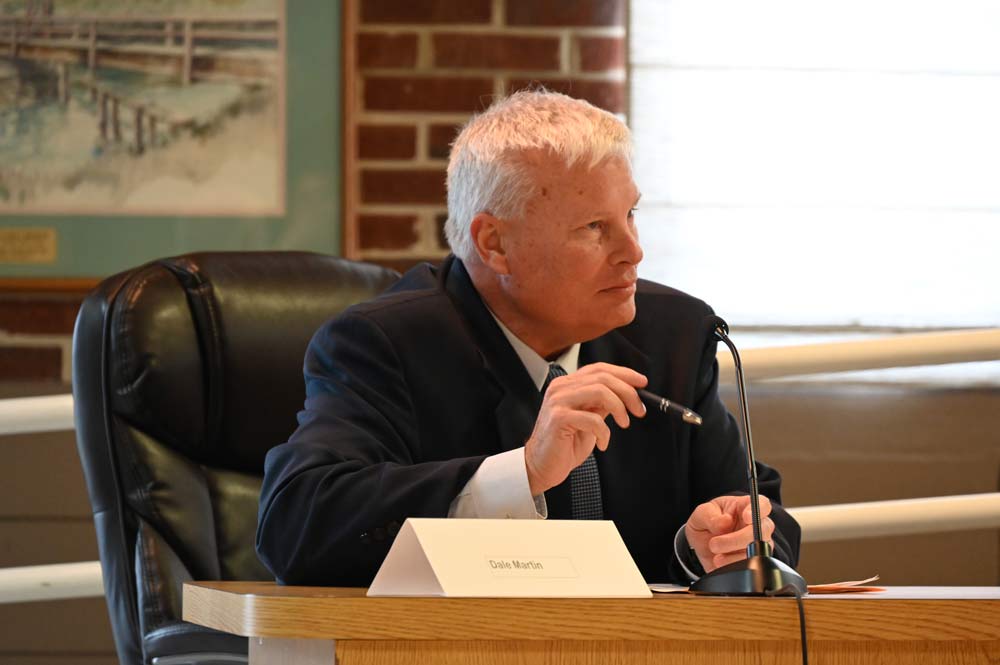 Whoever says the panegyric is dead should have been at the Flagler Beach City Commission Thursday evening as commissioners and the mayor sent off Mike Abels, the city's interim manager and fixer extraordinaire for the past six months, into his European sunset vacation: you might have had to go back to Lindbergh's landing in Flagler Beach in 1931 to have heard so much concentrated adulation for a man not at his funeral.
It wasn't undeserved: Abels restored calm to a city that seemed to be in a permanent state of tropical storm warnings, at least at City Hall. The few months' work by Abels since late February gave the commission a break from a few years of drama, though Abels's stint luckily coincided with a change in the commission that dialed down some of the grandstanding that had contributed to the drama.




"Mike, you know I love you. I begged you to stay and it didn't work," Mayor Suzie Johnston told him, in tune with her colleagues' worship. "I could never say thank you enough. You gave the city the much needed reset and you've reset the tone for the Commission, the residents, the city staff, and everyone is so appreciative and we can just never thank you enough."
It was a miracle that Commissioner Rick Belhumeur did not bear-hug Ables after delivering his own speech, an especially affectionate one from the crustiest member of the commission to boot. "I just got to thinking about all the things you've done for us and how thankful I am personally and I'm sure everybody else is as well," Belhumeur told Abels. The administration had provided a cake, but Belhumeur wanted to hand over an "appreciation award presented to Michael Ables for his grace, patience and humor in guiding the city of Flagler Beach to its next chapter."
There was a quote at the bottom of the plaque, the famous one attributed to Liberty Hyde Bailey, the centenarian botanist, reformer and environmentalist who straddled the 19th and 20th century, and would today be considered far to the left of every member of the city commission and its recent managers: "A garden requires patient labor and attention. Plants do not grow merely to satisfy ambitions or fulfill good intentions. They thrive because someone expended effort on them."
All this and a lot more was all in front of Abels's successor, Dale Martin, who witnessed it from his seat in the audience, on an evening when Martin's contract was on the agenda and Abels's farewell was not, at least not officially, though it was his last meeting.




So the news really was the commission's unanimous approval of Martin's three-year contract. That's really what had driven even Commissioner Scott Spradley, who has been recovering from a sever bout of heat exhaustion that required repeated medical intervention, to make it to the commission meeting at least for that item, since the hiring of a manager requires at least four votes. Spradley did not want anything to jeopardize Martin's candidacy. By then Martin and City Attorney Drew Smith had been working for days on the employment contract, now ready for signatures.
The vote was unanimous.
Martin will have an almost-starting pay of $165,000 a year. The former Fernandina Beach city manager will actually be paid the equivalent of $156,000 for a few weeks as this fiscal year winds down. The salary will automatically go up to $165,000 on Oct. 1. Subsequent raises will depend on annual evaluations. The contract, which goes in effect on July 29, will renew automatically each year after the first three years elapse, absent a notice from either Martin or the city of a divorce ahead.
Martin is getting a $15,000 check to move and to pay for temporary housing (verifiable by required receipts): the city charter requires the manager to live in the city.
In additional compensation, the city will contribute up to 6.5 percent of his contributions to a 401-k plan (same as the contribution for other employees). He'll get a $50 a month cell phone allowance, but no car allowance. Martin will get the same health benefits as other employees: the city pays the full premiums, and half his spouse's premiums. He'll start the year with a week's vacation banked up then accrue three weeks' worth of vacation per year (but he's not allowed to go on a three-week safari: the limit is two weeks of consecutive time off), plus eight hours a month of sick leave. He can carry over three weeks' vacation time from one year to the next.
The initial term of the contract is for three years. It then automatically renews on an annual basis, unless either the city or Martin tells the other that there won't be a renewal.




"I think Mike has set the bar exceptionally high," Martin said. "I look forward to try and meet it and maybe do the impossible and exceed it. But I look forward to working with all of you and serving this community and filling his shoes, so let's get started."
But that was at the tail end of the long meeting, long after Martin had been subjected to the drubbing of adoration for his predecessor, long after Abels himself had spoken.
"I just want to make sure I can say this with calmness," Abels had said, his voice breaking. "I can't thank the City Commission enough for giving me the honor to serve the city. A person to be successful has to have a strong back backing to do that. And I want to thank the city staff for the support they have given me." He complimented that "dedicated city staff" and the commission, citing the way its "futuristic vision" drives each commissioner's leadership.
Abels left Penny Overstreet, the city clerk who is not known to be a softie, in tears. The other commissioners picked up where Belhumeur left off.
"When you started, the city was kind of in a hot mess, if you remember. I know our citizens do," Commission Chairman Eric Cooley told Abels. "You were able to come in and it was just instant, like everything just settles right down. There was a big whoosah moment, and then city business just proceeded forward. It was like clockwork." Commissioners jane Mealy, Scott Spradley and James Sherman echoed the sentiments.




"There's not many people that can claim something like that," Cooley continued. "That's a big deal. And so we're all very appreciative of that especially us up here because we get all the flack for it."
But just to remind the commission who was still in charge Thursday evening–or in one last display of irresistible professionalism–Abels continued to be the manager for those hours, and pointedly addressed what may be a point of contention for his successor, because the commission has so far resisted it.
"We don't have depth in a lot of our departments as far as the top management staff," Abels cautioned, repeating his recommendation for the commission to approve the creation of an assistant city manager position, and urging the administration to create what amounts to a succession plan in each department, so that when the department director is absent, a replacement is automatic. That would have applied to the top position, too. "If you had that, for example, you would not have needed to appoint me into an interim position," Abels said. "You'd have automatically that second command you can reach to and say, you're now in charge of whatever department or unit you had."
"Would you by chance be suggesting yourself for that position?" Cooley asked. Abels declined. Europe awaits.