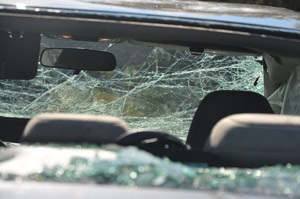 Ormond Beach Police are investigating a head-on crash that occurred Wednesday morning on State Road A1A, or Oceanshore Boulevard, and sent three young students to the hospital, one of them with critical injuries.
Toni J. Kilgore-Byriel, 45, of Ormond Beach, was at the wheel of a 2012 Hyundai four-door, driving south on Oceanshore and taking her son and two other boys to school at Seabreeze High School. Jacob Shannon, 26, of Holly Hill, was driving a 1996 Nissan four-door northbound on Oceanshore.
Preliminary investigation by Ormond Beach police determined that Shannon came up behind a vehicle that had slowed to turn into a driveway. Shannon hit the brakes and skidded into the southbound lane striking the left front end of Kilgore-Byriel's Hyundai. The collision took place at 140 Oceanshore in Ormond at 7:03 a.m.
There were multiple injuries in the crash and several people were taken to Halifax Hospital including all three of the students, police reports. One of the boys was transported as a trauma alert with a head injury. None of the others appeared to be seriously injured.
The investigation is continuing. Anyone who may have witnessed this crash is asked to contact Ormond Beach Police at 386/677-0731 or Crimestoppers at 277-TIPS or 1-888-277-TIPS.