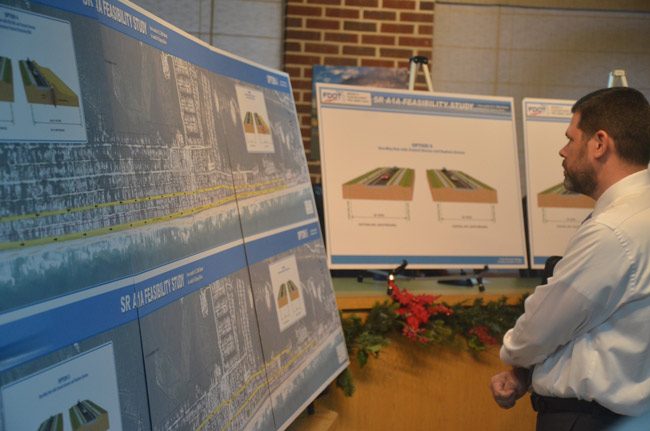 Note: The transportation department's complete presentations and documentation presented at today's open house in Flagler Beach, and much more, can be seen here.
Send your Comment to DOT: Anyone who wishes to write a comment card, rating the proposed projects and including additional thoughts that will be part of DOT's analysis, can do so by clicking and printing this comment card and sending it to the address on the sheet. Feel free to also include your comment below: both will resonate with DOT.

Picture State Road A1A no longer running down the shore in Flagler Beach. Picture a bike path there instead, and a walkway. A1A would instead replace Central Avenue, which would become a two-lane state highway.
Or picture A1A eliminated, and instead running one way down Central Avenue, and the other way up Daytona Avenue.
Or picture the existing A1A as a one-way road, with the other way running down Central Avenue.
Or picture the old A1A back the way it was before Hurricane Matthew ravaged it, but shifted as much west as rights-of-way allow, and with a seawall running the length of the shore, 5.2 miles' worth, with sand covering the wall to make it look like a dune.
Those and two more were among the six options that the Florida Department of Transportation proposed as long-term fixes for A1A in Flagler Beach in a well-attended open house Thursday evening at Flagler Beach City Hall.
The two other options include doing nothing but restoring the old A1A, without a sea wall, or rebuilding A1A as it was before Matthew, without shifting it west, but with a sea wall.
Actually, three of the six options the transportation department is proposing include building a 5.2-mile sea wall, which has so far been anathema to the Flagler Beach City Commission, the Flagler County Commission, the U.S. Corps of Engineers, and Sen. Bill Nelson, who just secured more than $15 million in federal funding to "renourish" Flagler's beaches with dredged up sand—as long as no sea wall is built: if a sea wall is built, the U.S. Army Corps of Engineers, which would be in charge of beach renourishment, is out.
And two of the three other options, which would have either all of A1A's traffic, or half of it, shifted to Central Avenue, seem to be non-starters: the population of Flagler Beach along Central Avenue would revolt, not wanting that kind of traffic zipping by their front yard. Parts of Central Avenue experienced some of that when a 1.2-mile stretch of A1A was shut down after Matthew partly demolished it. The reaction among residents there was not happy.
The Corps is out already: the transportation department invited corps officials to the open house. None showed up (at least none did so officially), though some 290 people had turned up for the open house, with one hour yet to go.
Tom Hury, a seventh-generation Floridian who's lived in Flagler Beach for 16 years, and lives on Central Avenue, was shaking his head by the end of a brief, looping audiovisual presentation of the transportation department's proposals that kept playing during the open house.
"I was shaking my head because there were lots of options and it was a tough decision to decide which option would be best," Hury said. "Living on Central Avenue, I was not thrilled with the three options that were moving A1A to Central Avenue or Daytona Avenue. I would have tons of traffic." The size of the two avenues would not make those viable options, he said. He thought of the option to bury a sea wall as protection for the road, keeping A1A where it is. But he's aware of the conflict between the transportation department and the Corps of Engineers on that score, and he's not keen on losing the chance to have beach renourishment.
"If you can bury the sea wall, which would give the protection of the highway, do a beach renourishment plan that is ongoing so that we don't run the risk of the beach completely eroding into the sea wall and have no beach left, would certainly be a viable plan. Most people fear that a sea wall leads to additional erosion and we would eventually lose the beach altogether, and I think you see that down in some of the areas of New Smyrna Beach."
The transportation department is not calling it a "sea wall" anymore. It's favoring a different description: a "buried retaining wall," with the words "buried" intended to seem less intrusive than a visible, ugly sea wall, and the words "retaining wall" sounding more like a familiar highway structure than an attempt to outwit nature. Or people.
---
A wall divides the DOT's favored approach from that of the U.S. Corps of Engineers.
---
Sharon Adre, once a member of the Beach Management Committee organized in line with the Corps of Engineers' beach renourishment studies, was not fooled. "No wall. No wall," she said, standing by the transportation department's maps at the open house. "We've gone through a lot of hoops to get sand. We want a beach," Andre said, referring to the renourishment plan. "Everyone that lives in Flagler Beach wants a beach." She adds: "They're calling it a retaining wall now, they're not calling it a sea wall, because they know no one wants a sea wall."
None of the options is cheap, including what the transportation department calls the "no action" option. It's a misnomer: no action still means reconstructing A1A back to its original location, at a cost of $10.1 million in current estimates. That would be the cheapest option, at least in the short run. The transportation department projects high recurring costs, high emergency repair costs, little protection for A1A from future damage, but also no impact on the Corps' plan to renourish the beach.
Rebuilding the existing A1A with a sea wall along 5.2 miles of shore, what would be Option 1 in the department's list (see below), would cost $145.5 million. It would have low recurring and emergency repair costs, but only as far as the transportation department is concerned. It would have very high recurring costs for the beach, if the Corps were even interested in still dumping sand there, because instead of renourishment taking place in 11-year cycles, it would have to take place in five-year cycles, says County Engineer Faith al-Khatib. Amy Sirmans, the transportation department's project development engineer, agreed: the planting of a sea wall would in fact accelerate erosion, requiring more frequent renourishment, she said, "based on the Army Corps study. There was modeling done."
But no one knows who would renourish the beach every five years, or with what money. "We at DOT didn't have a cost yet for beach renourishment," Sirmans said. "So any of the options that have a wall, we listed as 'high' for beach renourishment costs. If they don't have a wall, it's 'medium,' because we know either way it needs to be renourished."
None of the options explicitly mention climate change, but the options that have A1A shifted to Central and Daytona Avenue are at least an implicit acknowledgment that rising sea levels may eventually force the issue.
"The fact that the road was built on the dunes is the problem we're dealing with," Frank O'Dea, the transportation department's director of development, said. "The road was built on a dune, and regardless of what is happening with climate change, this road has been a challenge for us because of this. We know dunes move. Beaches move. And so they're continually going to be a challenge. But moving A1A off the dune would have a significant impact on the community, and probably the feedback we've been getting is that impact is unacceptable to many members of the community."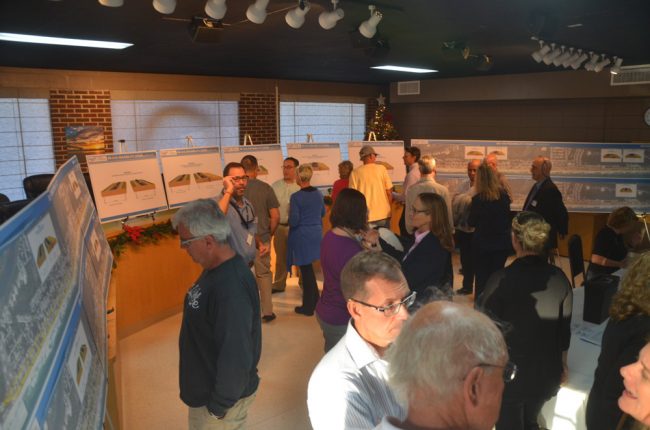 A cursory look at 10 of the many comment sheets turned in by members of the public make his point: seven of the 10 responses listed either the first or second option as favored approaches—rebuilding A1A as it was, or rebuilding it with a sea wall, but not shifting it west. But several of those comment sheets also stressed the need for saving the beach and renourishment.
That reveals a recurring split in the way the issue is perceived. To the public, and particularly to residents of Flagler Beach—as those comment cards show—there is no difference between rebuilding and protecting the road, and renourishing and protecting the beach: the two are part of the same needs and goals that make Flagler Beach what it is.
But that's not how the government agencies see it, because their missions dictate a split. The transportation department's mission is to build and protect roads, not beaches. The department's priority is A1A, its studies are focused on A1A, its spending will be focused on A1A—not the beach. That's the U.S. Corps of Engineers' venue, and the Corps, in turn, is not interested in the road. To the contrary: what may protect the road, such as a sea wall, is what would harm the beach, and by extension the Corps' work, so the Corps is adamantly opposed to transportation department plans that would, in effect, undermine the Corps'.
Whether the two agencies can work together on a mutually beneficial plan is in question, when the means to their ends are almost diametrically opposed. That conflict was not addressed at the open house.
Nor were issues of cost, even regarding the transportation department's projects. With the six proposals ranging in cost from $10 million to $222 million, the question was asked, cost could end up dictating an option as much as public sentiment. And it's not yet clear how Flagler ranks in the state.
"It's impossible to say, because we have thousands of projects," O'Dea said, though he notes: "This type of project is a little different from the standpoint that it's not like a capacity project or something out of our normal work program. This we have to do something with, regardless, because we're in that kind of emergency situation. So from that end something will happen. It's a little different than trying to say that this is going to compete against the widening of a road somewhere else. It won't."
The transportation department wants to have a recommendation out of these six options by early 2017. It would then seek more public input on whatever option it chooses, then seek out money to get the project done. That's usually made up of state dollars and federal dollars, Steve Olson, a transportation department spokesman, said. Overall Florida's state road projects tend to be funded at a ratio of 75 percent state funds, 25 percent federal funds. But ratios apply differently on specific projects.
The transportation department's complete presentations and documentation presented at today's open house, and much more, can be seen here. The six options are outlined in full below, with costs and other assumed consequences.

Click here to see a larger view of the Florida Department of Transportation's Six Options for A1A.
Click to access 2016-12-15_Improvement_Options_Comparison_pdf.pdf