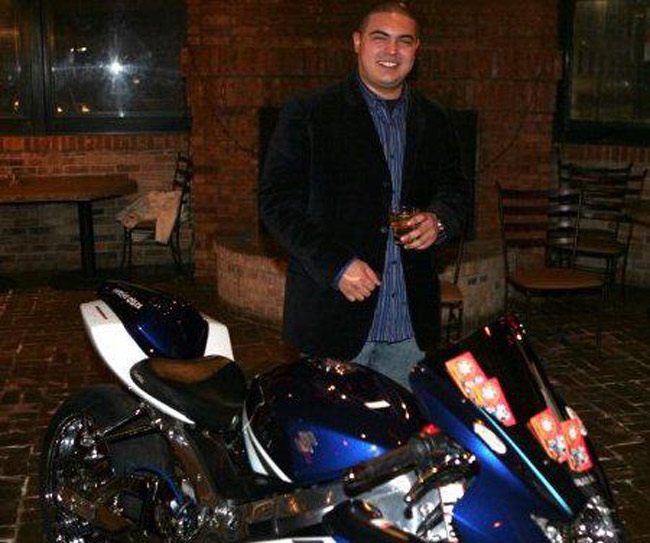 Last Updated: March 25, 8 a.m.
Update: Fernando Chavez died on March 24, eight days after he was critically injured when his motorcycle struck a car on State Road A1A in Flagler Beach.

Note: An account has been opened at PNC Bank under the name Paola Arce (Fernando Chavez's sister), subtitled "Team Nando," to help the family with expenses. An account number is not necessary to make donations, only mention the name of the account.
For anyone who is interested in helping Fernando's Family, this link takes you to a website where you can make donations. This money will be used towards funeral costs. Any help is appreciated.
The following was contributed by the family:
Fernando Chavez Funeral Services
Fernando Chavez born on November 25th, 1982 in Santa Cruz De La Sierra- Bolivia, passed away on March 24th, 2012 at the age of 29.
Fernando Chavez nacio el 25 de Noviembre de 1982, en Santa Cruz De La Sierra- Bolivia, fallecio el 24 de Marzo del 2012.
Funeral Services will be held at the Demaine Funeral Home on Sunday April 1st, 2012 from 1:00PM to 8:00PM.
Servicios funebres se llevaran acabo en Demaine Funeral Home el Domingo 1ro de Abril, 2012 desde la 1:00PM hasta las 8:00PM.
Demaine Funeral Home
Funeral Visitations 1PM-8PM
5308 Baclick Road
Springfiled, VA 22151
Phone: 703-941-9428
Funeral Catholic ceremony will also be held at the Demaine Funeral Home on Monday April 2, 2012 @10:00AM
La Ceremonia Catolica de cuerpo presente tambien se llevara acabo en la casa funeraria Demaine, pero sera el Lunes 2 de Abril, 2012 a las 10:00AM
Funeral Catholic Ceremony
Monday April 2, 2012 @ 10AM
Demaine Funeral Home
5308 Baclick Road
Springfield, VA 22151
Followed by the Catholic Ceremony we will have the burial at Fairfax Memorial Cementery @ 1PM on Monday April 2, 2012.
Seguido inmediatamente por el cepelio en Fairfax Memorial Cementery a la 1:00PM el mismo Lunes, 2 de Abril del 2012.
Fairfax Memorial Cementery-Section 6
9900 Braddock Rd
Fairfax, VA 22032
703-323-5202
We will have maps of the actual cemetery so you can locate the place of burial.
Tendremos mapas del cementerio para que puedan localizar el lugar del cepelio.
Demaine Funeral Home
Springfield, MD
View Map · Get Directions
Nando GhostRyderz Chavez

A biker speeding south on A1A in Flagler Beach struck a two-door Pontiac GT this afternoon, sending the biker flying about between 140 and 180 feet, according to several witnesses at the scene, before falling on the road's west shoulder. Fernando Chavez, 29, of Annandale, Va., was flown out on Flagler County Fire Rescue's Fire Flight helicopter at 1:31 p.m.
The wreck took place at 12:50 p.m. on A1A between 22nd and 23rd Street North. A1A was shut down in both direction soon after, from 21st Street to 23rd Street, and remained shut down until 3:16 p.m., when the scene was cleared and traffic resumed in both directions.
"I was behind him, he was a ways up from me, and what i saw, I saw him go right into that car," Carolyn Sanita, a resident of Flagler Beach who was driving a minivan behind the biker, said. "He just ran right into that car and went flying. That's what I saw."
"The motorcyclist was going at least 80 mph when he flew past our house," LeighAnn Koch, another witness, said. "Neighbors and I heard him accelerating at higher rates of speed for minute, couple minutes before he passed us."
There wasn't much left of Chavez's 2006 Suzuki motorcycle but a crumple as if welded to the front right side of the Pontiac, itself crumpled around the wheel. The right headlight and the immediate area surrounding it was intact. The damage begins about a foot behind the headlight, suggesting that the car may have been at an angle when the bike hit it.
Later in the afternoon, a Florida Highway Patrol investigator described the incident this way: the 52-year-old woman driving the Pontiac, Diane Toth of Palm Coast, had been at the Java Joint with her parents. The Pontiac had been parked on the ocean side of A1A, facing north. Toth then began doing a U-turn to head back south. Chavez struck the Pontiac at that point, never slowing down.
Chavez struck the car, the FHP investigator said, then violently struck the ground and bounced several times against the pavement and the sandy shoulder, finally landing some 50 to 60 yards, or 180 feet, south of the point of impact. The violence of both the initial impact and of hitting the ground repeatedly left Chavez with severe injuries to the head: he was not wearing a helmet, the FHP investigator said. As of this writing, he remains in critical condition at Halifax Hospital, but "it doesn't look good," the investigator said.
Charges are pending against Toth. She was not injured, nor were her parents.
Flagler Beach police, the Flagler County Sheriff's Office and Florida Highway Patrol investigators were at the scene, along with the Flagler Beach Fire Department and Flagler County Fire Rescue. The scene was wrapped in a large square of crime-scene tape.
The Java Joint overlooks the scene. It's the second Bike Week wreck there this week. The earlier one was less serious. Several people at the Java Joint, in cars traveling immediately behind or in front of the scene, and on the sidewalk saw or heard the accident, and were being interviewed by FHP. (The Java Joint remains open.) The scene was cleared by Roger's Towing. By then, the Java Joint had not a single customer left.