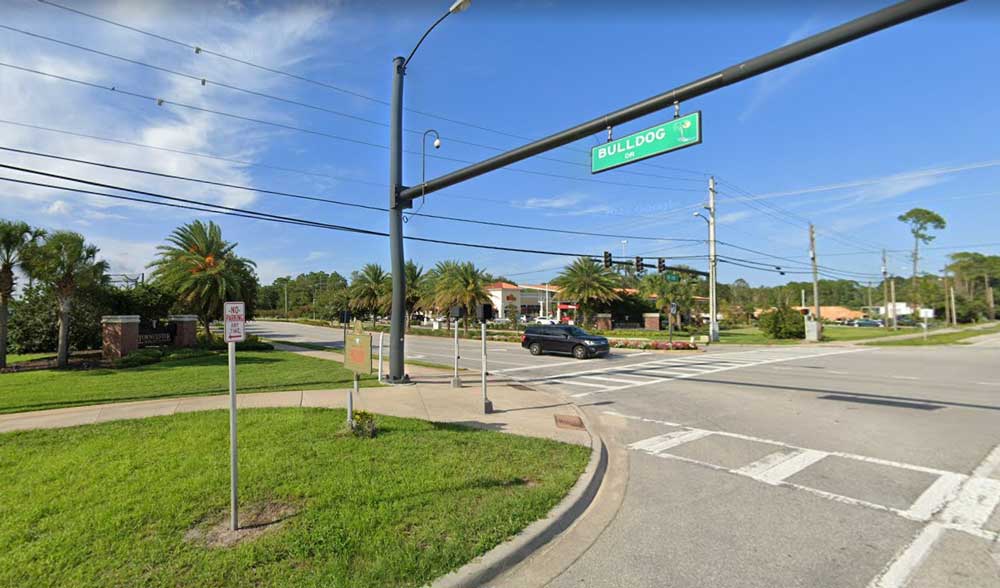 As Bike Week was entering its closing weekend, a motorcyclist was killed and another was critically injured Friday in separate crashes in Flagler County, the first in Palm Coast, the second in  Bunnell.
Just after 2 p.m., a motorcyclist was traveling west on State Road 100. An 18-year-old driver of a SUV was preparing to make a left turn onto Bulldog Drive near Flagler Palm Coast High School. The SUV driver, according to the Florida Highway Patrol, "failed to yield the right of way and pulled into the path" of the motorcyclist, who was rid8ng a Harley-Davidson.
The SUV and the motorcycle, a Harley-Davidson, collided. Witnesses came to the aid of the 68-year-old motorcyclist, a resident of Murfreesboro, Tenn., who had been wearing a helmet but was severely injured. The 18 year old driver was not injured. (An earlier version of this article incorrectly reversed the sequence, placing the motorcyclist in the turning lane.)
The westbound lanes were closed and traffic diverted onto Bulldog Drive. Flagler County FireFlight, the emergency helicopter, transported the victim to Halifax hospital in Daytona Beach. He had a Glasgow Coma Scale (GSC) reading of 3, the lowest number short of death. He died at the hospital.
The second crash took place at 6:30 p.m. on U.S. 1 near the intersection with Grand Reserve Drive when a motorcyclist, according to witnesses, lost control as he was riding north, and struck a sidewalk. Inclement weather prevented an emergency helicopter to be dispatched to the scene.
The motorcyclist was not wearing a helmet. He had a GSC of 3 at the scene, and was transported to Halifax hospital by ground. An update on the biker's status was not available when this article initially published.




As of Thursday, the Daytona Beach news Journal reported that 69 people had been hospitalized as a result of Bike Week crashes in the city. The only two Bike Week-related deaths until then had taken place on a Volusia County road and in Flagler County early the morning of March 7, when a 22-year-old biker lost his life after losing control of his motorcycle on John Anderson Highway in Flagler.
The crash on Bulldog Drive brings Flagler County's number of road fatalities to five so far this year. Bike Week does not end until Sunday. The event has claimed 20 lives in the last three years–six in 2020, eight in 2021, and six last year.
Reader Interactions