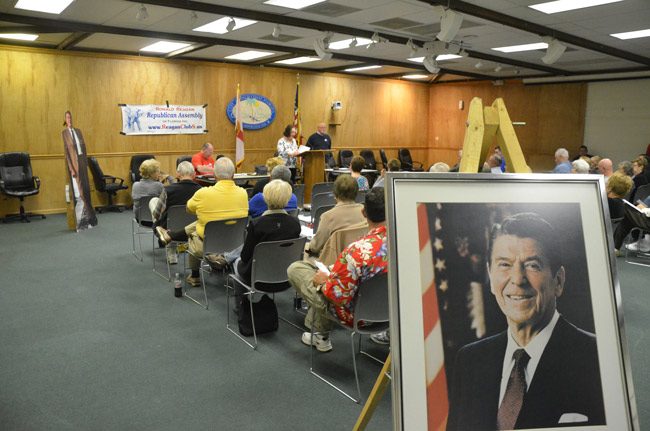 The Ronald Reagan Republican Assemblies of Flagler County, the firebrand group whose members spent the last five years shaking up local governments—complaining, criticizing, suing and in several cases, winning elections—has disbanded.
The Reagan group's end is the latest in a continuing Republican re-alignment in Flagler County, if not a restauration, back to the sort of more measured, less insurgent GOP the county had known before the upsurge of tea party Republicans in 2010. The local tea party, whose meetings at one point could fill the Flagler Palm Coast High School cafeteria to capacity, is a diminished operation that now counts its participants in the dozens, when they meet at the much smaller Palm Coast Community Center. The tumultuous two-year tenure of Anne-Marie Schaffer—a Reagan group member—as chairman of the Republican Executive Council is ending in December. The executive committee and its chairmanship are expected to return to more moderate leadership now that local Republicans, after a concerted campaign aimed at booting out Shaffer, elected some 111 precinct committeemen with decidedly less extremist leanings. And the Reagan group itself discovered that it could no longer function when its parent organization disbanded without a word in spring.
"I think they'll still be around, so I'm not going to stand up and cheer or anything like that," Dave Sullivan, the last chairman of the Republican Executive Committee before Shaffer, said today. "The Republican Party in Flagler County is very competitive, we have different kinds of Republicans, and it's important we all work together under one umbrella. The Ronald Reagan group tended to be on their own, so any kind of consolidation under one umbrella in Flagler County is good."
Other local Republican leaders were more direct in their reactions about the disbanding—one of them said "Hallelujah"—but they asked not to be named: they still have to work with fellow-Republicans, and likely former Reagan group members. One local leader described the recent evolution as a return to "sensible" Republicans. Few, however, had been aware of the group's disbanding.
"We operate under their tax id number and corporation, they hadn't charged us fees in a while and we hadn't heard anything from them," Mike McElroy, president of the Reagan group, said today from New York, where he was getting ready to attend his son-in-law's naturalization ceremony.  "They actually disbanded in April of this year. We weren't notified."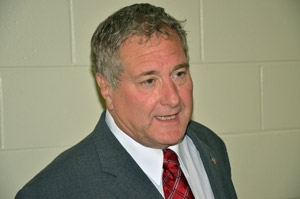 Without proper tax status, the local club was not only required to disband, but to also donate what money it still had in its coffers to a local non-profit. It chose the school district's Junior ROTC program, which the district will use to buy uniforms. The school board will be receiving that donation this evening at its 6 p.m. meeting. It'll amount to somewhat less than $2,000, McElroy said.
The Reagan group was not without its successes, qualified as they've become since. It helped elect five people who had been or continued to be involved in the organization: the first was Bill McGuire, who was elected to the Palm Coast City Council in 2011 but soon had a falling out with the Reagan group, specifically because McGuire voted to build the new city hall. McGuire's close association with the group turned to bitter criticism. Charlie Ericksen was elected to the Flagler County Commission in 2012 (he later distanced himself from the Reaganites). And in 2014, Janet McDonald was elected to the Flagler County School Board and Steven Nobile was elected to the Palm Coast City Council. Had it not been for McGuire's resignation in August, all four would still be in their respective posts: the Reagan group's influence, in other words, is outlasting its existence.
The Reagan group had significant setbacks, too: Shaffer herself was unable to win her race for Palm Coast City Council, nor has Dennis McDonald—the group's most vocal, visible and, because of his Eiffelesque stature, most recognizable member—been able to win in two tries for the county commission, one for a state senate seat and one, most recently, for Palm Coast mayor, where his 15 percent showing was the lowest of any local race he's run (the Senate primary race aside: he got 13 percent there.) He was also defeated by Sullivan for state committeeman, by 20 points, just as Janet McDonald was defeated for state committeewoman (also by 20 points, by Sharon Demers).
The showings are a reflection of the Reagan group's fading: it fielded no candidates in the current, very busy election, and four candidates it backed—John Lamb for sheriff, Denise Calderwood for county commission, Ron Radford and Dennis McDonald for Palm Coast mayor—all lost in the primary. The Reagan group also backed Maria Barbosa for school board: she is in a runoff in November against Myra Middleton Valentine.
Reagan group members were no more successful with a slew of lawsuits and complaints filed against Flagler County commissioners or the county administrator and its attorney, as measure after measure was found "legally insufficient" or tossed out for lack of merit.
The group's ideas, however, are still around, McElroy says. "The conservative core hasn't gone away, their philosophy is the same," he said. Members of the group still meet for lunch and have been talking about how and whether to reconstitute as a different group. McElroy described the Reagan assemblies as  "a conservative conscience for the republican party locally. I think we'd want to continue that, but in what form, I think we have to figure that out."