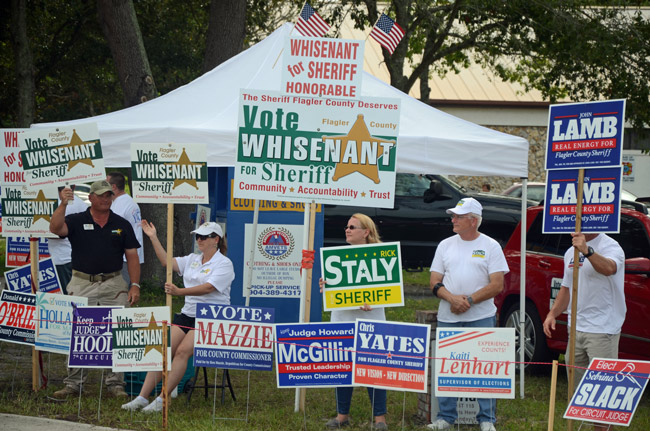 Tropical Depression Nine can't get here soon enough: after the endless election that culminated Tuesday, we need a good cleansing. It's not an illusion that these election cycles are beginning sooner, much sooner than they need to. The pain and suffering they inflict is evident in the turnout. By voting time, the majority of people are justifiably sick of the noise. They don't vote.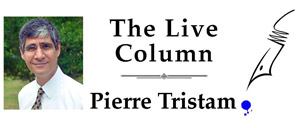 That's the shock—or ought to be the shock—of yesterday's results: for all the length of the campaign, the supposed excitement of several superheated races (the busload of sheriff's candidates started filling more than a year ago), the alleged new voters Trump or Sanders brought on, two weeks of early voting, plus voting by mail, all of 27 percent of the registered electorate turned out.
That's barely discernible from the 25 percent of the 2012 primary, or the 24 percent of the 2008 primary, and well below the 34 percent of the 2004 primary, before the early-voting craze. And, let's face it, before the GOP assault on non-existent voter fraud by way of voter-ID hurdles. It's not a coincidence that voting by mail outnumbered Election Day voting in Flagler yesterday: the electoral process is further skewing toward older, better-off voters who were already casting ballots in disproportionately larger numbers, compared to younger, poorer voters. The emphasis on voting by mail combined with the whiff of inquisition in in-person voting is creating a cynically subtle two-tiered system reminiscent of the more blatant voter-discrimination methods before the Voting Rights Act. The Supreme Court's evisceration of the Act hasn't helped.
As for the actual results, the shocks were few, and only one should be surprising: how the ethically challenged Maria Barbosa could come out on top of a four-way field in the race to replace Sue Dickinson on the school board. Barbosa has an epic attraction to plagiarism, and her cavalier indifference to school policy was illustrated by her illegal campaign sign on school grounds at the Buddy Taylor Elementary precinct most of the day Tuesday: it went untouched by elections or school authorities, giving the impression she had the endorsement of the school district.
Her lapses would make sense if she were running for the sort of government office where a degree of knavery is part of the job, but she's running for school board, where at least pretending to be a respectable role model to students should be part of the job. As a student she'd have been expelled by now. As it is, she may well sit on the expulsion board by November. She's in a run-off against Myra Middleton Valentine, whose education credentials are more proven and whose presence on the board might be a helpful reminder that Flagler isn't as white as it pretends to be.
Speaking of which: Larry Jones—the only local black candidate to win anything other than intra-party seating arrangements yesterday–beating incumbent Sheriff Jim Manfre should be a shock. But it's merely a replay of 2004, when Manfre limped to the primary on what was left of his own feet, having shot them off with the same knack for self-destruction he brought to his second tenure even though, all told, he's been a better sheriff than given credit for. He lost that 2004 primary to an unknown Democrat. He lost it to a more beloved one this time around, but not one who can take on Rick Staly's money or affinities for Machiavelli: Jones is an unwitting proxy.
It was Staly who beat Manfre Tuesday, having likely learned exactly how to do so when Staly was Manfre's undersheriff for two years. The Republican race for sheriff was always a three-way contest between Staly, former Sheriff Don Fleming and John Lamb. Fleming's pitch for the nostalgia vote was never convincing. Lamb unexpectedly descended from Jacksonville on what increasingly took on airs of Christ riding into Jerusalem on a year-long Palm Sunday, oblivious to the crucifixion ahead. I thought Staly's barrage of attack ads in the closing days of the campaign would—if he'd been ahead until then—cost him the election, and it very nearly did. The numbers bear it out: Staly, who for much of the campaign had conducted himself well and had an heroic biography to run on, had built a lead in mailed-in votes that eventually saved him, just. But Lamb beat Staly in Election Day votes and early voting, when the Staly assault had its biggest impact. Staly's barrage had nuggets of truth but it was mean-spirited, unfair, and what truths it peddled were not nearly the sinister conspiracy of deception he made Lamb out to be. It was more like an overzealous arrest affidavit before it got scrubbed by the state attorney, while the archival hit on Fleming looked like something out of the 1868 campaign against Andrew Johnson.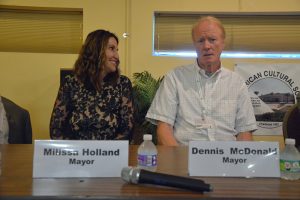 But what should we expect? These are cops whose profession is a maze of gray areas. Add politics in the mix and the result can't possibly be attractive (another argument for doing away with the absurdity of electing sheriffs, judges and state attorneys). That's not a criticism, necessarily: it's pointless to impose our cushy world's saintliness on one of the most harrowing jobs in the land (I don't mean the job of sheriff, which is more cushy than not, but that of cop) and expect cops running for the top job to be more St. Francis than Freddie Heflin. At any rate, Staly pulled it off. Let's hope he learned the lesson he apparently didn't in the first year of the Manfre administration: leading by demolition bolt is distasteful.
There was a second tier to the sheriff's race of course. I recall the humble and honorable Chris Yates, but don't much recall blessedly more forgettable names even if the din from their blare is still ringing in Flagler's ears. And the best-tempered and likely most qualified of the bunch never ran: that would have been John Pollinger, who ran four years ago and fell to the intramural eye-gouging of Republican Party "purity." He ended up as Fleming's closest aid in this campaign.
There were quite a few anti-climactic races. That Milissa Holland won the coronation to Palm Coast's mayorship or Robert Cuff won the council seat is as unsurprising as August thunderstorms. Anger is not opposition, and all Holland had against her was anger. Cuff replaces Bill McGuire, who resigned this month, thus ensuring that McGuire's equally sparkling intelligence and wit have an apt successor.
Holland's 63 percent win against three opponents is still a point short of the top winner of the night, Colleen Conklin, whose 64 percent rout of Jason Sands is as clear a mandate as any. That's nothing unusual for Conklin: in 2012 she was the county's most decisive at-large winner, too, with 61 percent. (Keeping in mind that Conklin had only one opponent to Holland's three: there's a mandate there, too.) Kaiti Lenhart's big win to keep the supervisor of elections office was also about as much news as her office has made since she took it over from Oliver Cromwell, a.k.a. Kim Weeks, which is to say, none. And for that, Ms. Lenhart, we in media thank you. She had noble opposition from Abra Seay, but Seay's place is, if anywhere in government, on the school board.
None of the Republican primary results for county commission were surprising, given the sharp contrast between compelling candidates and either unconvincing or absent opposition. The only thing I can say about these Republican winners, the Palm Coast council's included, is that there's hope yet for the GOP. It's not all God, guns and mammon. Then again, I have no idea what Milissa Holland and Charlie Ericksen have been packing.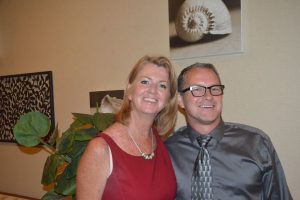 That still leaves the one Palm Coast council race to be decided: Pam Richardson and Nick Klufas are in a tight runoff this November, and if third-placer Anita Moeder hands over her votes to Klufas (she spent the entire race in his shadow anyway), this year's 10,000-watt boy-wonder of local politics may be Richardson's latest election surprise: her two previous runs for office—supervisor of elections—were twice derailed by wild cards. More to the point: This race will be a referendum on City Manager Jim Landon's future. Current council members Steven Nobile and Heidi Shipley—make that senior council members Nobile and Shipley, for all their two years on the council—are not exactly on Landon's shill list, as other members of the council have tended to be. Richardson is a friend and proxy for County Commissioner Nate McLaughlin, who, dating back to his days on Palm Coast's planning board, has about as much love for Landon as Landon has for, say, media. McLaughlin would get his revenge through Richardson. Her addition on the council would turn city hall's mail room into a missile battery for Landon's resumes, and probably not just his. Then again, his longevity is testament to the skills of a master manipulator. McGuire and Jason DeLorenzo weren't Landon fans when they joined the council, either. He corralled them quickly.
Having run out of crack to snort, inject, smoke or suck, I'll skip the congressional electoral circus and its foregone conclusions: Clinton's appointment of Obama to the Supreme Court and the overturning of Citizens United can't come soon enough.
A side-note: there were 35 candidates in contested races for local offices in five major governments. Six of them did not take part in the Live Interview, their most expansive chance to present their arguments and defend their positions at almost any length they chose to the broadest audience they could reach online. None of the five won (just as no candidate who's not taken part in the interview, going back to 2010, has ever won). Those candidates' average margin of the votes they got did not break 20 percent. I'm not saying this proudly, but imploringly: it helps no one to duck questions or skip a chance to speak to the electorate. And ducking questions is the surest sign that some candidates have no business running for public office, where measly reporters' questions will be the absolute least of their worries, assuming they make it that far.
Depressingly—as TD9 is reminding us—it's not over. Not only was this just the primary. But the true madness is ahead, though for me I can go back to normal in at least one sense. I had recently discovered what Linda Blair's head-spinning felt like in "The Exorcist" when I switched my registration to Republican, so I could at least have an electoral voice in this undemocratic state of closed primaries. They don't allow microscopes into the voting booth, so hunting for Democrats was out. That left me with joining the Party of Trump. It's been real. But it's time to reclaim my independence.


Pierre Tristam is FlaglerLive's editor. Reach him by email here or follow him @PierreTristam.