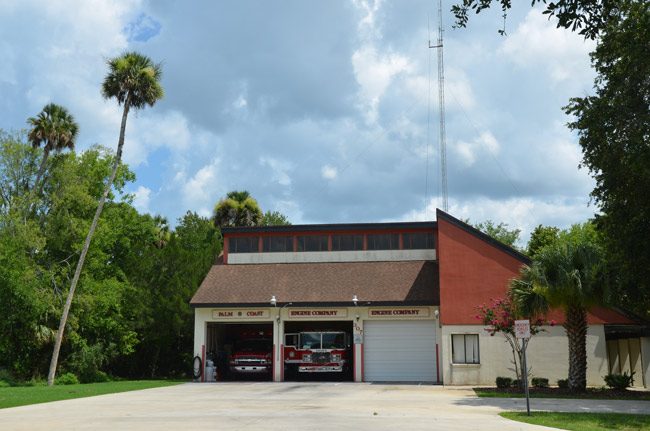 Luckily for Palm Coast's oldest fire station, it's around the corner from an assisted living facility. It's not there yet. But it needs a makeover.
The 3,900 square foot station was built in 1977 in what at the time was the heart of nascent Palm Coast on Palm Coast Parkway, opposite what became the Palm Harbor shopping center, and has since become Island Walk. On Tuesday, the Palm Coast City Council gave its approval to a $100,000 revamp.
"It's very tight space," Carl Cote, the city's construction manager, says. The city wants to expand the day room and move the lieutenant out of the day room and into an office. The layout would be made more functional. The truck bay would be cleared of some of the things in there, including the washer and dryer. An exhaust system will be added to the truck bay, and new safety features will be installed or replaced (smoke detectors, power outlets, safety sensors). A one-hour firewall will be installed between the truck bay and the living quarters.
The station will need a few improvements to make it compliant with the American With Disabilities Act—parking, restroom and building access improvements, for example—and to reduce energy consumption. It'll also get the naggy-house-spouse makeover: New sink, new dishwasher, new countertops, new cabinets, new vinyl flooring, new coat of paint.
In the 1970s the building's original design was to accommodate a second floor. That plan was considered again about 10 years ago. The city discovered it would not have made as much financial sense as building an entirely new station.
---
"I don't want to have this three-quarters complete and have the county say, this is completely unacceptable," Netts said.
---
The station has not been among the city administration's most cherished possessions. Five years ago, in the depths of the Great Recession, when the city was considering all sorts of drastic measures to save money, it considered laying off firefighters—and closing Station 22. Sooner or later, the station will have exhausted its nine lives.
"We're putting $100,000 into an old building, and the question that I have," Mayor Jon Netts, who has a long memory, asked, "will these renovations significantly extend the life or is this a band-aid on a badly bleeding wound? I look at the size of the bays. They're narrow by anybody's guestimation. The chief alluded to the fact that you have to buy fire trucks to fit the size of the bay rather than fit the bay to the size of the fire truck. So the question I'm having is, you spend $100,000 on this, do we still have a building that ought to be replaced some time in the foreseeable future?"
There was a bit of nervous laughter—as Netts had, as is his habit, distilled the issue to its logical and financial essence—and a long pause. Finally, City Manager Jim Landon, who usually recognizes a an unattractive proposition by prefacing his remarks with something about an ideal world, said: "In an ideal world, absolutely dream world, you'd tear this building down and build a new fire station right at this location. It is an excellent location except we don't have enough property to build."
That's why at one time the city considered relocating the station to Colbert Lane. That's still the second-best option, Landon said. "And one that we could do."
The current plan is considered the third option to extend the life of the station. "It's not a one or two year band-aid. It would be a 10, 15-year band-aid. Will you ever have to upgrade it or will you keep upgrading it and remodeling it, that would be a decision you'd make in 10 or 15 years." These improvements could last for years, he said. "It's not an idea situation. We don't see more people being located here."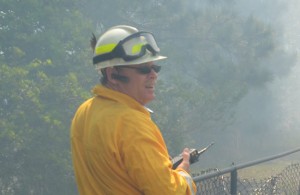 "If you can get 10 years out of it I suppose that would make sense," Netts said. But he had further concerns. "Is this going to create a problem with county employees?" Netts was referring to County Fire Chief Don Petito's discussion earlier this month, at a county workshop, to city-county harmony. Petito was referring to Palm Coast's plan to have city and county firefighter-paramedics share certain aspects of their duties, a mingling of tasks that, in Petito's view, could raise liability and morale issues. Petito's broader point was a rejection of the city's proposal to expand ambulance service in the city, but at the cost of diluting some of the current services by thinning out personnel to enable the addition of two ambulances. The plans for Station 22 call for a closer sharing of quarters between county and city employees, as the county has an ambulance stationed at 22.
"Personally I don't think it's not going to create a problem with the working crews on the street," Palm Coast Chief Mike Beadle said, adding that there hasn't been an issue in five or six years. The county is familiar with the proposal, but not in the details.
"I don't want to have this three-quarters complete and have the county say, this is completely unacceptable," Netts said. He was reassured that the city was planning further meetings with the county administration to ensure that everyone is in agreement. "No reason to get into those details until we get a green light from city council," Landon said.
Council member Steven Nobile wanted to know why the county ambulance couldn't be moved to another station. The city, Landon said, raised that possibility with the county. The county wants to stay at Station 22, because the ambulance has a much wider response radius than the fire trucks stationed there. (Nobile was concerned about space at the station. "I'm an introvert," he said. "If I don't have time alone in a room, by myself, people can get hurt.")
The plan doesn't preclude a future station on Colbert lane if growth commands it, Landon said (though the city's next-planned fire station would be in the Seminole Woods area). "Our proposal is not so much of a major renovation that you're going to put so much money in this building that would make no sense to make future plans."


<![if !IE]><![endif]>