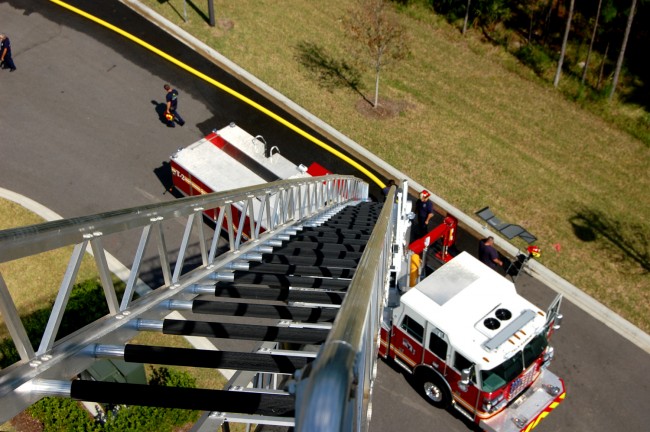 The Flagler County Commission can't understand what exactly Palm Coast government is after regarding ambulance service in the city, nor are commissioners interested in doing the city's job, if the city is looking to lower its costs.
That's the essence of a brief commission discussion earlier this week in answer to the city's recent moves intended to urge the county to work jointly toward what Palm Coast Mayor Jon Netts terms "increasing the efficiency of our emergency medical services." Netts used those words in a letter to Commission Chairman Barbara Revels, asking for a joint meeting between the two governments to discuss the possibilities.
The commission agreed to a meeting, though not before its new public safety emergency manager, Stephen Garten, whom the county administration just hired as a replacement for Kevin Guthrie, has had time to familiarize himself with the issue. The joint meeting between the two governments will take place sometime in May.
But both sides have already staked out their positions, leaving little doubt as to what Palm Coast is looking for, and little doubt as to what the county is not willing to concede. The tone of the commission's discussion on the issue Monday said it all: commissioners and County Administrator Craig Coffey were more frustrated with, than welcoming of, the city's proposal.
To briefly understand the issue: Palm Coast's firefighters are also paramedics, but they don't provide ambulance, or rescue, transportation. That's the county's responsibility. By law, the county decides who transports, and whether other local governments may have permission to have their own rescues. Palm Coast would like to have its own. But the county is not granting it that authority, precisely because—in the county's view—it would be inefficient. And because there are no complaints, in the city or the county, regarding ambulance services: they garner the highest marks in satisfaction from residents year after year in Palm Coast's surveys.
---
The County doesn't want to do Palm Coast's job.
---
But in Palm Coast, whenever a county rescue is out on a call, it's accompanied by a Palm Coast fire truck. City council members say that can be expensive and redundant. They want to cut costs, because they run a much more expensive fire department than the county does (even though the city has fewer firefighters) and they want to save money.
The plan they came up with centers on actually increasing the number of rescues in the city by two, and reducing the number of times a city fire truck goes out. The two approaches are not co-dependent: one can happen without the other (as the county keeps telling the city). In other words, even today, the city does not have to send out its big, expensive fire trucks on every call, if it chooses to send out smaller "jump trucks" or, if the dispatch center declares the emergency less than critical, just a county ambulance will do.
But the city also doesn't want to give up its turf—if not its bragging—rights: it wants that city presence at most calls. It just doesn't want it to be as costly. The county says that's the city's problem, not the county's. And county officials, particularly fire officials, have been displeased with the city's proposal of adding two rescues at city fire stations, when those rescues would actually be county equipment, when the county does not have two rescues to spare for full-time duty (it has four back-up rescues for its seven full-time units, but the back-ups are no longer fit for 24-hour duty). The city is discussing possibly buying its own ambulances—at least one, if not two—even if it doesn't have the authority to carry patients. That would relieve the county of having to provide its own back-ups. But the county sees that as unnecessary, too, if not as a ploy to add pressure on the county to let the city enter the ambulance business.
The county is also not keen on splitting or diluting its teams to the point of having a county and city paramedic on an ambulance, exposing the two governments to tricky liability issues, chain of command issues, morale issues and the like. To the county, the system is working. Why fix it?
County Fire Chief Don Petito has one proposal to save money: consolidate. That is, merge some or all the city's and county's operations. But to Palm Coast, whose sense of identity—and obsession with "branding"—rises taller than the tallest church steeple in town, that's sacrilege. The county's and city's firefighters unions had once favor consolidation, but they no longer do. (A previous version of this story had incorrectly stated that they still did.) There is no interest on the current council for consolidation, though three of the five current members of the council will be gone by November.
"Has anybody specified what the problem is that we're trying to fix?" Commissioner Frank Meeker asked. Meeker served on the city council for several years. The city fire department grew significantly on his watch. "Because I thought the only issue was, they don't like taking large $800,000 to $1 million-dollar fire trucks out on emergency calls. I thought that was the only issue, really. How do you save money and not use those vehicles. I'm not sure why we're involved in that discussion."
"We've tried to explain that, we've presented our ideas. They were dismissed quickly," Coffey said.
Revels was planning to respond to the mayor's letter, but with the understanding that a top item on the agenda for that joint meeting would be: "What is the problem we are trying to fix."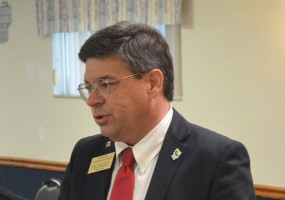 "I was approached by Mr. McGuire," Commissioner Nate McLaughlin said, referring to City Councilman Bill McGuire, "who wanted some help cutting costs with his fire department. We talked about consolidation, we talked about sending smaller trucks, but I'm kind of with the board here on: what's the problem we're trying to fix, and if they want to save money, I can't do that for them."
"They created a situation, they need to fix it," Commissioner George Hanns said.
Coffey and Petito had both been surprised by the city council's March 15 workshop when the city's proposal was put forth: neither had been invited to the meeting or alerted about its substance. "We wish would have got called to even come to a workshop to discuss it," Coffey said. "It would have made a lot more sense to us, because we could have handled some of these issues in front of them many, many months ago."
"Maybe we need to start checking their agenda," Meeker said sardonically.
"I volunteered to go to their mayors' gatherings, and no invitation yet," Revels said, referring to the quarterly meeting of the Flagler League of Cities headed by Netts. She's not alone: That meeting is never noticed on any of the various cities' websites, and repeated requests, even from media, to be provided notices about them have gone unheeded.