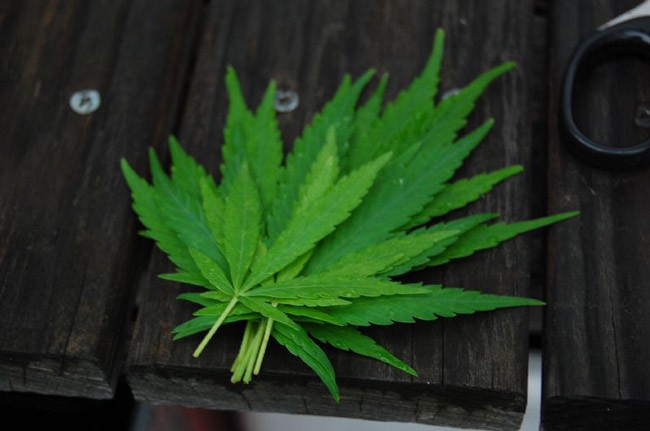 Nearly two years after passing a law to allow limited types of medical marijuana, the House on Thursday approved a more far-reaching plan that would let terminally ill patients have access to full-strength pot.
The plan (HB 307 and HB 1313) also would revamp the 2014 law, which has been bogged down in legal challenges over the selection of nurseries to get potentially lucrative contracts. Many House members pointed during a debate Thursday to how medical marijuana could help suffering patients.
"The focus in our debate and the media has been largely focused on who gets to grow it, who gets to make money, who gets to lobby, who gets to invest," said Rep. Katie Edwards, a Plantation Democrat who has been heavily involved on the medical-marijuana issue. "The hell with them — who gets to benefit is the patients. That has been largely lost in our debate."
But Rep. Dennis Baxley, R-Ocala, said he doesn't think the bill is good policy.
"We're feeding an avalanche that I think will ultimately lead to a tremendous amount of substance abuse in this state," Baxley said.
The plan, which passed in a 99-16 vote, would expand a 2015 law known as the "Right to Try Act" to include medical marijuana. That law allows terminally patients to have access to experimental drugs that have not been approved for general use by the U.S. Food and Drug Administration.
But the legislative debate has been overshadowed by the 2014 law, which was supposed to make non-euphoric cannabis available to patients who suffer from cancer or chronic seizures, such as children with severe forms of epilepsy. The substances were supposed to be available more than a year ago but still have not reached patients because of legal fights involving nurseries and the Florida Department of Health.
The measure approved Thursday, in part, would likely lead to more licenses for nurseries that would be able to grow, process and distribute the full-strength and non-euphoric types of pot.
The 2014 law authorized five dispensing organizations to grow, process and distribute marijuana that is low in euphoria-inducing tetrahydrocannabinol, or THC, and high in cannabadiol, or CBD. Nurseries that have been in business for at least 30 continuous years in Florida and grow a minimum of 400,000 plants were eligible to apply for one of the five coveted licenses.
In November, health officials selected five applicants — one in each region of the state — from more than two-dozen hopefuls seeking the licenses. The selection of the five licensees set off another round of legal challenges; hearings in the cases are slated from March through August.
The bill approved Thursday includes provisions that would allow each of the five applicants selected by health officials in November to keep their licenses and also would allow applicants whose challenges are successful to get licenses.
The measure would allow for three new dispensing organizations, once doctors have ordered medical marijuana treatments for at least 250,000 patients.
Medical marijuana lobbyists, and some nurseries that did not get the dispensing organization licenses, want health officials to open a new selection process for the full-strength marijuana authorized in the bill. But lawmakers contend that would create further delays.
"(To) those at the Department of Health, those who will challenge this after this legislation becomes law, know that this legislature is standing its ground today to say that we're going to take care of those who need it the most, and we don't want to wait," Rep. Alan Williams. D-Tallahassee, said during Thursday's debate.
The Senate is expected to take up the measure — along with possibly dozens of proposed amendments — on Friday.
–Jim Saunders, Dara Kam, News Service of Florida