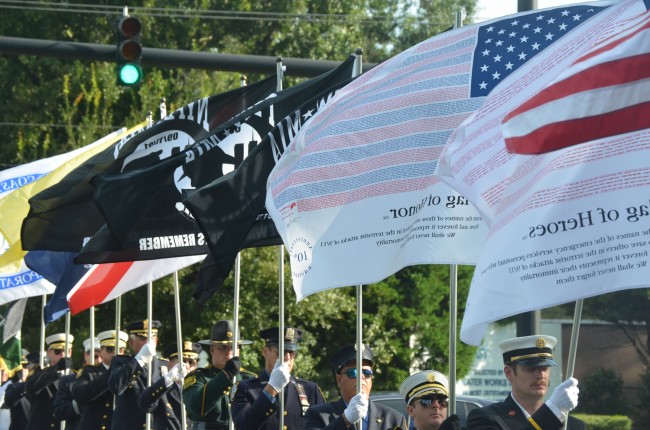 Anselmo Santoni remembered by clutching a framed collage of portraits of the 23 New York City police officers killed the morning of Sept. 11 in the World Trade towers, when Santoni himself was on the force, not far north in Manhattan.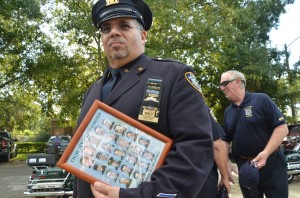 Santoni, who retired to Palm Coast a few years ago, was assigned that day to protect Peter Vallone, at the time an assistant district attorney running for mayor of New York (Vallone is now a member of the New York City Council). "We were on the Grand Central Parkway near LaGuardia airport, and we saw the actual buildings on fire. We rushed Mr. Vallone to his home, and from there we went to the World Trade. I spent the rest of the day at the site, trying to find survivors." He was there all night.
Santoni points to one of the men in the frame, Ramon Suarez, with whom he'd worked in private security before either of them were officers, and who told him he was going to become a transit authority cop. "I told him he was crazy. He became a cop. A few years later I became a cop. I guess we were both crazy." He points to the image of another officer in the frame, a man who'd filed his retirement papers that day. "It still hurts," said Santoni, who's been in Palm Coast since 2005, after 12 years with the NYPD. "It still like it was just yesterday."
Santoni was one of the 150-odd people who turned up for this morning's commemoration at Palm Coast's Heroes Park of the September 11, 2011 terrorist attacks on the World Trade Center and the Pentagon—active and retired cops, active and retired firefighters, several judges—including Raul Zambrano, the former Flagler Circuit County Judge, now in Volusia, who still comes up to play Taps at the end of the ceremony—and Palm Coast and Flagler County officials.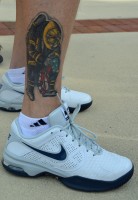 The ceremony, crisp and solemn under the sort of blue sky that mirrored the blue over New York that day, was led by Palm Coast Fire Chief Mike Beadle, who today—unlike his appearance for the Independence Day ceremony at Heroes Park, when he was in shorts—was in full uniform, which covered the commemorative tattoo of fallen firemen he wears above his right ankle. It's how Beadle remembers.
Patrick Juliano, a Palm Coast firefighter-paramedic and a member of the department's honor guard commander, remembered as he does every year now, primarily by putting on the event. And by remembering where he was that day.
"I was 16 or 17 at the time, and I skipped school that day because I had tickets to the Conan O'Brien show," Juliano said. "I lived about 10, 15 miles north of Manhattan, so that morning I was getting ready to go to new York City and I watched it unfold on TV and actually knew people who got killed in the towers. So for me it was personal. I saw people come off the Metro North train that night covered in dust, looking like ghosts. For our community, I lost a friend who is a town councilman who I saw that Sunday. He was killed in the towers on Tuesday morning."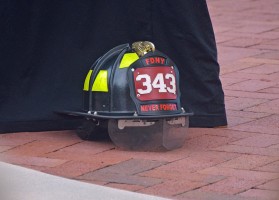 To Juliano, the act of remembering is itself a duty—to the dead, as a memorial, but also to the living, not just to honor the dead but to be aware of a history that mustn't be repeated. Forgetting, Juliano says, is the first step toward repeating the past. "The parade of flags is a representation of all the local and New York emergency services. The message was, we here in Palm Coast and Flagler County have not forgotten to our brothers in New York and that was the message, that we don't forget, even though we're 1,000 miles away. We certainly haven't forgotten that morning and we will always do our best to honor them by continually doing our job."
And Mayor Jon Netts remembered by exhorting the assembly to relive the day "as it unfolds again on television," and as it rewrote the histories, personal and national, of the country. He recalled by name individual stories of people who spoke their last words to their families that day. "How is it possible that 12 years have gone by since the U.S. experienced such an elaborate, precise and destructive assaults?" Netts said. "Nine-Eleven has forever changed the way we look at the world, its politics and its people. Let it serve however to keep us united as citizens of a free nation that continues to stand for peace, honor and civility."
Netts finished speaking at 8:46, the time when the first plane flew into the North Tower of the World Trade. Beadle asked for a moment of silence, and the assembly rose, heads bowed, hearts still heavy.