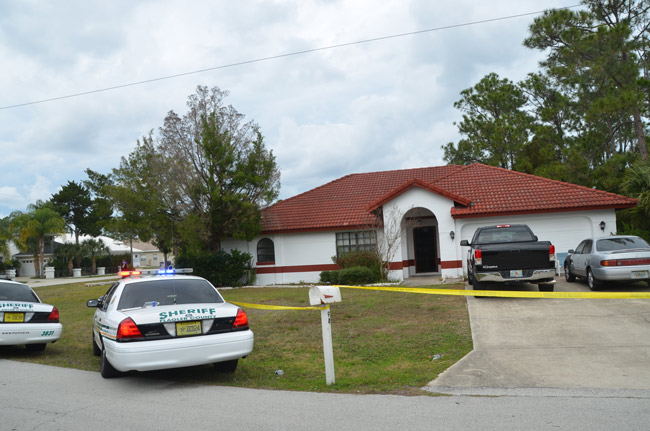 In a voice broken by sobs, gasps for breath and desperation–a voice that carries no hint of a man who'd intentionally meant harm–a clearly devastated and pleading William Merrill tells the 911 dispatcher to send help after describing how he accidentally shot his wife, Stefanie, in the bathroom while she was giving a bath to their 3-year-old daughter.
It was almost seven minutes between the moment the dispatcher picked up the call and the moment paramedics walked into the house–seven minutes in which William is heard begging the dispatcher for help and following her directions in attempts to staunch his wife's wounds in her chest and out her back.
The Flagler County Sheriff's Office released the recording of the 911 call, which William placed at 9:17 Tuesday morning (Feb. 21) from his home at 94 Covington Lane in North Palm Coast. Stefanie was still breathing but falling in and out of consciousness as he spoke to the 911 dispatcher. Speaking out of breath, he answered questions the dispatcher was posing, followed her directions, and spoke to his wife, imploring her to "please, stay with me baby. Stay with me."
William Merrill, 32, was charged Wednesday with manslaughter and possession of a firearm by a convicted felon (he had a prior conviction on a grand theft charge), and held at the Flagler County jail on $200,000 bail.
---
The Full 911 Call[media id=265 width=400 height=300]

The full seven-minute  exchange between Merrill and the dispatcher is transcribed below:
"I need emergency medical services please, hurry up, my wife's been shot," Merrill says as soon as the dispatcher answers.
"Did she shoot herself or was it an accident?"
"No ma'am, it was an accident."
"It's an accident?"
"Yes ma'am."
"OK, where is she bleeding?"
"She's bleeding out of her chest and her back. Please hurry."
"OK, we'll go ahead and get them there. Can you go ahead and tell me if she is breathing?"
"Yes she is but sort of not really. She's falling out of consciousness. Please hurry."
"OK, all right. They're going to go ahead and send somebody out. I just need you to answer some questions for me, OK?"
"OK."
"How did this happen?"
"I was holding one of the guns, and just looking at it and talking to her about it, she was talking about the laser light on it, about it being bright, and I pulled the trigger, it's never loaded. Oh my god, oh my god. Please hurry."
"OK, all right, they're on their way, OK?"
[William says something unintelligible.]
"Get a wet towel, OK, a moist towell, go ahead and get that for me right now."
"OK, a wet towel. All right. Please, my daughter is in the tub. My god." [The daughter is heard exclaiming "towel!"] "I got a wet towel. What do I need to do?
"OK, it's moist? I want you to go ahead and put it where the wound is."
"OK. The wound is on the front of her chest but it's on her back, too. Where do I put it first?"
"OK, just put it on the top right now."
"On her chest?"
"Yeah, on her chest first."
"OK, I'm going to roll her over. Oh my god, baby girl, please, stay with me baby. Stay with me."
"OK, you're rolling her over?"
"Yes but I don't know where the entrance is. Oh my god. Uh. I'm trying. Ok."
"OK, where's the weapon?"
"It's on her left side. Please."
"The weapon is on her left hand side?"
"No no no, no, the wound. The wound is [garbled]  right side. "
"OK. You rolled her on her—"
[Garbled]
"They're on their way, OK?"
"She's dying, oh my goodness, please hurry."
"They're on their way sir, they're going as fast as they can. What's your name?"
"My name is [blanked out]"
"OK, is anybody else in the house with you?"
"Yes, it's my daughter."
"Your daughter? How old is your daughter?"
"My daughter she's, she's, uh, she's 3. Oh, my goodness, please hurry."
"OK."
"Oh my god, please hurry."
"OK, OK, they're on their way [blanked out]. Do you know of any medical conditions?"
"No she doesn't have any medical conditions."
"No medical conditions?"
"No, ma'am."
"How old is she?"
"She's 20—she's 30, she
's 30. Come on baby, stay with me. It's OK."
"She's still breathing?"
"I'm sorry, what's that?"
"She's still breathing?"
"Yeah she's still breathing [garbled]"
"OK, all right, OK, OK. Are her eyes open?"
"Her eyes are open, yes ma'am. Stay with me baby, stay with me. [Blanked out.] Stay with me, that's a good girl."
"OK, keep her as calm as possible."
[The 3-year-old daughter is audibly asking a question as Merrill kisses his wife.]
"Baby girl I'm just taking care of mama, OK?" [He sobs. The dispatcher is speaking to a third party.] "There's no wound. She's not bleeding out of the front. Should I check the back? Huh?"
"Did you already go ahead and, you rolled her over once, right?"
"Yes, I rolled her over [unintelligible]."
"You don't see any bleeding from her chest?"
"No. She has breast implants. But it looks like it went it, hit a bone, and shot out, went to the left side of her body and came out of her back on the left side. And there's stuff that's coming out of her body, please hurry." [He sobs.] "Please baby, stay with me, come on baby. Stay with me. Stay with me, OK? That's a good girl. I love you."
"The shot came out where [blanked out]?"
"The shot came out on her left side of her back. Oh, my god."
"On the left side of her back?"
"Yes ma'am. Stay with me, baby. Stay with me, stay with me, OK? Please Stefanie, please, please. [blanked out.]
"This is really important. I need you to focus for me for a second. You have a 3-year=-old baby in the house."
"Yes."
"I need to know where that gun is. You need to get the gun away from her, and far."
"Oh, no ma'am, the gun is up in the closet. Yes ma'am."
"The gun is in the closet now?"
"Yes ma'am, no, I mean, I was standing in the closet. That's when [unintelligible] with it. Oh, my goodness."
"OK, up high?"
"Yes ma'am."
"OK."
"Oh, my goodness. Oh, my goodness."
"OK, where's the baby?"
"She's in the bathtub."
"She's in the bathtub?"
4:27 "I was giving her a bath."
"OK."
"Yes ma'am. Stay with me baby. [blanked out] You're with me? Stay with me, come on, baby, please breathe, please breathe, ma'am [blanked out]."
"Yes, they're on their way, they're speeding as fast as they can get there OK?"
"There's a fire station so close to here."
"I know they're on their way [blanked out]"
[blanked out]
"Come on baby, stay with me."
"Are your doors open?"
"Yes ma'am, they're open, they can come straight in."
"OK [blanked out], need you to do me a favor, I need you to go outside. Can you go outside?"
"I don't want to leave my wife."
The dispatcher talks to a third party: "He doesn't want to leave his wife, he's crying."
Merrill says something unintelligible as he cries. "There's a black truck in the driveway. Oh my god. [blanked out.]"
"You have a black truck in the driveway?"
"Yes a black Toyota Tundra. Come on [blanked out] in the garage, come on. I took my dog out, please just have them get here."
"They are, they're coming."
"Oh, oh, come on baby, stay with me, stay with me [blanked out], please, no, please, no [he kisses her repeatedly]."
The dispatcher calls out Merrill's name. "Is she still breathing?"
"No ma'am, please, help. What can I do? What can I do?"
"OK, they're, they're, they should be, like, there."
"I know, but what should I do? Please tell me [unintelligible]."
"OK, you have the towel, right? The moist towel?"
"The towel is underneath her, yes ma'am."
"OK, do you have another one?"
"Yes ma'am, I'll get another one."
"Go ahead and put that on top."
[Garbled]
"OK, OK, Oh, stay with me baby, please. [The recording is erratic.] There's nobody here. Please help me."
[Six minutes and 49 seconds into the call, paramedics arrive.]
"OK, talk to them, OK?"
"OK, bye."
"All right, b-bye."