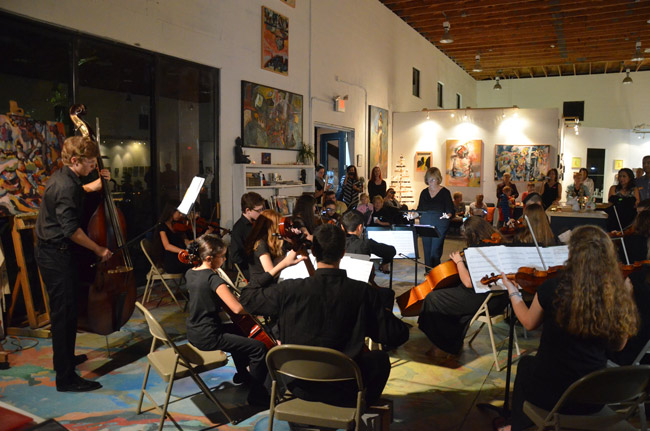 Getting the Flagler Youth Orchestra to perform "Teddy Bears' Picnic" at two upcoming concerts was no picnic for artistic director Sue Cryan.
"That was a hard sell with the kids at first — they scoffed at it," said Cryan, who will conduct the FYO's Harmony Chamber Orchestra when it performs at 6 p.m. Friday Dec. 4 at Salvo Art Project in Bunnell.
Seems many of the 33 musicians in the Harmony ensemble, who range in age from 11 to 19, thought the 1907 composition by John Walter Bratton would be too juvenile, too un-cool (even though the lyrics, added to the work in 1932 by Irish songwriter Jimmy Kennedy, would not be performed).
"I said, 'Give it a try — it's not as easy as you think it's going to be,' " Cryan said. "It's basically a two step, a little ragtime-y sounding, but it's a hard arrangement. One of the girls in the orchestra said, 'Teddy bears at a picnic sounds a little creepy to me.' But now it's her favorite piece. It's a classic song but it's not simplistic."
The Dec. 4 performance, which will include wine and hors d'oeuvres for patrons, is a fundraiser to benefit the Youth Orchestra and Salvo, an art gallery and artist studio complex nestled in the flora of the Nature Scapes Landscape & Garden Center just off State Road 100.
The Flagler Youth Orchestra also will perform at 7 p.m. Wednesday Dec. 9 at Flagler Auditorium in Palm Coast. That concert will feature the Harmony ensemble and the FYO's four other orchestras, which are composed of some 370 string musicians ranging in age from 8 to 19. The musicians represent a cross-section of public, private and home-schooled students from throughout Flagler County.
---
"Do you want your audience to say, 'You did a nice job for kids,' or do you want them to say, 'You did a nice job and you're only kids'?"
---
Both concerts are titled "String Menagerie," reflecting the animal theme of many of the works on each program.
At each concert the Harmony Chamber Orchesta will perform selections from Saint-Saëns' "Carnival of the Animals," "Winter" from Vivaldi's "The Four Seasons," Copland's "The Red Pony" and Bratton's "Teddy Bears' Picnic" (which was jokingly dubbed "Fat Bear" — and accompanied by a comic drawing — on a blackboard at a recent rehearsal at Indian Trails Middle School in Palm Coast).
Logan Smith, a home-schooled, 15-year-old violinist and the concertmaster of the Harmony Chamber Orchestra (the most advanced FYO ensemble), discovered Cryan wasn't kidding about the difficulty of "Teddy Bears' Picnic."
"The bowings are a little tricky," said Smith, who's in his fifth year with the FYO. "It's really weird. It's pretty challenging."
Cryan noted that the FYO musicians meet only for one hour twice a week at Indian Trails Middle School. One session is a fundamentals class that offers group instruction on the four string instruments available in the FYO program: violin, viola, cello or double bass. The other one-hour weekly session is for orchestra rehearsals.
Only a handful of the students, including only six in the Harmony ensemble, take private lessons, said FYO executive director Cheryl Tristam. Participation in the Youth Orchestra is free, but private lessons are expensive.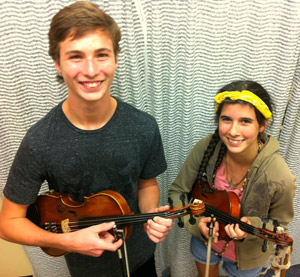 "I'm actually amazed at how much we get accomplished in such a short amount of time," said Cryan, a professional violinist who's in her third year as artistic director of the FYO. Cryan previously taught music for 12 years in public schools in Hartford, Conn., and she performed and taught privately for 30 years in the Hartford area.
The FYO was founded in 2005 under the auspices of the Flagler County School District. Participation is open to any student age 8 (third grade) and older living in Flagler County. All experience levels are welcomed, including beginners. There are no auditions to be accepted into the program, though twice yearly students go through evaluations that determine what level orchestra they play in.
Students whose families are unable to purchase or rent instruments may qualify to borrow them for free from the program: about a third of the students are on instrument scholarships, a reflection of the area's still-stressed economy.
Along with Cryan, the current music faculty includes violin and viola instructors Maggie Snively and Aaron Carlson, violinist El Gervasio, cello instructor Joe Corporon and double bass teacher Denise Barnes (a recent addition to the staff thanks to a $3,000 donation from the Palm Coast Arts Foundation).
"The level of music I chose last year and this year is continuing to increase," Cryan said, noting that student music arrangements are graded on level of difficulty. "The music I chose for this concert is the highest level I've chosen. I see continuous growth."
Artist JJ Graham, who co-founded Salvo a year ago with artist Petra Iston, said the FYO's performance there last year "was breathtaking. It was a full moon, we opened our garage door and it was magical.
"A lot of students who take my art class through home schooling or after-school programs are involved with the Flagler Youth Orchestra," Graham added. "The kids absolutely adore that program. Music and art go hand in hand creatively. There's always a kinship there. I'm like Hendrix — I hear sound and translate it into colors." (He was referring to Jimi Hendrix, the guitarist.)
For FYO violinist Nikki Burley, a 15-year-old home-schooled Bunnell resident, performing with the Harmony Chamber Orchestra is continuing a family tradition — her father, Joseph Burley, is a guitarist who has played in bands, she owns about seven or eight violins, and dad and daughter frequently jam together.
"I've inherited the music gene from him," Nikki said. "Music is kind of in my soul."
"If I hadn't played an instrument, what would I be doing right now?" said Logan Smith, the Harmony Chamber Orchestra concertmaster. "I think everyone should play an instrument. Even if you just do it a year or two, you can say 'I know what it feels like to play an instrument.'
"Ms. Cheryl says adults come to her and say they wish they had played an instrument. Even if I don't make this my profession, it's good to know I can do this. And anyone can really do this."
Cryan proposes two scenarios to her students:: "Do you want your audience to say, 'You did a nice job for kids,' or do you want them to say, 'You did a nice job and you're only kids'?"
Cryan said she tries "to emphasize the amazement most people would have at students being able to do what our kids do."
–Rick de Yampert for FlaglerLive


The Flagler Youth Orchestra's Harmony Chamber Orchestra will perform "String Menagerie" at 6 p.m. Friday Dec. 4 at Salvo Art Project, 313 Old Brick Road (in the Nature Scapes Landscape & Garden Center), Bunnell. Admission is $10 and includes wine and hors d'oeuvres. Children are free. Proceeds will benefit the FYO and Salvo. Information: FYO at 386-503-3808 orflagleryouthorchestra.org; Salvo at 386-871-9546 or salvoart.org.
The Flagler Youth Orchestra will present "String Menagerie," its first full concert of the 2015-16 season, at 7 p.m. Wednesday Dec. 9 at Flagler Auditorium, 5500 E. State Road 100, Palm Coast. Tickets are $6 adults, with $1 from each ticket going to the auditorium's Arts in Education Fund. Children 17 and younger are $1. The orchestra's proceeds help underwrite instrument scholarships and repairs, teaching staff and concert productions. Tickets are available at the auditorium box office or by calling 386-437-7547. Information: FYO at 386-503-3808 or flagleryouthorchestra.org.