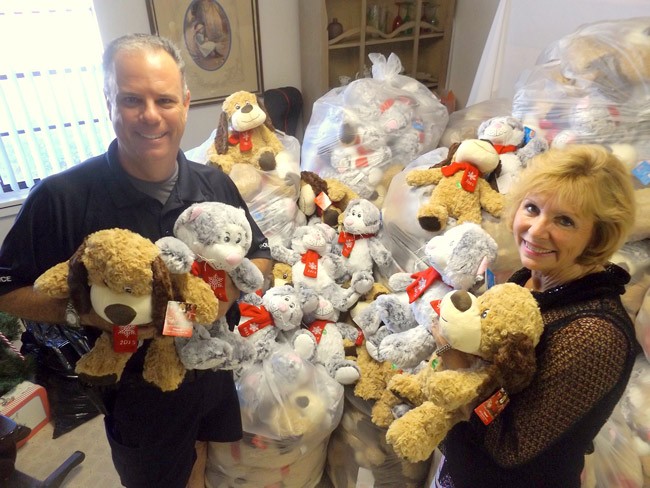 Motorists who get a warning citation for being naughty in Flagler Beach will have a chance to do something nice this holiday season.
As part of the Flagler Beach Police Department's Toys for Tickets program, officers will be issuing "toy waivers" along with warning citations for non-criminal state traffic or city parking offenses.
The toy waiver will encourage motorists to donate a new, unwrapped toy to Christmas Come True, a Flagler Beach not-for-profit organization that provides "a complete Christmas experience" (dinner, toys, necessities, clothing and more) for local families in need.
The Toys for Tickets program was conceived by Flagler Beach Police Captain Matt Doughney, who modeled it after a similar initiative in Cuyahoga Falls, Ohio.
"It's such an awesome thing the captain is doing for the community," said Nadine King, a Flagler Beach resident who founded Christmas Come True in 2009. "I'm overwhelmed with gratitude. It's just wonderful when people do that, when the community comes together to help me out. We need it."
With Santa's annual visit just over a month away, King said Christmas Come True is behind on its fundraising goal. As of this writing the organization has $10,000 in its coffers. King and her part-time volunteer staff of four are hoping to reach $40,000 this holiday season in order to aid 100 families with some 300 children. Last year Christmas Come True helped 96 families, including 295 children.
CCT also is seeking donation of a 5,000 square-foot space to be used as a distribution center for six weeks near or in the Publix Super Market at Island Walk in Palm Coast. (Island Walk isn;t lacking for space to donate at the moment, or good will to extend to its new community members.) That Publix, under the direction of store manager Kenn Walker, will aid CCT with a donation and packaging of Christmas dinners designed specifically with each family's wishes in mind.
The Toys for Tickets program began Nov. 16 and will run through Dec. 11.
"You're not going to get out of a DUI because you want to donate a toy," Doughney said. "You can't ride around with toys in your car saying, 'Hey, I'm sorry I was speeding — here's a toy.' "
The "toy waivers" will be issued only with warnings, not actual tickets.
"A written warning stays in the city," Doughney said. "It doesn't have any points associated with it. It does not get reported to the state. Warnings do not entail any fine at all. If you get a ticket, you're going to have to pay the ticket or contest it in court."
Whether to issue a warning or a ticket is up to the discretion of the officer just as it is at any other time of the year, Doughney said.
---
"It allows our officers the opportunity to educate the motorist about the law and at the same time have a heart during the holidays."
---
"If you get a warning and don't want to donate a toy, that's OK — there's no recourse," said Doughney, who patrols the streets himself and will be one of the officers directly involved in the program. "This program is totally voluntary. It allows our officers the opportunity to educate the motorist about the law and at the same time have a heart during the holidays."
King, a former New Hampshire resident who retired from the retail industry, founded Christmas Come True in 2009 in response to the economic crash.
"I just saw so many people being totally devastated, so many families" she said. "And they still are devastated. I wanted to provide these families, as many as a I could, with the ability to give their children Christmas like other people."
Families are identified with the help of Sabrina Crosby, coordinator of special projects with Flagler County Schools.
"I interview every single parent," King said. "So we know exactly what those children eat and what they like for dessert. I know what colors they like, what kind of jeans they wear.
"These parents don't have anything. They're struggling. A mother just called me. She has three children. She has no support system. She's a single parent who's been in and out of the hospital. How do those children get food if mom's not working? How do they give them clothing they need?
"So we are personal shoppers for them. We interview them and find out exactly what it is that they wish they could give their kids for Christmas. Then we try to go and buy that and wrap it and give it to parents so that on Christmas morning mom or dad have the ability to give the kids what they wanted."
Along with Toys for Tickets, several other fundraising activities this holiday season will benefit Christmas Comes True. One is the Fall Ball organized and hosted by Jerrilynn Cauley.
Last year the formal-attire event was in celebration of her 50th birthday, "but this year I wanted to make it about more than me," Cauley said. She had collected toys and volunteered for CCT in past years, and she has several friends involved with the organization.
"We thought it would be a good idea to help Christmas Come True, especially since it's based here in Flagler County," Cauley said. "There are so many needy kids and families here."
Here are details on that event and other fundraising efforts for Christmas Come True:
* The Fall Ball will be 6:30 p.m. to 12:30 a.m. Saturday Nov. 21 at the Old Ice House Saloon, 810 N. State St., Bunnell. Tickets are $25 and include dinner, dancing, music and karaoke by Dale, a silent auction and door prizes. Deadline to purchase tickets is 3 p.m. Friday Nov. 20. Formal attire is required. Patrons are asked to bring a new, unwrapped gift for a girl or boy of any age. For information call Jerrilynn Cauley at 386-931-4595.
* Christmas Come True is partnering with Carrabba's Italian Grill in Palm Coast to host a fundraiser from 6:30 to 10:30 p.m. Dec. 4 at the Whitney Laboratory, 9505 Oceanshore Blvd., St. Augustine (Marineland). Tickets are $35 and include heavy hors d'oeuvres from Carrabba's, a cash bar, entertainment, dancing and a silent auction. Patrons are requested to RSVP by Nov. 30 by calling Ginger O'Brien at 386-402-3073, but tickets also will be available at the door. For more information call Christmas Come True at 386-302-1290 or go online at christmascometrue.org.
* Christmas Come True will have more than a dozen Christmas "wish card" trees throughout the area, including the Flagler County Chamber of Commerce, Carrabba's, Ameris Bank, Intracoastal Bank and other locations. "People can pull a wish card that will have a child's name and things that are very specific about that child" to aid in gift buying, King said.
* CCT also is having a "Let's Make a Change With Change" Christmas Jar Campaign to collect monetary donations at various area retail businesses. "Each jar will be donated to a needy family near to where the jar is located," said a CCT press release.