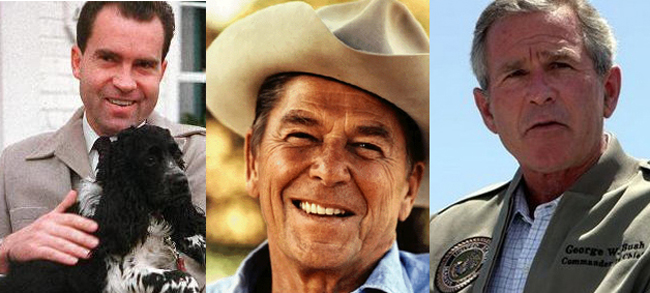 Back in 1981 David Stockman was the wonderkid of the Reagan administration–the director of the Office of Management and Budget who'd craft in actual budgets the trickle-down miracle Reagan had promised on the campaign trail: lower budgets, lower spending, higher tax revenue. But trickle-down economics was a wish, not a reality. It's never worked. Lower taxes don't generate more revenue. They generate deficits.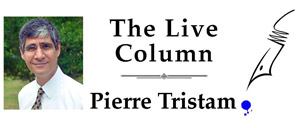 Reagan knew it. So did Stockman. So did their guru, Friederich von Hayek. The deficits were intentional all along. They were edsigned to "starve the beast," meaning intentionally cut revenue as a way of pressuring Congress to cut the New Deal programs Reagan wanted to demolish. "The plan," Stockman told Sen. Daniel Patrick Moynihan at the time, " was to have a strategic deficit that would give you an argument for cutting back the programs that weren't desired. It got out of hand."
A 1985 interview with von Hayek in the March 25, 1985 issue of Profil 13, the Austrian journal, was just as revealing. Von Hayek sat for the interview while wearing a set of cuff links Reagan had presented him as a gift. "I really believe Reagan is fundamentally a decent and honest man," von Hayek told his interviewer. "His politics? When the government of the United States borrows a large part of the savings of the world, the consequence is that capital must become scarce and expensive in the whole world. That's a problem." And in reference to Stockman, von Hayek said: "You see, one of Reagan's advisers told me why the president has permitted that to happen, which makes the matter partly excusable: Reagan thinks it is impossible to persuade Congress that expenditures must be reduced unless one creates deficits so large that absolutely everyone becomes convinced that no more money can be spent." Thus, he went on, it was up to Reagan to "persuade Congress of the necessity of spending reductions by means of an immense deficit. Unfortunately, he has not succeeded!!!" Those three exclamation points, unusually effusive for an economist, are in the original.
Keep in mind: Hayek is speaking his disillusion with the GOP's misapplication of his theories in 1985. To this day he remains a favored mask of budget-wreckers pretending to be fiscally conservative while pushing for more tax cuts. Those wreckers are at work in Congress today as they argue for an extension of the Bush tax cuts of 2001 and 2003, which were far larger than Reagan's of 1981 and 1986 (in 1986, Reagan agreed to some tax increases, but mostly in the Social Security payroll tax, meaning on the middle and lower classes).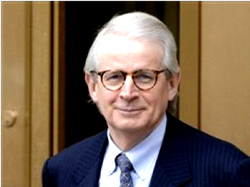 Stockman resigned from the Reagan administration in 1985, himself disillusioned. Today in The New York Times, he writes a damning piece that sums up Republican duplicity on budgets and fiscal responsibility going back to the Nixon administration. "IF there were such a thing as Chapter 11 for politicians," Stockman begins, "the Republican push to extend the unaffordable Bush tax cuts would amount to a bankruptcy filing. The nation's public debt — if honestly reckoned to include municipal bonds and the $7 trillion of new deficits baked into the cake through 2015 — will soon reach $18 trillion. That's a Greece-scale 120 percent of gross domestic product, and fairly screams out for austerity and sacrifice. It is therefore unseemly for the Senate minority leader, Mitch McConnell, to insist that the nation's wealthiest taxpayers be spared even a three-percentage-point rate increase. More fundamentally, Mr. McConnell's stand puts the lie to the Republican pretense that its new monetarist and supply-side doctrines are rooted in its traditional financial philosophy."
In a piece entitled "Four Deformations of the Apocalypse," a clever play on the biblical image of the four horsemen of the apocalypse, Stockman outlines four major Republican breaks with discipline that set the stage, then compounded, American bankruptcy, beginning with Milton Friedman convincing Nixon to  default "on American obligations under the 1944 Bretton Woods agreement to balance our accounts with the world. Now, since we have lived beyond our means as a nation for nearly 40 years, our cumulative current-account deficit — the combined shortfall on our trade in goods, services and income — has reached nearly $8 trillion. That's borrowed prosperity on an epic scale."
Friedman, a Nobel laureate also worshiped like von Hayek by free-marketeers, , had promised Nixon that markets would do what governments couldn't–help deficits self-correct. They never did. "In fact," Stockman writes, "since chronic current-account deficits result from a nation spending more than it earns, stringent domestic belt-tightening is the only cure. When the dollar was tied to fixed exchange rates, politicians were willing to administer the needed castor oil, because the alternative was to make up for the trade shortfall by paying out reserves, and this would cause immediate economic pain — from high interest rates, for example. But now there is no discipline, only global monetary chaos as foreign central banks run their own printing presses at ever faster speeds to sop up the tidal wave of dollars coming from the Federal Reserve."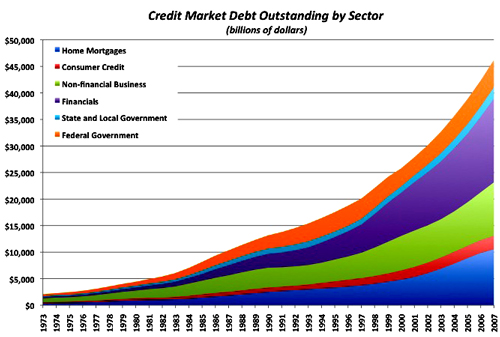 The second change was America's shrugging off its public debt, which was just 40 percent of the size of the economy in 1970 (or $425 billion). It was more than 25 times that size by the time the second Bush left office, with the consequences of his tax-cutting policies and an even larger embrace of "the welfare state and the warfare state" not yet accounted for. Obama had his share of considerable deficit spending, but nowhere near the cumulative wrecks of his predecessors, who had the benefits of growing economies to bank on as Obama does not. "This debt explosion," Stockman writes, "has resulted not from big spending by the Democrats, but instead the Republican Party's embrace, about three decades ago, of the insidious doctrine that deficits don't matter if they result from tax cuts."
By 2009, the tax-cutting ideology had reduced federal revenues to 15 percent of the size of the economy, the lowest level since the 1940s. "Then, after rarely vetoing a budget bill and engaging in two unfinanced foreign military adventures, George W. Bush surrendered on domestic spending cuts, too — signing into law $420 billion in non-defense appropriations, a 65 percent gain from the $260 billion he had inherited eight years earlier. Republicans thus joined the Democrats in a shameless embrace of a free-lunch fiscal policy."
That's  before accounting for the third major change–the deregulation of financial markets and government's complete abandonment of oversight for the largest ponzi-scheming institutions in the nation's (and the world's) history–on taxpayers' backs. "As a result," Stockman writes, "the combined assets of conventional banks and the so-called shadow banking system (including investment banks and finance companies) grew from a mere $500 billion in 1970 to $30 trillion by September 2008. But the trillion-dollar conglomerates that inhabit this new financial world are not free enterprises. They are rather wards of the state, extracting billions from the economy with a lot of pointless speculation in stocks, bonds, commodities and derivatives. They could never have survived, much less thrived, if their deposits had not been government-guaranteed and if they hadn't been able to obtain virtually free money from the Fed's discount window to cover their bad bets."
Fourth destructive change, and the one most familiar to those who lengthen unemployment lines these days: the off-shoring of high-value jobs in trades, transportation, technology and professions, a sector that's shrunk from 77 million jobs to 68 million jobs. "The only reason we have not experienced a severe reduction in nonfarm payrolls since 2000," Stockman writes, "is that there has been a gain in low-paying, often part-time positions in places like bars, hotels and nursing homes." That's the Floridanization of the American economy.
"It is not surprising, then," Stockman concludes, "that during the last bubble (from 2002 to 2006) the top 1 percent of Americans — paid mainly from the Wall Street casino — received two-thirds of the gain in national income, while the bottom 90 percent — mainly dependent on Main Street's shrinking economy — got only 12 percent. This growing wealth gap is not the market's fault. It's the decaying fruit of bad economic policy."
And still, Republicans in Congress and across the country are staking their fortunes on more tax cuts, including–and especially–for the richest. That's sacrifice. That's fiscal responsibility. They know they have a winning platform because their voters want the free money, too. That's the American economy of the past 40 years, an economy living so far beyond its means that it wouldn't recognize a day of reckoning if it was baking it brighter and hotter than Florida's noonday sun.


Pierre Tristam is FlaglerLive's editor. Reach him by email here.