Weekend Briefing: Bunnell Festival Returns, Rubio Hawks It Up, The Bush Who Created ISIS
FlaglerLive | May 15, 2015
Today's weather: occasional thunderstorms, high of 79, low of 71. Details here.
Today's fire danger is Low. Flagler County's Drought Index is at 401
The weather in https://www.google.com/maps/place/Ayacucho,+Peru/@-2.4470384,-57.8177839,5z/data=!4m2!3m1!1s0x91127d88f5b2bee9:0xe9b3cb843a70a16e">Sfax, Tunisia: high of 91, low of 63. Details.
The OED's Word of the Day: moon-faced, adj..
The Live Community Calendar
Today's jail bookings.
Today's Briefing: Quick Links

Note: all government meetings noticed below are free and open to the public unless otherwise indicated.
Free For All Friday on WNZF: Flagler County Emergency's Bob Pickering, who also leads Flagler County Assist REACT, will be the guest on David Ayres's show to talk about the 30th anniversary of the organization. 9 a.m., listen live here.
Friday and Saturday: "Hairspray" at the Flagler Auditorium, the FPC student production, at 7 p.m. Friday 2 p.m. and 7 p.m. Saturday. The show is set in the 1960's when an overweight teenager, Tracy Turnblad, has a dream to dance on a local TV dance program. After finally winning a place on the show, she becomes an overnight celebrity and meets some very unexpected characters. She then launches a campaign to racially integrate the show.
Friday: Stewart-Marchman-Act Behavioral Healthcare will run a free Mental Health First Aid (MHFA) certification course for Flagler County residents on Friday, May 15, from 8 a.m. to 5:30 p.m. at the Flagler County Government Services Building. The course will be instructed by Sini Summerlin, MHFA instructor, who will teach a five-step action plan to offer initial help to people with signs and symptoms of a mental illness, or who are in crisis, and learn to connect them with the appropriate professional, peer, social or self help care. Anyone that resides or works in Flagler County can take the 8-hour Youth Mental Health First Aid course, but it is ideally designed for adults who work with young people, ages 12-18 — teachers, coaches, leaders of faith communities, social workers, and other caring citizens Seating is limited and registration is required. The Flagler County Government Services Building is located at 1769 E. Moody Blvd. in Bunnell and the class will be held in Building 2, 3rd Floor, Room 3. To register, follow this link.
For more information or to participate in a Mental Health First Aid training in Flagler County, visit www.mentalhealthfirstaid-florida.com or email Sini Summerlin, MHFA contact at mhfa.florida@gmail.com.
Friday: Blue Mass at St. Elizabeth Ann Seton: Bishop Felipe Estévez of the Catholic Diocese of St. Augustine will be the main celebrant of a Blue Mass to honor members of law enforcement (active and retired), firefighters, emergency services personnel and their families. The Mass will be held at St. Elizabeth Ann Seton Parish in Palm Coast on Friday, May 15 at 10:30 a.m. and is open to the public regardless of their religious affiliation.
Friday: The Chamber hosts a ribbon-cutting at the Hair Garage, 2550 N. Street Suite 2 Bunnell, at 4 p.m.
Friday: Matanzas High School's Dance Show, at the Pirate Theater, 5 p.m.
Friday: Abe Alam Trio Live at 727, European Village: A talented and upcoming Jazz Band in the area today. Get a real treat and enjoy a wonderful night filled with classical jazz, pairing it with a great dinner and cocktail and wine choices at 727 Jazz. 7:30 p.m.
Saturday: Friends of Tennis Annual Scholarship Fund Tournament, at the Palm Coast Tennis Center, noon to 3 p.m. Help earn scholarships for local youth players at this annual round robin mixed doubles tournament. $25 includes play and lunch/ $12 lunch only.
Saturday: The Bunnell Festival, once known as the Potato Festival, is back on the grounds of Bunnell's old City Hall near the old courthouse, starting at 10 a.m. with live music, a dog show, a kid zone, food vendors and other stuff.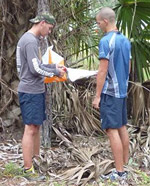 Saturday: The Florida Agricultural Museum co-hosts an orienteering event from 9 a.m. to 3 p.m. at the museum facility, 7900 Old Kings Road North in Palm Coast. The event is being produced by the Florida Orienteering Club. There is a $2 per person registration fee. In addition there is a map fee of $4 for club members and $6 for non-members. Orienteering is the sport of navigating a series of designated locations on an outdoor course with a map and compass. The event is suitable for all ages. No experience is necessary and instructors will be on site for assistance. Closed toe shoes, sunscreen, insect repellent and water are recommended for all participants. The museum recently opened a permanent orienteering course at its facility. It is available when the museum is open to the public. There is $5 charge per user. The event will take place rain or shine. For more information, please visit floridaagmuseum.org or floridaorienteering.org or by contacting (386) 446-7630 or info@myagmuseum.com.
Saturday: Rob's Jazz Express at 727, European Village: Consisting of Rob Whiting, Jack LaForte, and Robert Banks Rob's Jazz Express normally performs in areas such as Palm Coast, St. Augustine, Daytona and other local places. 7 p.m.

Circuit Judge J. David Walsh holds court family and juvenile matters this morning and afternoon, in hearings that are usually closed to the public.
A foreclosure sale is scheduled at 11 a.m. in the civil department lobby.

Note: Most proceedings below can be followed live on the Florida Channel.

The Florida Commission on Access to Civil Justice, which was created by Supreme Court Chief Justice Jorge Labarga, will hear reports from its subcommittees. The commission focuses on how civil legal needs can be met for low- and moderate-income Floridians. (Friday, 1 p.m., Tampa Airport Marriott, Tampa International Airport.)
–Compiled by the News Service of Florida

Mitt Romney fights Evander Holyfield tonight in a charity boxing match at the Rail Event Center in Salt Lake City. Romney is 68, Hollyfield is 52. They're raising money to help restore sight to those who have curable blindness.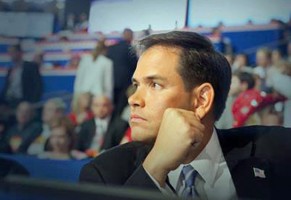 Sen. Marco Rubio unveils 'Rubio doctrine' for interventionist foreign policy: "Sen. Marco Rubio called for a much more interventionist foreign policy in a speech Wednesday, declaring, "America plays a part on the world stage for which there is no understudy." Laying out what amounts to a "Rubio doctrine," the Republican presidential contender asserted President Barack Obama had withdrawn from a position of strength on the global stage, and he ripped into the nuclear deal with Iran and America's diplomatic rapprochement with Cuba. "The stakes of tomorrow are too high to look to the failed leadership of yesterday," Rubio said, digging at Democratic presidential contender Hillary Clinton, who was Obama's secretary of state. Rubio is banking on foreign policy to play a larger role in the presidential race than recent elections when the economy was at the forefront. Polls show Americans are more in tune with the turmoil abroad. Though Rubio has long been known as a hawk, his views have grown sharper in the past year. On Wednesday he criticized Obama for not intervening in Syria sooner. In 2013, when public sentiment was more on the side of noninterventionists, Rubio was more circumspect. He voted against a resolution authorizing Obama to use military force, arguing it was a "symbolic" show of force." From the Tampa Bay Times.
Meet the student who told Jeb Bush, "Your brother created ISIS": "On Wednesday afternoon, just as she sat down to watch TV and eat a corn dog, Ivy Ziedrich's phone rang. It was her sister in Montana. "I am so proud of you," her sister said, "for yelling at a politician." It was the first inkling that Ms. Ziedrich, a 19-year-old college student with a passion for the debate team and the finer points of Middle Eastern policy, had gone viral. Her confrontation with Jeb Bush, in which she told the former Florida governor a few hours earlier, "Your brother created ISIS," was suddenly everywhere online, casting an unwelcome hue on President George W. Bush's legacy from the war in Iraq. "My sister started freaking out," Ms. Ziedrich recalled. In an interview, Ms. Ziedrich described a dizzying 24 hours of social media frenzy, her upbringing in a conservative Republican family, and the circumstances that prompted her to approach Jeb Bush, who was in Reno for a town hall-style meeting on Wednesday." From The Times.
Water district rejects buying sugar land for Everglades restoration: "The push to buy more Big Sugar land for Everglades restoration hit a big roadblock Thursday. The agency that leads Everglades restoration rejected the chance to buy another 46,800 acres of farmland south of Lake Okeechobee. That land could be used to store water for replenishing the Everglades. A five-year-old deal with U.S. Sugar Corp. gives the state until October to follow through on buying the land. But Thursday, the South Florida Water Management District board opted to end the deal for the land, which could cost as much as $700 million to buy. In addition to the property cost, building a reservoir on the land could cost $2.5 billion, according to the district. That expense could sidetrack other overdue Everglades restoration projects, which district officials said should be the priority. […] Yet environmental advocates say the cost is worth the chance to use the land to move more water south — replenishing the parched Everglades and also boosting South Florida drinking water supplies. And they say the state can afford it, thanks to voters in November approving a measure to dedicate more money to environmental land buying." From the Sun-Sentinel.

Road and Interstate Construction: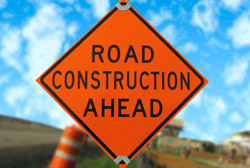 Palm Coast: Palm Coast Parkway between Cypress Point Parkway and Florida Park Drive. IMPACTS: Lane shifts and closures will occur and this may cause traffic congestion on this already busy roadway. Most construction work will occur between 9 p.m. and 7 a.m. though weather and unforeseen issues may adjust the schedules. This project will be complete by December 2015."
Lane closure planned for Palm Coast Parkway May 14 and May 15: From 9 p.m. Thursday, May 14 through 7 a.m. Friday, May 15, motorists and other travelers should expect outside westbound lane closures along Palm Coast Parkway at the I-95 bridge. The inside westbound lane will remain open. These lane closures are required in order for the contractor to perform barrier wall removal operations.
Matanzas Parkway Bridge at I-95 Matanazas Parkway at the I-95 bridge will close on June 5 at 7 p.m. for the I-95 interchange project and will remain closed until Aug. 9. Detour will be via Old Kings Road. Details here.
Lane Closures on I-95 at Palm Coast Parkway: Starting on Monday, May 11, and through Friday, May 15, between 9 p.m. and 7 a.m., motorists should expect two lane closures on the northbound and southbound sides of I-95 at Exit 289, Palm Coast Parkway. Only the outside lanes in each direction will remain open. It is part of the Palm Coast Parkway widening project.
Flagler County: County Road 305 is now detour-free. 
Volusia: I-4 Widening from SR 44 to east of I-95, Monday and Friday, 7:00 a.m. – 5:00 p.m., Eastbound/Westbound shoulder closing. Sunday through Thursday, Eastbound and Westbound lane closures as needed from 8 p.m. to 6 a.m. Thursday, 9:00 p.m. – 5:30 a.m. EB road closure between Canal St./SR 44 and I-95 with detour at US 92 exit ramp.Motorists should be aware of traffic shifts near Canal St./SR 44.
Traffic will be detoured at State Road (SR) 44/Canal Street, for reconstruction work May 12-14: The Florida Department of Transportation (FDOT) is providing project support to Florida East Coast Railway (FEC) to replace the current crossing surface. Motorists will encounter detours beginning at 6 a.m. Tuesday, May 12, and ending at 6 a.m. Thursday, May 14. The SR 44/Canal Street detours are: Eastbound SR 44/Canal Street: North on North Myrtle Avenue, East on Washington Street, South on US 1/North Dixie Parkway. Westbound SR 44/Canal Street: North on US 1/North Dixie Parkway, West on Washington Street, South on North Myrtle Avenue, West on SR 44/Canal Street. For the most up-to-date information on road and lane closures, go to www.cflroads.com and click on 'Lane Closures.'
County Road 304 Project Map and Description

Flagler Sheriff Welcomes Five New 911 Specialists:
Sheriff James L. Manfre, Communications Manager Kelley Eisen, and members of the Flagler County Sheriff's Office recently welcomed five new employees to the FCSO team. Sheriff Manfre administered the Oath of Office to the new hires during a morning ceremony held at the Sheriff's Operation Center in Bunnell May 13. "It takes a very special and patient person to serve as a communications specialist. They are our first line of contact in an emergency," said Sheriff Jim Manfre. The Flagler County Emergency Communications Center is a consolidated emergency communications center serving all public safety agencies in Flagler County. These dedicated personnel are responsible for receiving and processing all calls for public safety assistance within Flagler County. Additionally, all communications specialists are trained to provide pre-arrival medical instructions to callers experiencing a medical emergency. The Emergency Communications Center is equipped with modern technology including a computer aided dispatch system and a mapping system which allows them to instantly view where all responders are located. "We are excited to welcome this group of individuals to the FCSO team. Training can take up to 10 months and each communications specialist will have to earn numerous certifications," said Communications Manager Kelley Eisen. If you are interested in joining our team, please call 386-586-4822 or visit
www.flaglersheriff.com
.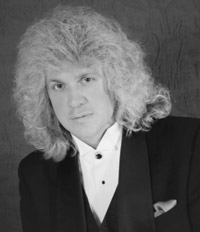 Pianist Paul Todd and Paul Todd, jr in Concert at St. Elizabeth Ann Seton, May 19: Paul Todd had his first 'Mozartian' moment when he was just six years old. As a child prodigy he realized that he could hear entire musical scores in 'his head', not unlike Mozart in his youth. But young Todd had to spend years training his hands and feet to automatically perform what he heard from memory. After beginning his own solo career in his early teens, Paul Todd experienced all genres of the music industry and has headlined in theatres and concert halls worldwide. The critically acclaimed keyboard genius, entertainer, composer and singer has been amazing audiences in America and abroad ever since. Todd is now the music director at St. Agnes Catholic Church in Naples, Florida. His repertoire includes music and songs that span everything from Broadway to his original compositions. He got his start playing with, and opening for, some of the most famous music artists and groups of our time that include Dinah Shore, Joan Rivers, The Gatlin Brothers, The Painter Sisters and Rich Little among others. Known for his innovative styling and prolific performances, Todd is most famous for his unique keyboard concerts. Paul accompanies himself by playing six keyboards simultaneously where his fingers and feet move at lightning speed, which the audience can see on a large mirror set up behind the keyboards. Known for his smooth and powerful vocals, he combines talent with a sparkling wit to help make his performances unforgettable experiences. Paul Todd and his son, Paul Todd jr, have been performing together for five years. They entertain, inspire and bring virtuosity to every concert as they perform a combination of classical, gospel, Broadway, swing and other styles of music. The result is always an unforgettable show that uplifts and amazes audiences. Like his father, Todd jr, 22, is an accomplished musician, composer and singer while at the same time he's developing his own band that will play diverse musical genres and styles. St. Elizabeth Ann Seton Catholic Church is located at 4600 Belle Terre Parkway, Palm Coast. Concert tickets are $20 at the Rectory M-F 9 am to 4pm; after 4 pm Mass on Saturday; and after all Masses on Sunday in the gathering area and at the door. The May 19th concert begins promptly at 7 pm.
Flagler Sheriff Warns Public of Reoccurring Phone Scams: The Flagler County Sheriff's Office has received complaints regarding various telephone scams with the most recent complaint involving harassing phone calls from those pretending to be from the Internal Revenue Services (IRS). This scam resurfaces from time to time throughout the year. The scammer attempts to gain personal information from the victims including threatening to take legal action to collect unpaid or overdue taxes. "The IRS phone scam is one of several reported telephone scams. It is important for residents to know that the IRS, banks or any government entity will not request personal information over the phone," said Sheriff Jim Manfre. Victims are also being told that the debt must be paid promptly by a pre-paid debit card or wire transfer. If the victim refuses to cooperate, they are threatened with arrest or suspension of a business or driver's license and the caller often becomes belligerent. Similar scams include collection agency, lottery and fraudulent or fake check scams. If you receive a phone call from someone claiming to be from the IRS, here's what the IRS suggests you do: If you know you owe taxes or think you owe taxes, call the IRS directly at 1-800-829-1040. If you know you do not owe taxes or have no reason to think that you owe taxes, call and report the incident to the Treasury Inspector General for Tax Administration at 1-800-366-4484. If you have been targeted by this scam, you should also contact the Federal Trade Commission and use their "FTC Complaint Assistant" at FTC.gov. For more information, visit www.irs.gov.

Food Truck Tuesdays on Tuesday, May 19: Enjoy gourmet food and family fun – all for a great cause – from 5-8 p.m. at Central Park in Town Center, 975 Central Ave., Palm Coast. This month, the Flagler County Sheriff's Office will provide demonstrations by its K-9 Unit, Command Unit and Mounted Posse. Entertainment will be hosted by Flagler Sheriff's PAL, including a DJ, music, face-painting, and fun games with prizes for kids. The Food Truck event will feature about a dozen food trucks – mobile kitchens, canteens and catering trucks that offer up gourmet foods including appetizers, main dishes, side dishes and desserts. Many menus are kid-friendly. The food trucks signed up for May include:
· Caketeer – gourmet cupcakes
· Kona Dog – Hawaiian Style Hot Dog, pulled pork, fries, coconut shrimp
· Monsta Lobsta – crab rolls, spicy lobster rolls, lobster bisque
· London Fishy & Chippy – corn fritters, fish tacos, butter beer (non-alcoholic)
· It's All Greek to Me – gyros (chicken, pork), Italian sausage
· Flaming Pizza – pizza, calzones, wraps
· Magic4urPlate – salmon, grouper, crab and shaved beef
· El Cubanito Subs – Cuban sandwiches, onion rings, steak sandwiches, pastrami subs, mahi, mohi
· Corl Concessions – cotton candy, snow-cones, hot chocolate, coffee
· Mama's Foods – chicken quesadillas, fried shrimp, chicken tenders
· Chi Phi – chili cheese fries, roast pork sandwiches, hot dogs, salad, cheese curds
· Bruster's Real Ice Cream/Nathan's – ice cream and shaved ice
· Barnwood BBQ – Angus beef brisket, ribs, mac & cheese, pulled pork, fried fruit pies
Proceeds from the May 19 Food Truck Tuesday will go to Flagler Sheriff's PAL. Food Truck Tuesdays is held every other month, on the third Tuesday of the month. Food Truck Tuesdays is presented by the City of Palm Coast Parks & Recreation Department. For more information, call 386-986-2323 or visit www.palmcoastgov.com/foodtruck.


Blood donations are urgently needed. Patients in our local hospitals are in need of blood transfusions, and the need for blood does not take a holiday. That's why OneBlood is asking people to donate immediately.
Big Red Bus schedule in Flagler-Palm Coast:
Friday May 15th 1:00PM – 6:00PM Epic Theatre, 1185 Central Ave, Palm Coast
Saturday May 16th 9:00AM – 2:00PM Bunnell Festival, 200 East Moody Blvd, Bunnell
Monday May 18th 11:00AM – 4:00PM City of Palm Coast, 160 Cypress Point Parkway, Palm Coast
Wednesday May 20th 12:00PM – 5:00PM US Post Office, 2 Pine Cone Drive, Palm Coast
Friday May 22nd 1:00PM – 6:00PM Epic Theatre, 1185 Central Ave, Palm Coast
Sunday May 24th McDonalds Restaurant, 5190 East Highway 100, Palm Coast
Monday May 25th Bealls Outlet, 9 Old Kings road, Palm Coast
Friday May 29th Zaxby's, 180 Cypress Edge Drive, Palm Coast
Saturday May 30th Walmart Supercenter, 174 Cypress Point Parkway, Palm Coast
Sunday May 31st Lowe's, 315 Cypress Edge Drive, Palm Coast

Cultural Coda:
BB King: The Thrill Is Gone: