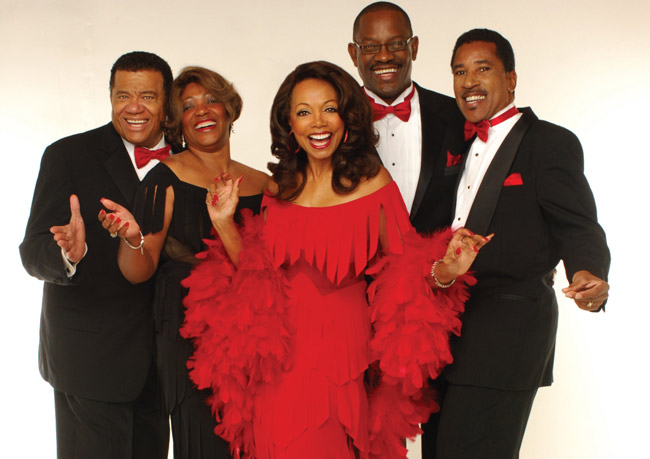 The Flagler Auditorium Friday evening kicks off  2013 with Florence LaRue and the 5th Dimension, one of the most popular groups of the late 1960s and early 70s, though only LaRue remains from the original group. The others are gone (the group has cycled through some two dozen performers so far), but the songs remain: "Up Up and Away," "Stoned Soul Picnic,"  "Wedding Bell Blues," "Aquarius/Let the Sunshine In."
The 5th Dimension on their website  describe their genre as somewhere between "smooth, elegant soul and straightforward, adult-oriented pop, often with a distinct flower-power vibe." They also play Gospel and Rhythm and Blues. Although their primary audience is baby boomers,  nothing is off limits as long as it stays positive, LaRue says. The reason: "Too much of today's music is negative. Our music seeks to bridge the gap." That—and as long as their songs are compositionally sound, with good harmonies. "We don't do rap."
Larue remembers one occasion when a lady approached her and told her that, after hearing "Up Up and Away" on the radio, she decided not to kill herself. "I thought that had to have been some kind of exaggeration, but then other people told me the same thing. If it makes people feel good and positive, then that helps me stay positive. That's good."
The lyrics: "Would you like to ride in my beautiful balloon? Would you like to ride in my beautiful balloon? We could float among the stars together, you and I. For we can fly we can fly up, up and away."
For the show on the Jan. 4, they're sure to bring what made them famous during the flower-vibe decades. "No one's looking for an update," says LaRue. "We're staying close to the record sound, using the same arrangements. That's what people came to hear. We don't want to change peoples' memories of what they've heard of the 5th dimension." Although a little improvisation isn't out of the question. LaRue and the rest of the 5th Dimension may experiment with some lesser known material, after drawing a vibe from the audience—"just to demonstrate the talent of the group," she says. This 21st century version of the 5th Dimension even has a country song up its sleeve, LaRue says. "Why shouldn't we continue to grow musically?"
The original group included Billy Davis, Jr., Marilyn McCoo, Lamonte McLemore, and Ron Townson, along with LaRue. They were originally called the Versatiles, and lived up to the name.  As they continued to become more successful, their label decided their name needed to be jazzed up. When they chose to call themselves The 5th Dimension, they copyrighted the omnipresent dimension of sound to their brand: The group has always had five members.
Oddly, the group is more popular in Europe than the United States. The reason, LaRue says, is that audiences here tend to be more "fickle" about who has the hit songs. "We live in a microwave culture," she says. "We don't respect history as much as they do, I'd guess. And we have so much to choose from. In the end, we just have to do what we do best."
One has to wonder why LaRue, multi-talented by any standard, with her own solo career and one-woman-show called "Just As I Am," hasn't moved on herself, singing the same songs for 47 years. "The reason I still do it is because I get pleasure out of making the fans happy, plus I still like the music; it's good music. I enjoy the harmonies and truly like the songs," she says. "When I stop having fun, I'll quit. Plus she has  all those other outlets for her talents  outside of the group. "I don't restrict my musical outlook, but, when I play with the group, I don't burden the 5th Dimension audience with the other stuff."
Although LaRue had a classical musical background—she played violin and danced ballet—she started with a different ambition.
"I had no intention of becoming a singer," she says, "although at one point I considered country music. My original goal was acting. But my friends continually entered me in beauty contests, so I could be discovered in the talent parts of such competitions." After winning one such section in Mrs. Bronze California, LaRue was approached by a photographer who also played in the original band. He asked to join. At first, LaRue said no, that she only wanted to be in movies. She was also in her last year of college earning her BA, doing student teaching.  She eventually warmed to the idea–her own balloon, landing, 47 years later, at the Flagler Auditorium.