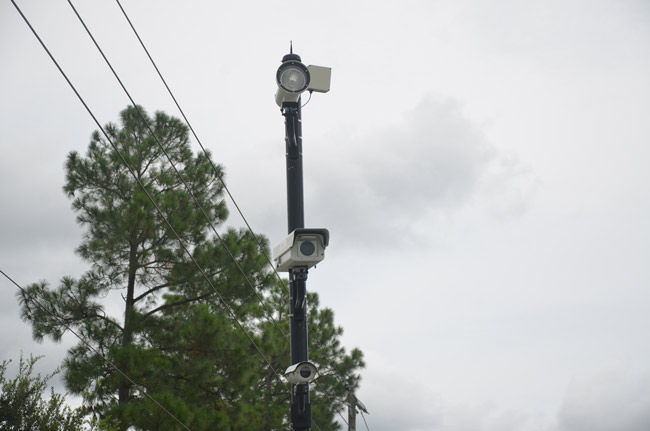 The Flagler County Sheriff's Office is seeking the public's assistance in locating a vehicle captured on video that struck an ATS red light traffic camera pole on Moody Boulevard (State Road 100) at the intersection of Memorial Medical Parkway in Palm Coast. The pole belongs to American Traffic Solutions, the Arizona-based company that runs the red-light spy-and-snap camera system for Palm Coast.
Deputies responded to the crash that occurred at about 3:35 p.m. Thursday afternoon. The vehicle involved in the incident can be seen in the video traveling eastbound on Moody Boulevard and then running off onto the shoulder of the road, striking the pole and shearing it from its base. Deputies believe the vehicle may be a 2011 or newer pearl-white Kia Optima and should be missing the passenger side mirror.
Deputies recovered a white mirror and chrome trim believed to be from the vehicle.
It is unlikely that the driver was intentionally targeting the ATS pole, though spy traffic cameras have become so unpopular that vandalism against them is now frequent in other jurisdictions. ATS has installed 43 such cameras in Palm Coast, issuing upwards of 500 tickets a week last spring. The profits are shared unevenly: the state takes more than half of the revenue from the $158 tickets, ATS takes the next-largest share, with a combined take of around $3 million a year. Palm Coast nets about $360,000.
Video footage of the incident was obtained from a second red light camera located on the westbound side of Moody Boulevard near the intersection of Memorial Medical Parkway. Deputies are asking that anyone with information to contact Sgt. Michael Van Buren of the Sheriff's Office Traffic Unit at 386-313-4911.
---
Footage of the Collision[media id=346 width=500 height=400]