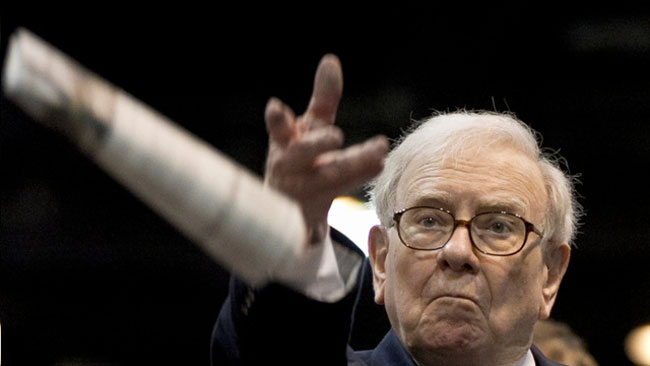 On May 17 Media General agreed to sell most of its newspapers (63 of them anyway) to Warren Buffett, the superstar magnet and market bellwether whose Berkshire Hathaway stock is among the most valuable in the world. One exception: the Tampa Tribune, which is the only paper in the Media General group that lost money in the last quarter. But that's not the reason Buffett is not buying it. The reason is Halifax Media, owner of the Daytona Beach News-Journal and 16 other newspapers freshly bought off the New York Times rack of regional broadsheets. Halifax Media is looking to buy the Tribune.
Buffett's cost for those 63 papers: a ridiculous $142 million, which, not five years ago, was less than the price a federal judge ruled to be the value of the News-Journal alone (Halifax eventually bought it for around $20 million). Buffett, incidentally, is loaning money to Media General, which isn't selling its 18 television stations.
Buffett's suggested business model for newspapers: paywalls. "Newspapers," he said in a CNBC interview, "have been giving away their product at the same time they are selling it and that is not a great model. You're competing with yourself and that you are seeing throughout the industry a reaction to that problem and an answer to it and that's important. (The answer is charging people online?, his interviewer asked.) Yeah. in other words, you shouldn't — you shouldn't be giving away a product you're trying to sell. […] That's key to the future of the newspaper. newspapers tell you a lot of things you can't find out other places and most citizens are going to find them useful. you can't give them away for nothing." See the interview here.
Media General was heading in that direction anyway: From Media General's 2011 annual report: In 2011, we made important advances toward being paid for our newspaper content on digital platforms. By the end of 2011, seven of our newspapers were charging for premium online content. By mid- April of 2012, we expect to have 11 more newspapers offering digital subscriptions and intend to add more digital subscription sites by the end of 2012 for both daily and weekly newspapers. We know that users are willing to pay a reasonable fee for premium local content and we are adding new digital-only subscribers. Fourteen of our newspapers offer an e-Edition, and eight offer an e-Edition iPad app. The e-Edition app became available for Android tablets in late 2011. We have more than 11,000 e-Edition subscribers, and these subscriptions count as paid circulation. We are also a founder of NewsRight, LLC, an entity created to capture revenue for digital rights licensing. We believe that over time the revenue potential could be significant."