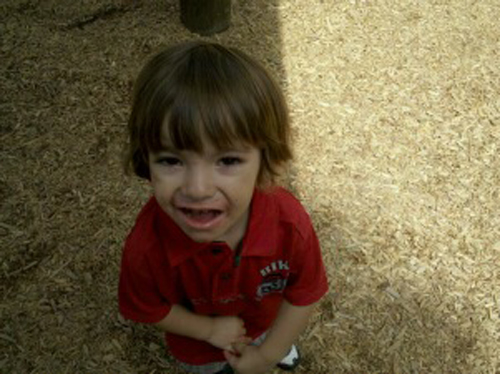 3-year-old Nathaniel Fons, missing since Monday, was dropped off by an unknown woman at St. Patrick's Cathedral just after 6 p.m. tonight–with a note to notify the Flagler County Sheriff's Office, according to New York police.
He was alone and in good condition, according to the Flagler County Sheriff's Office.
Fons' mother, Erin Jessie Comeau, 26, was arrested in Palm Coast on Sunday on counterfeiting and auto theft charges. She'd passed a fake $100 bill to a Kangaroo store clerk in Palm Coast Sunday afternoon. The clerk alerted authorities. She was traveling with a couple, Eleanor Black, 29, and William S. Scott, 32, according to the Florida Department of Law Enforcement. Black and Scott's two daughters were traveling with them–so was Nathaniel, after his mother was arrested. (See the original story of Nathaniel's disappearance.)
Initially, Comeau told Flagler County Sheriff's Office detectives that she felt comfortable that her son was with Black and Scott. But when Duvall County Sheriff's deputies tracked down the couple's car to a parking lot in Jacksonville early Monday morning, the couple had left–with Nathaniel. At that point, Comeau asked the Sheriff's Office to consider her son a missing child.
Flagler County Sheriff Don Fleming said Black and Scott would not face kidnapping charges if they returned Nathaniel or dropped him off at a safe house such as a fire department or a law enforcement agency. The couple may still face counterfeiting charges.
Comeau is from Aberdeen, Md. The recreational vehicle she was driving had been reported stolen in New York City.
St. Patrick's Cathedral is one of the more recognizable landmarks on Manhattan's Fifth Avenue. Black and Scott are still at large. "We are certainly pleased with this outcome. I want to thank the media for assisting us in getting the message out during our search for this youngster," Fleming said.