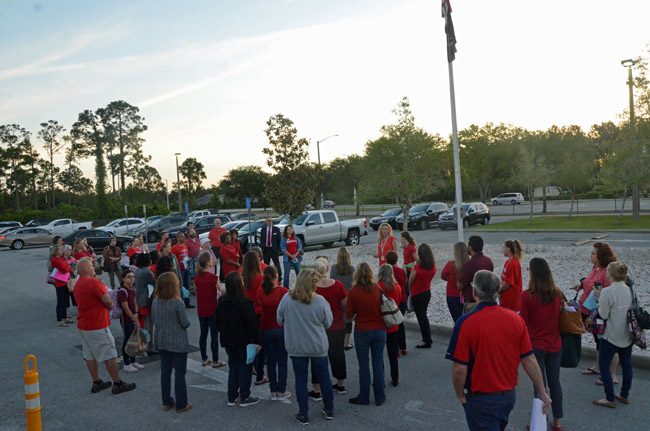 They started gathering around the flagpole at Indian Trails Middle School this morning at the break of dawn, just as the flag was being raised–two or three at a time at first, then dozens, totaling some 60 members of the faculty, support staff, administrators, including the school's principal and the district's superintendent, and at least two students.
It was Flagler County's first "Walk-In" of the day, the first of nine at the county's traditional public schools, staggered over the next hour and a half in echo of each school's starting bell. It was organized by the county's teacher union and its service employee union in conjunction with thousands of walk-ins like it across the state as an effort to catch the Legislature's attention and tell lawmakers: enough low funding. Enough diverting money to charter or voucher programs. Enough saddling public schools with standards charters don't have to comply with, or gifting charters with favorable capital dollars denied districts.
Simply put, the message was: stop undermining public education.
But without rancor, without hostility, without so much as a hint of walking off the job if things don't go the unions' way. To the contrary. These were walk-ins, emphasis on the in: a unified walking into schools before the day's beginning to show commitment to the job, but also for more respect from lawmakers.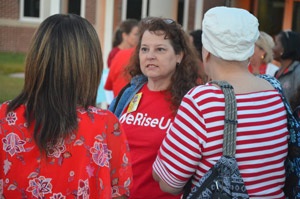 "Our message today is about being positive and the fact that we are dedicated to our schools, to our students and to our profession," Katie Hansen, president of the Flagler County Education Association, the teacher union, said. "We're walking in together as a message to our legislators that for the last few years they have absolutely eroded the budget for public education, and it's time we start changing those tides. We need to increase the funding, per-pupil funding, at the state level. FEA is advocating for an increase of $743 to the BSA, the base-student allocation, because those dollars need to be funneled here, and those dollars need to come down to public schools, not pulled away to voucher schemes, not pulled away to crazy bonus programs. Put it here in the hands of the local education authority so we can figure out as a local what's best for our students here in Flagler County."
The Florida Senate's funding plan would add just $350 per student over current levels–and that's the more generous plan before lawmakers. The House plan proposes half the Senate's increase. With that in mind, a delegation of a dozen members of the association had conversations with Sen. Travis Hutson and Rep. Paul Renner, whose districts include all of Flagler. "Sen. Hutson was much more receptive when it came to talking about the budget as well as a couple of other things," Hansen said.
The walk-in sends the message that "we are dedicated to our students and our profession regardless. We're not going anywhere," Hansen said. "We're still going to get up every day and walk in and serve the students of Flagler County."
Durand Brown, an exceptional student education teacher at Indian Trails, cheered a group of employees who came out to support him and the others. Whether it's training, staffing or resources, "it all ends up being funding," he said.
From a student's perspective, it's having access to resources. Mikala Hansen, an 11-year-old 5th grader at Belle Terre Elementary, had accompanied her mother Katie with a copy of "Harry Potter and the Prisoner of Azkaban," third installment in the magnum Potter series, under her arm. "I especially love libraries and a lot of times I can't find the right books I'm looking for," she said, moments after distributing leaflets to those who'd gathered around the flagpole, urging them to contact their legislators. "I really love reading. They just now got the entire Harry Potter series, which I'm very happy about, but there's a lot of series that they don't have at the library."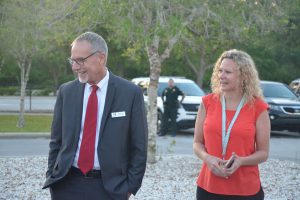 Paul Peacock, the principal at Indian Trails, also came out. "Absolutely, 100 percent," he said of walking in with his teachers. "I'm the product of public education. All of my daughters, all three of my daughters, are the product of public education," he said. "I don't think there's any finer education that a person can get, and I think I'm concerned about the funding that comes our way, especially in Flagler County. These guys here are the best of the best and I'll stand with them anywhere, any time. But again, it's just showing solidarity for the fact that we are supporting our public education for the good of the children."
Soon Superintendent Jim Tager was standing next to Hansen as they spoke to the gathering briefly, then walked in to work. Tager said he'd been a teacher most of his career: that was his passion. He thought Indian Trails would be a good place to start the day, followed by Flagler Palm Coast High School then Matanzas. He usually spends Wednesdays in schools.
He addressed concerns specifically, as if he were speaking the words of the union members: "I think you're seeing more and more of a pro-charter stance from the state," Tager said. "If they would evaluate them the same way I'm OK with that, but they're giving some perks that we're not getting. It doesn't seem fair. I'm actually pro-charters. I think Imagine does a really nice job. But I think there are also a lot of charters that are sub-par, including one that we had here."
Flagler has had a run of ill-fated charters, including Heritage Academy seven years ago, Global Outreach Academy in 2013, and Palm Harbor Academy last year.
The Legislature's more recent favoring of charters has been through capital funding. Charters are publicly funded but privately run. They can now tap into public dollars to build their facilities. If they fail, the facilities don't revert back to the school district. They remain in private hands. That sort of unequal favor was a recurring theme at today's walk-ins.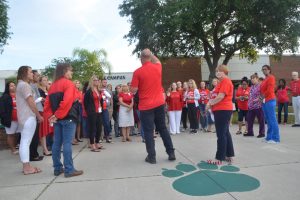 "You guys have to get the word out, the parents have to get the word out," Brun Hudson, president of the the Flagler Educational Support Personnel Association, told a gathering of closer to 80 or 90 faculty and service employees in front of FPC half an hour later. He spoke of the 95 cents the county gets back for every dollar it sends to Tallahassee.
Dusty Sims, the former principal at FPC, opened the walk-in with a prayer and inspirational words, which others returned–for him: Sims is battling serious health issues. School Board member Colleen Conklin and former board member John Fischer were also present, and Janet McDonald, who chairs the board, was to be at Buddy Taylor Middle School.
"Public education not just in Florida but in this country is under attack," Conklin said, with the number of teachers in post-secondary programs "at an all-time historical low. If attention is not brought to this matter by everyone across the country, I fear for what public education looks like in five, 10, 15 years. So it's a money issue, but it's really about public education. It's not about being anti-choice, by the way. We can all embrace choice with the same transparency and accountability. Same rules."
"It is not a party issue. All parties have to be concerned," Debbie Couch, a veteran teacher, told the assembled. "We had people who are union and people who are non-union," she said afterward. "People here are very active. We work as a community within the school–family within our school, we always have, and we try our best to keep that and take care of our kids, because our kids are the most important. They're not numbers, they're human beings, and they deserve the best. It's hard to give them the best sometimes."
Hudson was clearly pleased with the turnout after the group had walked in, many of the teachers and others wearing the unions' characteristic red shirts, and as at Indian Trails, all alongside each other, whether faculty, administrators or service employees.
"This issue with underfunding of public education isn't just an administrative issue, it isn't just a teacher issue, it isn't just a support staff issue," Hudson said. "It's a community issue. This affects everyone. If our public schools are underfunded and the school district's grades go down and the perception is the community doesn't have a good public school system, then people aren't going to move to your community. Then housing market goes down, taxes collected go down. It's a community problem. It has to be parents, students, grandparents, it's everybody–businesses, the whole nine yards. Everyone has to work together because your public school kind of is that driving force in your community. If you have good public schools, you have a stronger community. And that's what we're fighting for."