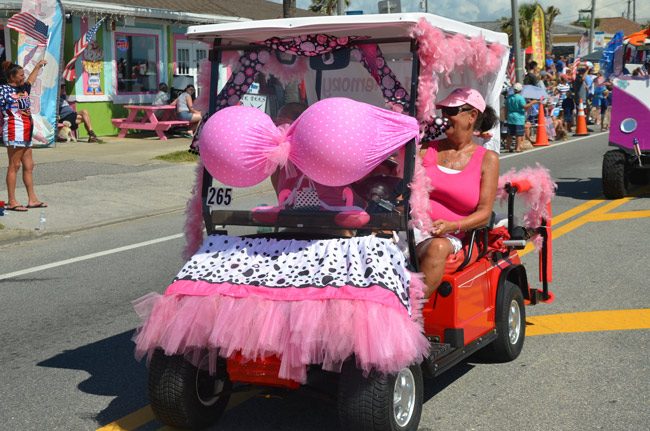 It was as hot sunny and festive as it was red white and blue down Oceanshore Boulevard in Flagler Beach Wednesday as the traditional Independence Day Parade took its course for about 65 minutes starting at 10 a.m.
The Flagler Beach Rotary-sponsored parade's big winner was Florida Pirate Alliance, which took Best of Parade, with more than a dozen more winners and honorees.
Flagler County Schools' entry isn't listed among the winners, but only because there was no category for Best Idea: as School Board members Andy Dance and Janet McDonald ambled down Oceanshore, they and their volunteers–including former Superintendent Jacob Oliva–handed out simple fans emblazoned with the district's logo, turning the two sides of A1A's throngs of sewaty spectators into a wavy fan zone for the Flagler school district.
Another notable winner: Surfside Estates' enormous pink boobs, part of a golf cart turned mobile engine of breast-cancer awareness. Philip Roth would have appreciated it.
The parade and subsequent activities down to the 9 p.m. fireworks appears to have gone off with few hitches, judging from the overnight arrest reports: those show the expected arrests for disorderly intoxication and of course pot possession, but not many at all, there was
one assault on a law enforcement officer (coupled with booze, naturally), and the odd DUI, but nothing out of the ordinary on an extraordinary day.
Here's the full list of parade winners, with pictures of the parade below:
Best of Parade: Florida Pirate Alliance
1st Place Best Depicting Theme: Charles Umpenhour Inc.
2nd Place Best Depicting Theme: Flagler County Sheriff's Office
3rd Place Best Depicting Theme: Flagler County Corvette Club
1st Place Best Marching Unit: Matanzas High School Cheerleaders
2nd Place Best Marching Unit: Boy Scout Troop 281
3rd Place Best Marching Unit: Flagler County Sherrif's Office
1st Place Best Talent: Studio Z Fitness
2nd Place Best Talent: Surfside Estates
3rd Place Best Talent: Innovative Dance Company
Best Entertainment: The Ned (Rugrat punk band from Palm Coast)
1st Place Judges Choice: USS Florida Base of the US Submarine Veterans
2nd Place Judges Choice: Matanzas High School Cheerleaders joined by the MHS football team
3rd Place Judges Choice: Phun Coast Parrot Heads
Honoring Armed Forces and Veterans: Allen Onslaught Paintball Adventure Ride
Honoring Police, Fire, and Paramedics: Flagler County Fire Rescue