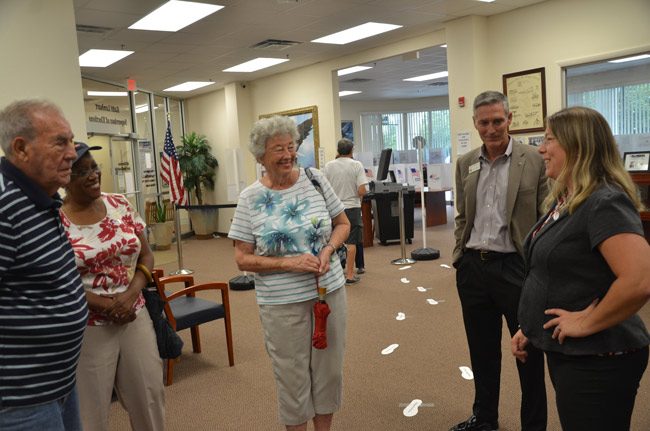 The results of Flagler County's only—and therefore most consequential and historic—election of July 2017 are in: Baked potatoes, not French fries, are county residents' favorite way of preparing the county's emblematic crop.
That shocking result, left at least one Supervisor of Elections employee in disbelief ("I call for a recount," said Bea Rush), and may have justifiably raised the specter of Russian tampering, particularly since French fries didn't even rank second: mashed potatoes (like baked potatoes, a more common cooking method in the lands of Pushkin, Lenin and Putin) did.
But part of the reason behind Tuesday's mock election, Supervisor of Elections Kaiti Lenhart said, was to show voters not just where to slide their ballot, but how the voting system works, inside and out, and learn how voting machines can't be tampered with from the outside: they don't, they can't, receive data of any sort. They only send. And the particular machine used on Tuesday, a brand new model showcasing Flagler County's new, state-mandated $560,000 voting system, hadn't even had to send any data: it spat out a printout of the results, none of it in Cyrillic, showing that baked potatoes got 28 percent of the vote, mashed got 19 percent, a stomach-turning tie with au gratin, with French fries coming in a miserable fourth, with 13 percent of the vote. In another sign that the results had in fact been tamper-proof, potato-based vodka got zero.
The turnout was not to blame for the half-baked results: while only 129 people voted, that was not unusual for a local election, at least not one held in Bunnell. This one very much was: at the Supervisor's office, where voters not only got the "I Voted" sticker but also got a few bribes for their effort—not booze, as in the days of James Madison, John Adams and other Founders, none of whose elections would have been caught dry, but plastic bottles that could accommodate booze, lemonade sugared up enough to buzz like booze, and other delectable that made the experience jovial for the 129 people who turned up.
More than that: they each got a tour of the entire facility, as Lenhart said it was time to give voters a look.
"The whole idea is to bring you behind the counter because people come in here, they vote and they go home or they come to the counter, they register and they leave," Lenhart told the very last group of the day, at close to 6 p.m. "Most people don't know what happens behind the scenes, so that's really the whole point is to bring you guys in, and for the transparency, which is so important, especially in light of recent news, negative news items, which undermine the trust in democracy. So if you don't trust that your ballot is going in that box and [being counted], then I'm not doing my job properly. So it's really for you all to build your trust in the process, and I haven't had anyone come out from the tour today out of the hundreds of people that have been here that said, you know, 'well I just don't know what you guys are doing here.'"
The exercise doubled up as training for the office's staff, and testing for the new equipment. (Lenhart allowed that cracks about Russian tampering was a day-long theme with visitors' humor.)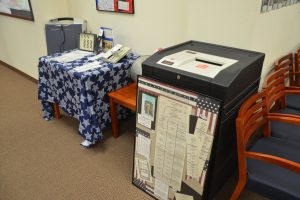 People got to follow the work of the office from its counter operations, where registrations are taken or changed, where candidates' petitions are authenticated and candidates, file to run or come in to dig whatever they can on voter data, on their opponent, on past voting patterns. In the training room, Chris Nakabaale gave visitors an overview of the two dozen training sessions that take place for 200-some poll workers every election cycle and invited anyone to be a poll worker, even though it doesn't pay much: "It's a nice dinner out, once, but don't order dessert," Nakabaale said. Then she had the visitors go through what it's like to vote on the Americans With Disabilities Act-compliant voting machines. Visitors then got to see the office's voter outreach operation, set u[p in this case in makeshift displays in the office's climate-controlled warehouse, where all the voting equipment is stored and the office's records are kept for as long as they must be kept—some of them, like canvassing board certifications and voter-registration records, permanently so (as opposed to voting ballots, which are shredded after only 22 months for federal elections, less for state and local elections.)
Most people who have known much at all about the supervisor's office over the past few years—as too many people have had occasion to know, chiefly because of the office's embarrassing Dark Ages—may have been familiar with the then-infamous canvassing board room, a glassed-in coop next to a larger room where the board sits around a big table to examine or count certain ballots at election time. The tour ended there, with Ryan Kramer, the office's IT coordinator, describing and using a machine that processes 300 ballots a minute, and where mailed-in ballots go. He stood in front of a relatively large, tall black box, its deeply tinted glass barely allowing a few faint computer lights blink through. That's the office's central nerve system, its server where all data passes through. It is locked. It is the office's holy grail. You get the sense that if anyone touches it without the authorization to do so would face a fate similar to people less skilled than Indiana Jones to make it out of the Temple of Doom.
Speaking of which: that was just what the supervisor's office had been until the Lenhart era opened it up, and though Lenhart did not say so—the current supervisor is as diplomatic and cheery as the previous one was not—one of the purposes of the open house Tuesday was to remind visitors that the office is a welcoming place in the service of voters. The open house, Lenhart said, was a first in the history of the office, which not so long ago was run on the North Korean model of government bureaucracies: you took your life, or at least your rights, in your hands when you stepped in there, where demeanors in the shape of daggers greeted you at the counter.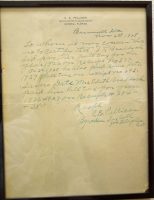 All that's over now, with none of that Dark Age matter making it into the many artifacts Lenhart and her staff had decorated the office with—an old barrel-like ballot box, a set of those horrendous voting punch cards that resulted in the unintentional election of George W. Bush in 2000, a sample ballot from the 1960 election that pitted John F. Kennedy against Richard Nixon (an election that also had the late Billy Wadsworth on the ballot for a Florida House seat, though it was merely penciled in, not typed in, like Kennedy's and Nixon's names), and, in a corridor, a small, framed note, handwritten in green. In this case it was not the green of hope, as green symbolizes in Christian iconography, but of bigotry: "This is to certify that J.L. Braddoch did pay his poll tax for the year 1926…" Poll taxes were an instrument of apartheid, ensuring, not just in the South that blacks voted little or not at all. To each era its voter-suppression means.
The final hour of Tuesday's election drew, among the voters, County Judge Melissa Moore-Stens, Property Appraiser Jay Gardner (who, mysteriously, did not actually vote), School Board Chairman Trevor Tucker, Flagler Education Director Joe Rizzo, and former School Board member John Fischer, who was back after voting in the morning. The election also drew elections officials from Lake and St. Johns counties.
The election produced other results in what was, after all, a double-sided ballot.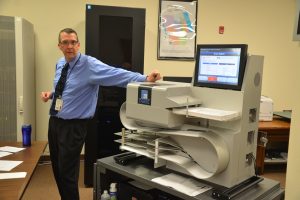 Not surprisingly, Flagler Beach's July 4 festivities were voted the favorite event in the county, with 16 percent of the vote (there were too many events listed to bear counting), with the annual Home Show, put on by Flagler Technical Institute, in second place. Washington Oaks Gardens was voted the favorite state park by 61 percent of voters. Princess Place Preserve won best county park and best historical landmark by a mile. Waterfront Park was the winner among city parks, though not by much, with Central Park and Holland Park not far off. And "beaching," this election's favorite neologism, also won as the favored outdoor activity, with 19 percent of the vote.
In a couple of hokier categories added onto the ballot clearly to test the machine, blue was voted residents' favorite color with 38 percent of the vote, quite a revelation in an increasingly crimson county (red got a forgettable 12 percent of the vote), and the Bulldog was voted favorite school mascot with 39 percent of the vote.
The complete results are below.

Mock Election Results (July 2017)
Click to access 2017MockElectionResults.pdf