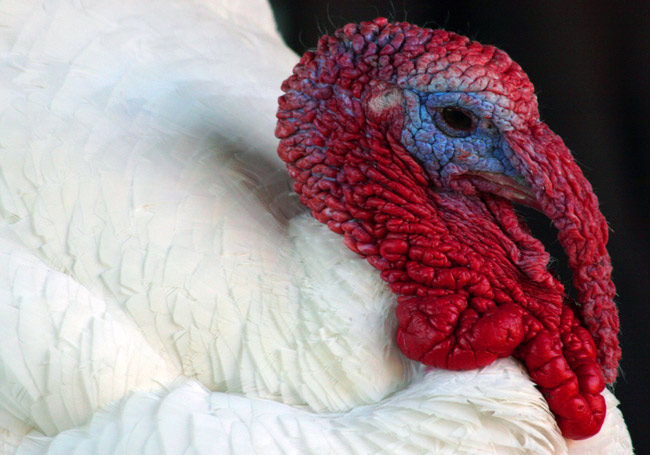 With speculation mounting that Gov. Rick Scott could sign the Legislature's proposed $74.5 billion budget as early as Friday, a research organization released its annual list of "turkeys" that it said the governor should consider striking with his line-item veto.
In all, TaxWatch identified 107 spending items totaling $106.8 million that got into the budget without going through the normal procedure. The organization uses two main criteria to select turkeys: First, whether the project was inserted into the budget during the final negotiations between the House and the Senate; and second, whether the spending was requested by a state agency.
Flagler County had just one turkey on the list: a $2 million appropriation for the Flagler Beach-based Florida Endowment Foundation for Florida's Graduates, run by Heather Beaven, the two-time candidate for Congress. The $2 million was one of the largest of several education-related appropriations that Tax Watch said were secured without systematic review.
The non-profit endowment foundation describes its mission as developing life and work skills to girls and young women. Its 2010 IRS filing showed total revenue of $1.9 million and expenses of $1.5 million, with almost all its revenue $1.83 million) from grants.
The Foundation has successfully competed for grants to support schools in their anti-bullying, STEM for girls and career academy efforts," Beaven wrote ina message responding to the organization landing on Tax Watch's list, "all of which are required by state law. We are the largest program of our kind in Florida with over 20,000 alum including well over 500 Girls Get IT and Jobs for Florida's Graduates students at Belle Terre, Indian Trials, Matanzas, and Princess Place. Even though Tax Watch validated our mission, [I] obviously disagree with their definition of what a 'turkey' [is]. That simply not how we see our kids."
Daytona State College is also on the list, for a $3 million appropriation for capital expenses ion the Daytona Beach campus.
Florida TaxWatch, quickly came under withering assault from leading Senate Republicans, the latest flare-up in the campaign to persuade Scott to either approve or slice certain spending proposals from the heavy document.
Both the number of items on the list and the total dollar value were up from the budgets of 2009 and 2010, when state revenues bottomed out following the recession, but down from the current budget and prerecession levels.
Most of the items singled out in the proposed plan, which would take effect July 1, were added during the House-Senate conference meetings that are aimed at hammering out differences between the two chambers.
"We don't think that that's the time to be adding new projects that haven't been vetted," said Kurt Wenner, TaxWatch's vice president for tax research. "It's time for compromise between the two positions."
In an interview Thursday, Senate Appropriations Chairman Joe Negron, R-Stuart, said the group's approach to the report was flawed and didn't add anything to the budget process.
"I think it has zero credibility," Negron said.
The largest turkey in the report was $14 million in funding for a science, technology, engineering and math building at Gulf Coast State College, located in the district of Senate President Don Gaetz, R-Niceville. The project, which started at $300,000 before the conference process, was not on the list of items requested this year by the State Department of Education.
Shortly after the TaxWatch report was released Thursday, Gaetz put out a blistering statement slamming the idea that unelected officials should have much say over the state budget.
"If our founders had shared the slavish devotion of TaxWatch to unchallenged decisions and dictates of faraway bureaucrats, we'd all be drinking English tea and singing God Save the Queen," said Gaetz, R-Niceville. "A good song. But not an American song. … It is little wonder that TaxWatch is irrelevant 364 days a year."
Other projects listed by TaxWatch include $9 million to build lab space at Embry-Riddle Aeronautical University, $6.5 million for a classroom and administrative building at Palm Beach State College, $6 million for Old Jackson County High School in Marianna and almost $4.3 million for construction at the College of Central Florida's Levy Center.
Outside groups, meanwhile, have already been pressuring Scott on a variety of projects. The governor's public email account shows that he has been bombarded with requests that he sign and in some cases veto a number of items in the spending plan.
For example, David Warriner, a recent Scott appointee to the Gulf Coast State College board, wrote the governor in support of the science building by recounting a visit to the facility.
"Not only was the building old, rusty and leaking but the labs and equipment were circa 1980's," Warriner wrote. "I remember the computer running the spectrum analyzer was a Gateway 2000 similar to my first computer I bought in 1990. Needless to say the mood of the staffer who showed us around was dreary."
Enthusiasts from inside and outside Florida wrote in support of a $50 million trail that would cut across the state. Robert Aaron, of Atlanta, said he and his wife visited Florida three years ago to ride the Pinellas Trail.
"Please support trails and the people who travel to use them — like me," Aaron wrote. "Give me a reason to spend more of my tourism money in Florida."
Cathy and Tracey Trumbull, who listed a Tennessee ZIP code, were even more emphatic.
"We would consider moving to Florida just to be near this trail!" they wrote.
Many of the emails are at least partly or entirely form letters sent in by supporters of various projects. One apparent supporter of a $2.5 million Conservation and Technology Park at the Florida Aquarium seemingly just forwarded an email asking them to write to Scott.
Not all of the notes are as kind as Aaron's or the email from the Trumbulls. One form email asks Scott to nix funding for a study to look at combining the Pinellas Suncoast Transit Authority and the Hillsborough Area Regional Transit Authority.
"We need to stop Senator JACK LATVALA in his tracks. … This study is a waste of limited state revenues and has no support except from the State Senator JACK LATVALA who championed it all alone," it says.
Other veto requests are more understated, with some emailers like Nina Endler pushing for a veto of auditory oral education funding that Endler wrote "will only benefit a small sliver of deaf children in Florida. Plus, it's written such that the funding can only go to two small, select private schools."
Scott received messages from those on both sides of the battle over that money.
It isn't clear when the governor might sign the budget. Scott has until May 24, but will spend much of next week in Chile.
–News Service of Florida and FlaglerLive