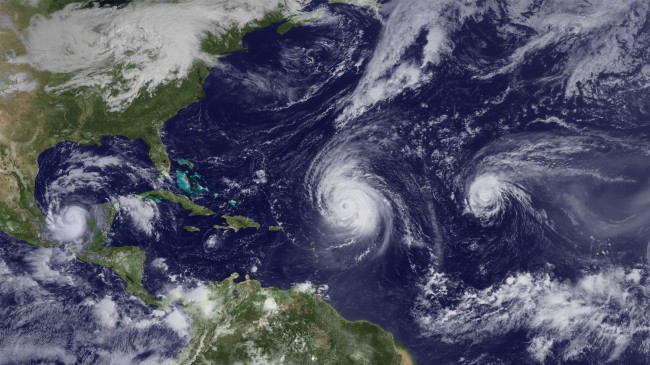 For Flagler County, the 2010 hurricane season that began June 1 ended Tuesday (Nov. 30) as if it had never happened. Almost the same can be said for Florida and the nation, which were spared getting struck by a serious storm for the fifth straight year. "We've never gone more than five years without a major hurricane," said National Hurricane Center spokesman Dennis Feltgen. "I'm hoping we'll be able to set a record next year. Let's go for six."
But the calm is deceptive: what's been fortunate for Florida has been a literal (and littoral) disaster further south.
According to the National Oceanic and Atmospheric Administration (NOAA), the 2010 Atlantic hurricane season that ended Tuesday (Nov. 30) was one of the busiest on record. In the Atlantic Basin a total of 19 named storms formed–tied with 1887 and 1995 for third highest on record. Of those, 12 became hurricanes–tied with 1969 for second highest on record. Five of those reached major hurricane status of Category 3 or higher.
These totals are within the ranges predicted in NOAA's seasonal outlooks issued on May 27 (14-23 named storms; 8-14 hurricanes; 3-7 major hurricanes) and August 5 (14-20 named storms; 8-12 hurricanes; 4-6 major hurricanes). An average Atlantic season produces 11 named storms, six hurricanes and two major hurricanes.
Large-scale climate features strongly influenced this year's hurricane activity, as they often do. This year, record warm Atlantic waters, combined with the favorable winds coming off Africa and weak wind shear aided by La Niña energized developing storms. The 2010 season continues the string of active hurricane seasons that began in 1995.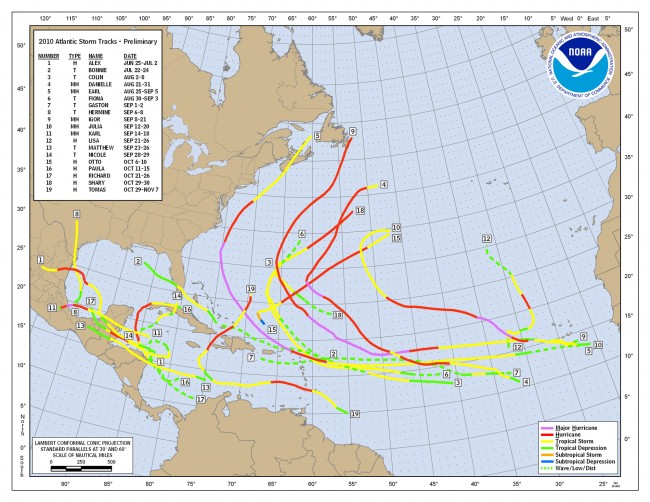 But short-term weather patterns dictate where storms actually travel and in many cases this season, that was away from the United States. The jet stream's position contributed to warm and dry conditions in the eastern U.S. and acted as a barrier that kept many storms over open water. Also, because many storms formed in the extreme eastern Atlantic, they re-curved back out to sea without threatening land.
"As NOAA forecasters predicted, the Atlantic hurricane season was one of the most active on record, though fortunately most storms avoided the U.S. For that reason, you could say the season was a gentle giant," said Jack Hayes, director of NOAA's National Weather Service.
Other parts of the Atlantic basin weren't as fortunate. Hurricane Tomas brought heavy rain to earthquake-ravaged Haiti, and several storms, including Alex, battered eastern Mexico and Central America with heavy rain, mudslides and deadly flooding.
Though La Niña helped to enhance the Atlantic hurricane season, it also suppressed storms from forming and strengthening in the eastern North Pacific, which had the fewest storms on record since the satellite era began.. Of that region's seven named storms this year, three grew into hurricanes and two of those became major hurricanes. This is the fewest named storms (previous record low was eight in 1977) and the fewest hurricanes (previous record low was four in 1969, 1970, 1977 and 2007) on record since the satellite era began in the mid-1960s. An average eastern North Pacific season produces 15 named storms, nine hurricanes and four major hurricanes.
The quiet seasons have been a lucky break for Florida's insurers, especially the state-subsidized insurance agency known as Citizens. As if the end of summer, Citizens was insuring property worth $433 billion, but had just $10.5 billion in cash reserves, "and for losses exceeding $15 billion," USA Today reported in October, Florida "would have to levy surcharges affecting residents with almost any type of insurance, including auto, property and liability, a report by Florida's state-run Citizens Property Insurance shows. The surcharges would add up to 16% to premiums."
Meanwhile, Florida is doing nothing to discourage further construction in storm-prone areas–to the contrary: communities are hoping to counter the effects of the real estate crash by offering incentives to builders, such as lower impact fees, to build–wherever they choose, thus adding to the eventual costs that would be levied on anyone with insurance once a major storm hits. Mathematically, whether such a major storm does hit is not in question. It's merely a matter of time.
As the hurricane season calms down for North America, the windstorm season is just beginning for Europe, which faces four months of the unexpected. The most severe windstorms to hit Europe in the last five years were Kyrill in 2007, Klaus in 2009 and Xynthia, earlier this year. Between them they cost the insurance market around €6 billion ($7.8 billion), according to Lloyd's, the London-based insurance company. The cpmpany writes: "The Lloyd's broker Aon Benfield recently issued a briefing, in conjunction with the University of Cologne, on uncommon European winter storm tracks. The research points to a lower total number of storms in the future but indicates intense storms increasingly moving over the North and Baltic Seas towards Eastern Europe, following a similar path to windstorm Kyrill."