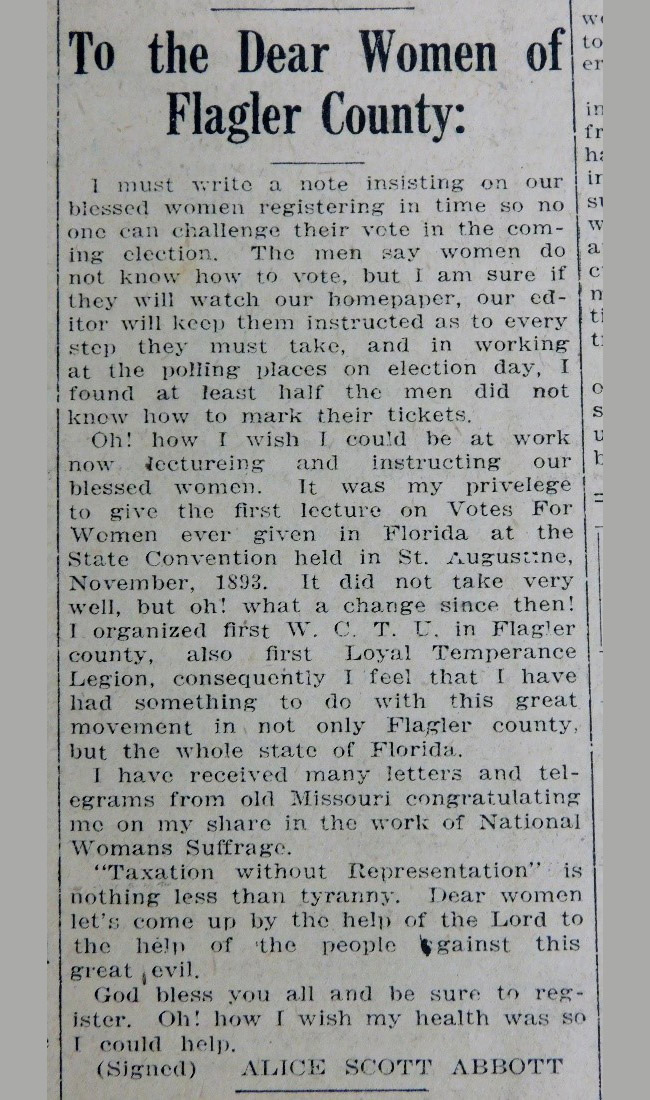 American Association of University Women (AAUW) Flagler wishes to extend an invitation to the descendants of the women of Flagler County who were recognized and listed, by the Flagler Tribune, on October 21, 1920, as "Qualified Voters" for the November 2, 1920 General Election.
In anticipation of the 100th Anniversary of the 19th Amendment to the U.S. Constitution, AAUW is on a mission to identify, if possible, the first women to have registered to vote in Flagler County. The organization has unlocked quite a bit of this hidden history in Flagler "but," it states in a release, "we know history and memories are passed down through the generations. We want to hear the stories of the grandmothers and great-grandmothers who voted on Nov. 2, 1920, as told by their families."
AAUW will hold an organizational meeting on Friday, March 15 at 1 p.m. in Room 3 B, located on the 3rd floor of the Government Services Building in Bunnell.
Alice Scott Abbott proudly worked with the National Woman's Suffrage. She delivered the first lecture in the State of Florida during the State Convention of 1893, held in St. Augustine. She fervently implored the 'Dear Women of Flagler' to register "in time so no one can challenge their vote in the coming election" with her letter of October 7, 1920, published by the Flagler Tribune. Sadly, she passed away, twelve days before November's historic election.
Women's suffrage has an undistinguished history in Florida. According to Florida Memory, the state's archival record, "Florida was not one of the states that ratified the Nineteenth Amendment during 1919-1920. In fact, neither house of the Florida legislature had even voted on the measure. Though the legislature would pass a law in 1921 that provided the vote to all residents, it was not until 1969 that it symbolically ratified the Nineteenth Amendment." Concurrent Resolution No. 1172 passed lorida's Senate and House of Representatives on May 13, 1969, and was approved on May 22 without the signature of Governor Claude Kirk.